One of the more interesting impacts of the Chinese coronavirus, COVID-19, on the world, where pictures are concerned, isn't so much what we see, as what we don't see. While people have sequestered themselves inside their homes, the world has gone mostly silent and empty.
10 Images of Where Children Sleep Around the World
As the crisis continues across the world, pictures are emerging online of empty places that normally hold thousands on a daily basis. Bodies are piling up in cities unequipped to handle the influx, and the world watches from the Internet, where these ten images show COVID-19's impact on the world.
10

The Great Mosque And Kaaba In Mecca, Saudi Arabia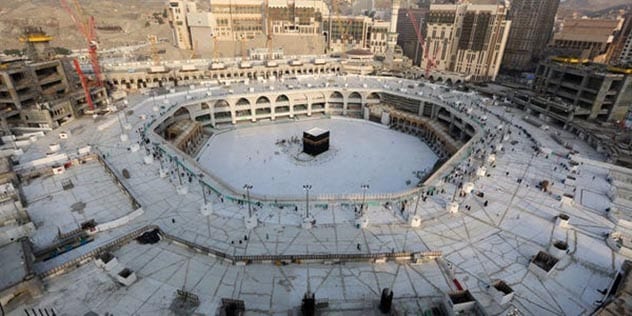 Photo credit: ABDEL GHANI BASHIR/AFP via Getty Images
Odds are, even if you're not a member of the Islamic religion, you know of the Great Mosque and Kaaba in Mecca, Saudi Arabia. It's the site of the Hajj, a pilgrimage that every Muslim must do at least once in their lives if they are able to do so. The site often sees as many as five million people during the Dhu al-Hijjah on the Islamic calendar. In 2020, it falls between July 22nd and August 19th in 2020, and if the world returns to any semblance of normalcy by then, millions of people will be seen visiting the holy site.
This picture was taken on March 5th, and while that's not a date of any particular significance on the Islamic calendar, the Great mosque typically sees thousands of visitors on any given day. The reason it was empty was due to the government's order that it be completely cleaned and sanitized for fear of spreading COVID-19. It opened the next day, but still saw far fewer visitors than normal. One reason the numbers were low was because the Kingdom banned foreign visitors from entering the country on February 27th.[1]
9

Beirut's Corniche Promenade In Lebanon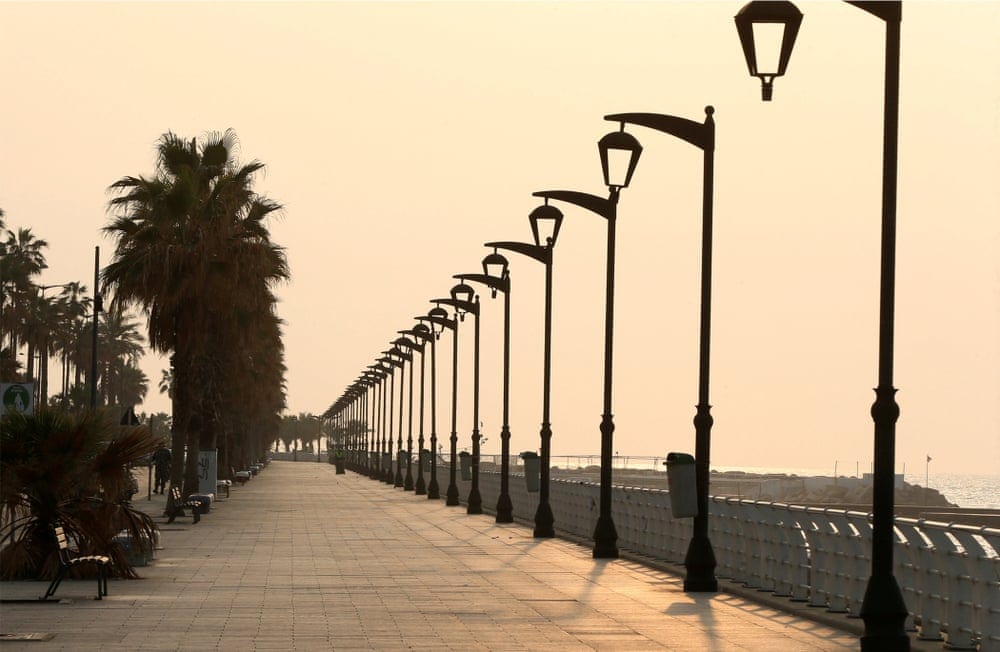 Photo credit: Mohamed Azakir/Reuters
In the Lebanese city of Beirut, the Corniche Promenade stands as one of the top tourist destinations. There is a seaside promenade lined with palm trees and a beautiful view of the sea, where millions of visitors and locals can be seen enjoying the area throughout the year. Typically, the site is bustling with activity with everything from people going on walking tours to visiting the local restaurants but wasn't spared from the outbreak, and throughout the month of March and into April, Corniche Promenade has been a ghost town.
This photograph taken by Mohamed Azakir shows the popular promenade completely devoid of human activity of any kind. Gone are the joggers, the walkers, the buskers, the famous pushcart vendors, and everyone else who would normally be seen on an otherwise beautiful day. The atypical shot of Corniche Promenade is the result of a government-mandated curfew, leaving many on lockdown within their homes. Sights like this are common all over the world as the COVID-19 crisis worsens, and this is just one of many similar images found all over the Internet.[2]
8

Social Distancing In Colombo, Sri Lanka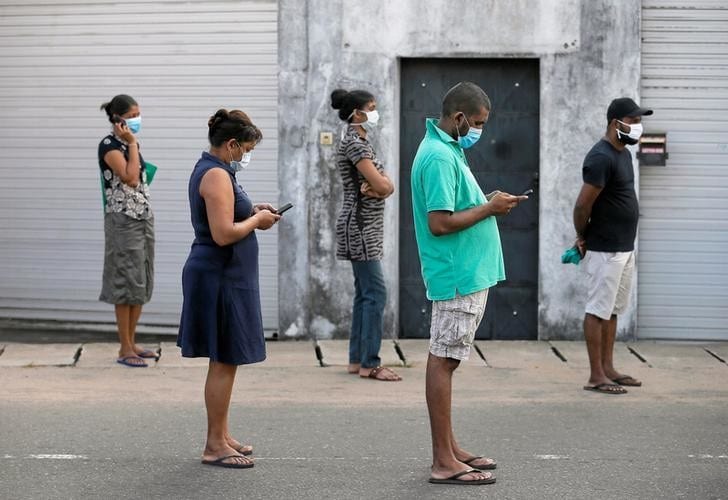 Photo credit: Dinuka Liyanawatte/Reuters
While the year 2020 may go down in history as being the one where a global pandemic swept across the globe, more people will likely think back on it with two words: social distancing. That's a term few had ever heard or considered using outside of the occasional introvert, but with COVID-19 spreading exponentially throughout global populations, social distancing became the norm. Societies, where people typically greeted one another with a hearty handshake or a kiss on each cheek, find themselves standing as far from one another as possible.
This picture was taken in Sri Lanka by Dinuka Liyanawatte outside a grocery store in Colombo. The people in the picture can be seen wearing masks, and are standing approximately one meter apart. Most governments and the WHO are telling people to double that distance, but it's not always possible, leaving many in unsafe, yet desperately in need of supplies. Sri Lanka placed a curfew on its citizens prior to this photograph but relaxed it for a short time following a lull in newly reported cases.[3]
7

Mobile Morgues In Refrigerated Trucks Holding Bodies In New York City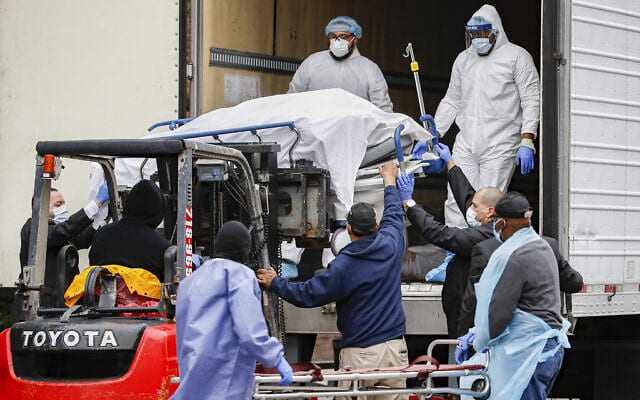 Photo credit: John Minchillo/AP
One scene nobody wants to be reminded of when thinking back on this crisis years from now is any that shows the toll the virus has taken on the people. Some of the hardest-hit cities quickly learned that there wasn't just going to be a lack of hospital beds for the sick; there was also going to be a burden on morgues, coroners, and morticians. Everyone was so focused on the need for ventilators and hospital beds, few thought of what to do when the bodies began piling up. Fortunately, there were some who planned ahead, and that brings us to the picture featured here.
This shot, taken by John Minchillo, shows bodies being loaded into refrigerated trucks outside a New York City hospital. NYC was one of the hardest-hit American cities in the early days of the crisis, and its hospitals quickly reached capacity on a number of services, which include the storage of the dead.[] The Brooklyn hospital is one of many that have turned to such measures to store bodies, and the city has many. By April 8th, more than 4,000 people died in New York City alone.[4]
6

Quarantined Italians Singing Together From Their Balconies
Photo credit: Mairo Cinquetti/NurPhoto/Getty Images
Soon after China began implementing massive quarantine measures in Wuhan and other areas, the numbers being reported from the country showed a decline in cases and deaths. As those numbers began falling, they skyrocketed in places like Italy, which was one of the hardest-hit nations outside of China throughout the month of March. As social distancing became the norm in Italy, its citizens found themselves isolated in their homes with little to do other than worry about what was happening in the hospitals and just outside their doors.
In an attempt to combat the isolation and sense of dread many were experiencing, people all over the nation went to their balconies and began making music with one another. These musical flash mobs came together all over Italy, and on March 13th, people all over the country went to their balconies to collectively sing the national anthem, "Inno di Mameli," in a show of unity during the crisis. This picture taken by Mairo Cinquetti shows a woman singing from her balcony, and if you haven't seen this one, there are thousands of photographs and videos of people singing to and with one another all over the Internet.[5]
10 Hidden Images Discovered Beneath Famous Classic Paintings
5

Dr. Li Wenliang's Selfie From His Hospital Bed Shortly Before Succumbing To COVID-19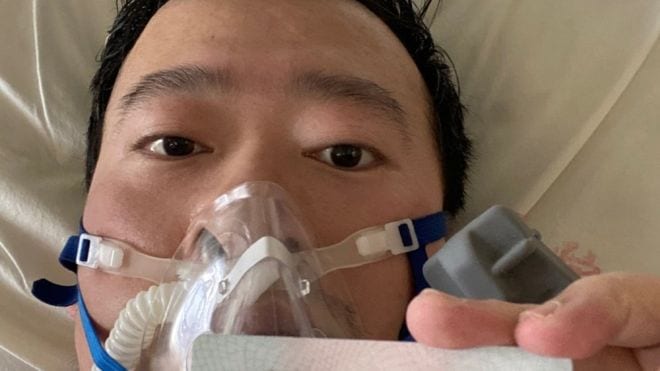 Photo credit: Dr. Li Wenliang
COVID-19 has affected millions of people all over the world, but the most-threatened group isn't the elderly and immunocompromised; it's the hospital workers who fight against the virus every day. All over the world, doctors, nurses, and other healthcare workers spend long days and even longer nights tending to the sick and dying with little to no personal protective equipment keeping them safe. One of the first doctors to fall to the disease, though not the first, and sadly, not the last, was Dr. Li Wenliang of Wuhan, China.
Dr. Li was the whistleblower, who sounded the initial alarm over a virus he had been observing that was similar to SARS. He was admonished by the Communist Party of China for "making false comments on the Internet."[] After contracting the virus he was fighting against, he took this photo from his hospital bed. He died on February 7th, and this photograph went viral. Shortly after his death, the Communist Party of China issued a "solemn apology" for its admonishment of Dr. Li, though, by that time, the virus had spread outside of the country's borders.[6]
4

Russian Cargo Plane Filled With Supplies Lands In The USA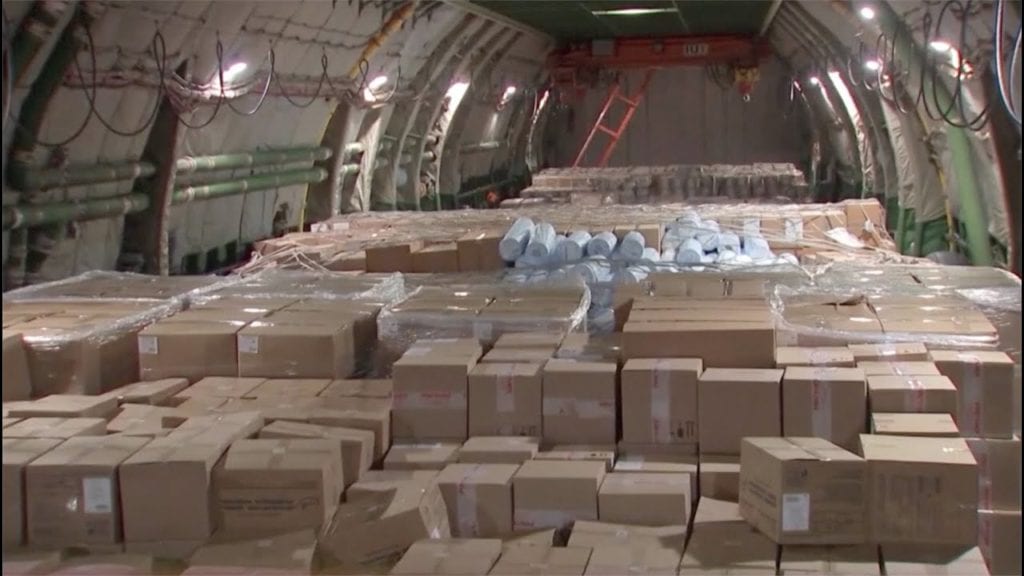 As the United States government began to take the impending threat of COVID-19 seriously, it became apparent that personal protective equipment and ventilators were going to be in short supply. Stories of government stockpiles containing thousands of unusable ventilators due to maintenance contract expirations and warnings by officials to limit PPE to people who were showing symptoms began popping up all over the Internet. Governors were set to bid against one another for equipment from suppliers, and some hospital workers were forced to reuse masks for up to a week at a time.
Supplies were a problem, but some countries that weren't initially hit as hard as the United States did what they could to help. Russia filled a plane with supplies and sent them to the United States, which resulted in this photograph that circulated online for weeks. The aircraft was sent to the States following a one-on-one phonecall between both nation's leaders. President Putin made the gesture with the consideration that should the US see a drop in cases while Russia finds itself dealing with a rise, the States will "reciprocate if need be."[7]
3

Homeless In Las Vegas Sleeping In Social Distancing Grids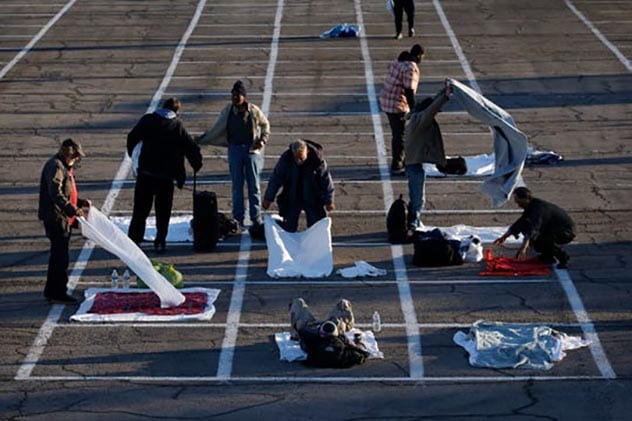 Photo credit: John Locher/AP
During a pandemic where governments are telling all of their citizens to self-isolate themselves in their homes, it quickly became apparent that there was a sizable population that couldn't follow that guidance. The homeless are at greater risk of catching the disease, but that's not solely the result of their having to sleep outside; it's mostly due to their close proximity with one another. Whether they are on the streets or in shelters, homeless people often find themselves stacked closely with one another, and that makes them susceptible to COVID-19, and it also makes it more likely that they will infect others.
Exponential infection is one of the greatest concerns where COVID-19 is concerned, and in cities like Las Vegas, the way the city has had to deal with it made international news. Shelters were forced to close amidst the crisis, leaving as many as 500 on the streets. The city painted grids on the upper parking lot of the Cashman Center, with each box being meant as a place for one person each to sleep. Unfortunately, all good intentions being what they are, people online pointed out that the squares were too close together, negating the need for social distancing, which further spread the image to others as it became viral.[8]
2

Healthcare Workers' Faces After Working With COVID-19 Patients For Days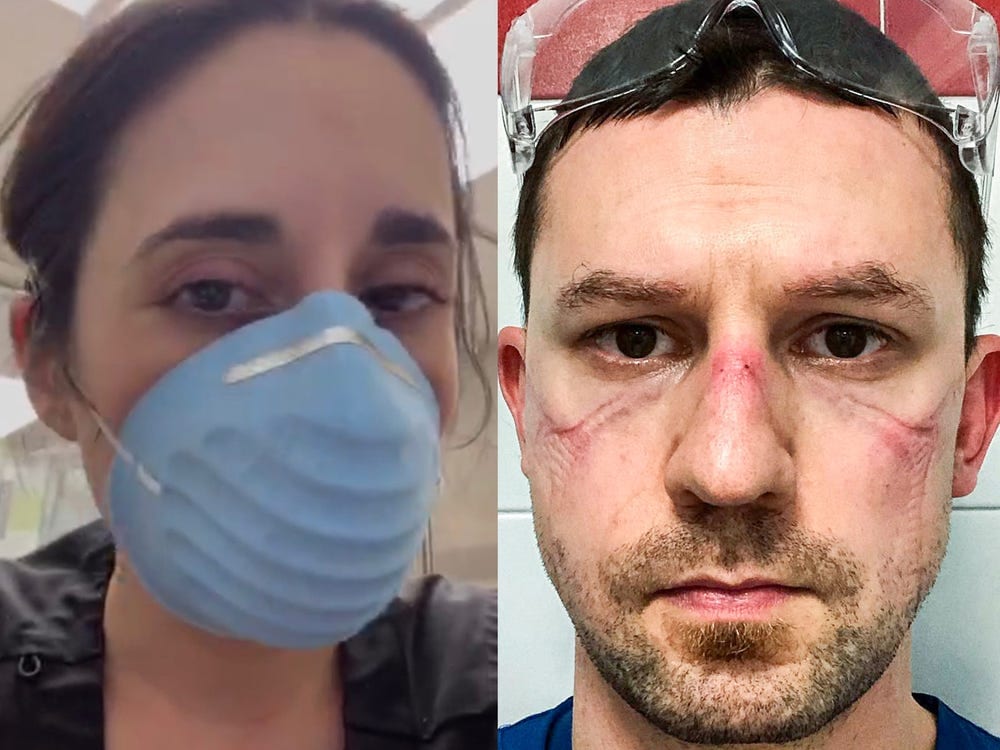 Photo credit: Rachel Adams McCreight/Nicola Sgarbi
A term few people outside of the healthcare industry heard before the crisis, "N95," has become one almost everyone around the world now knows. N95 masks are robust disposable masks capable of stopping the spread of COVID-19 and many other airborne pathogens, which is one of the reasons they quickly became necessary for the world's healthcare workers. Unfortunately, they became harder and harder to find as the virus spread, which is why so many doctors and nurses found themselves having to reuse them for much longer than they normally would have.
Supply issues aside, N95 masks work well because they sit snugly on the face, and aren't the most comfortable things to wear for extended periods of time. Throughout the month of March, people began sharing photos of what they looked like after working for hours and days while wearing the masks. Faces bruised around the eyes and mouth became a common site as more and more healthcare workers joined in with their own shots. The photos don't just show bruised and tired people, they show the men and women working on the front lines to combat the disease, many of whom worked for long 12, 18, and 24-hour shifts.[9]
1

USNS Comfort And The Statue Of Liberty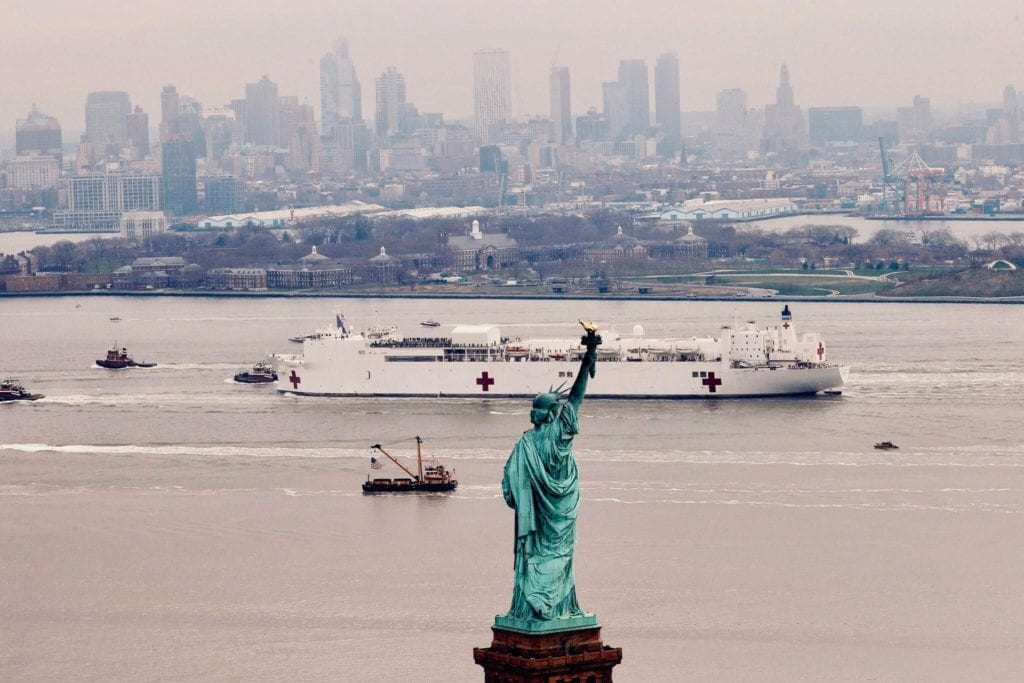 Hospital beds, or more accurately, the lack of hospital beds became a problem shortly after COVID-19 reached the United States. It makes sense, as hospitals aren't in the business of handling a global epidemic, they're there to treat and care for patients under normal operating conditions. That works just fine when the world isn't undergoing a pandemic, but in cities like New York City and Los Angeles, a shortage of hospital beds due to the influx of COVID-19 patients caused two distinct problems.
There weren't enough beds for COVID-19 patients, and there were almost no beds available to people suffering from everything else. People needing surgery, chemo treatment, and every other issue folks go to the hospital for were running into a lack of capacity in treating them. To combat the problem, the USN sent two ships, the USNS Comfort and USNS Mercy, to New York City and Los Angeles, respectively. Both vessels were meant to ease the burden by providing 1,000 hospital beds for patients not suffering from COVID-19, though since they have arrived, the USNS Comfort has taken on patients suffering from the disease.
Shots like this one showing the Statue of Liberty in the foreground of the USNS Comfort spread all over the Internet as it approached the port. The arrival indicated a show of support and a sign of hope in the days to come.[10]
+

Toilet Paper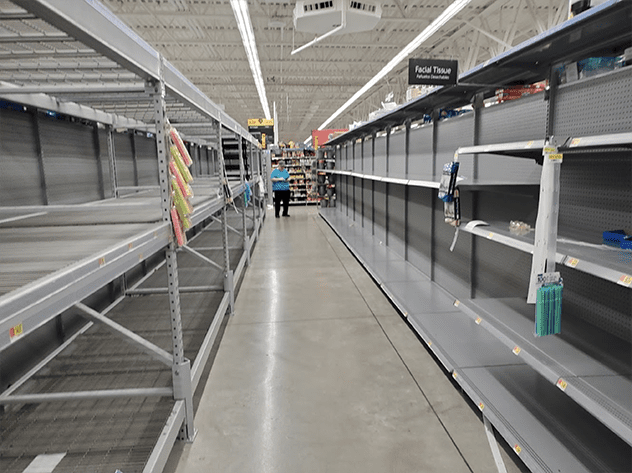 For whatever reason, people around the world began panic-buying as the COVID-19 crisis worsened. Even in nations that had yet to experience a single case, people flocked to stores, but they weren't there to buy rice, beans, or other longlasting sustainable foods; they were there to buy toilet paper — and lots of it. It's rather inexplicable, but toilet paper became the hot commodity of March 2020, and people would line up to get a single package of rolls in much the same way folks had to line up their cars to buy gasoline during the OPEC Oil Embargo.
For weeks, you couldn't find a single roll of toilet paper, and pictures like this one could be seen all over social media and news sites. Supplies of paper products were completely absent from store shelves all over the world. This picture was taken by me at my local Neighborhood Walmart Market. Images like this one are common all over the Internet, and while it can be problematic for some, the companies that produce and install bidets are enjoying an upsurge in sales as more and more people realize they won't have anything to wipe with very soon…[11]
10 Untold Stories Behind Iconic Images
💰 Write For Listverse And Earn $100! Here's How . . .