Sometimes the cruel hands of fate also have a sick sense of humor, with destinies twisted in ways that seem particularly wicked.
Like a concert pianist crushed by a plummeting Baby Grand, irony can add a layer of macabre mockery to scenarios that would otherwise be simply unfortunate. Other times, defeat or even death seem snatched from the jaws of victory, adding fleeting false hope to the doomed or the damned.
Here are the top ten tragic ironies—in order of happening.
10

From Freed to Fried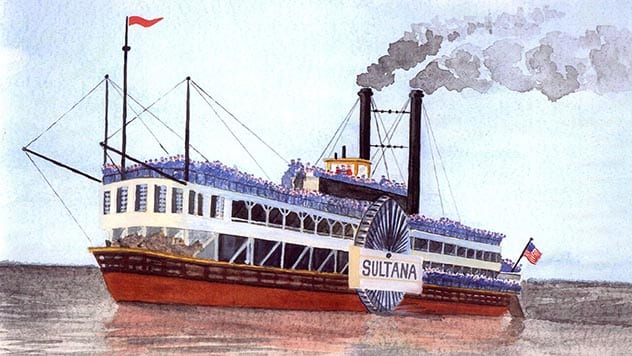 Toward the end of the American Civil War, Confederate prisoner of war camps were no place to be. By 1865, the South was so low on resources[1] that it could barely feed its soldiers and citizens, let alone captured Union troops. At Georgia's notorious Andersonville camp, of the 45,000 Union troops who entered, some 13,000 never came out. Starvation was a major factor, as evidenced by haunting photos of survivors.[2]
Then in April, word spread south that Robert E. Lee had surrendered. The war was over. An overjoyed nation wanted its soldiers home as quickly as possible, POWs included. With rails torn up throughout the Confederacy, boats were sent south to retrieve the newly freed men from Andersonville and other spots, including Alabama's Cahaba Prison.
Among them was the 376-capacity steamboat Sultana. In haste, it was loaded with 2,300 men and began its journey home.
It never made it. On April 27, several of its overtaxed boilers exploded,[3] scorching some passengers and causing others to drown. The event stands as the worst maritime disaster in U.S. history, with the terrible twist that most of its victims were doomed, reborn then doomed anew.
9

Joseph Johnston's Last Stand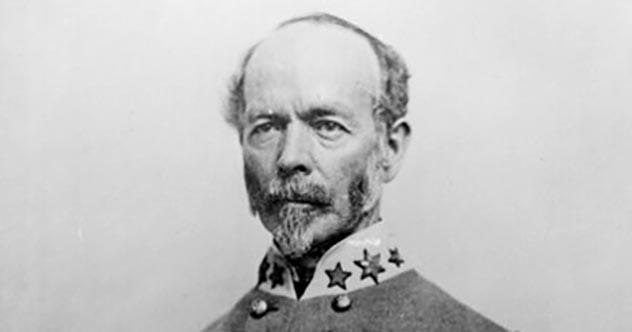 More than a quarter-century later, two of the American Civil War's most respected generals would partake in their own tragic irony.
Next to Ulysses S. Grant, William Tecumseh Sherman was the Union's most celebrated military leader. Under Grant, he played instrumental roles in the capture of strategic strongholds like Forts Henry and Donaldson, as well as the successful siege of Vicksburg, Mississippi,[4] the so-called "Key to the West." In 1864, when Grant became General-in-Chief and moved east to engage Robert E. Lee's Army of Northern Virginia, Sherman assumed control of the Western theater, capturing Atlanta before embarking on his famous march[5] through Georgia and the Carolinas.
During the drive toward Atlanta, Sherman's Confederate counterpart was Joseph E. Johnston,[6] who had played pivotal roles dating back to the conflict's first major contest, the July 1861 (first) Battle of Bull Run. By 1864, the Union's advantages in troop numbers and supplies had begun to overwhelm dwindling Confederate forces; Johnston delayed Sherman's advance as best he could, but to no avail. Sherman, like his good friend Grant, kept the pressure on by using superior numbers to flank Johnston's thinner lines,[7] resulting in a slow yet inevitable retreat.
Johnston gained a grudging yet deep respect for Sherman. So much so that when Sherman died in 1891, the elderly Johnston removed his hat during the cold, rainy funeral. Urged to put his cap back on, Johnston declared "If I were in his place, and he were standing here in mine, he would not put on his hat."
Johnston contracted pneumonia and died the next month—tragic irony tinged with the gallantry of respecting one's rivals.[8]
8

Hollywood Heroine's Harrowing End

Last week we published a list of iconic places pictured from behind and on that list was the Hollywood Sign. It mentioned Peg Entwistle and promised to delve deeper into her life on a future list. This is that list.

Entwistle starred in just one film: Thirteen Women (1932). In the book the picture was based on, Entwhistle's character is a lesbian who starves herself in a bizarre form of suicide after being jilted by her sapphic lover (pretty scandalous stuff for the 1930s). In the film, however, she is a straight married woman who murders her husband and ends up in jail. The film is really out there and worth a watch if you like psychological thrillers; it involves a clairvoyant swami who sees visions of doom, and a vengeful half-Oriental woman hellbent on making the thirteen women kill themselves to punish them for ostracizing her during their school years together.[9]

Unfortunately the test screenings did not bode well for Entwistle's character, Hazel, whose part was cut from 16 minutes to four. The apparent failure was intolerable for the budding actress. One month after the release (almost to the day), twenty-four year old Peg Entwistle committed suicide when she climbed to the top of the letter 'H' on the Hollywoodland Sign (the last four letters were removed in 1949), and threw herself off, plummeting the 45 ft (13.7 m) to the ground before her body rolled under its own momentum down the side of Mount Lee.

Her suicide note was found in her abondoned purse by a woman hiking nearby. The note read: "I am afraid, I am a coward. I am sorry for everything. If I had done this a long time ago, it would have saved a lot of pain. P.E." Many believe that the Hollywood Sign is haunted by Entwistle's tragic ghost.

You may be wondering why this entry is on the list. Sure, it is vaguely ironic that her character committed suicide, but here's the bitterest irony of Peg Entwistle's life: a letter had been mailed to her just before her suicide offering her the lead role in a play about a young woman who commits suicide.[10]
7

The Recovery-inspiring Relapser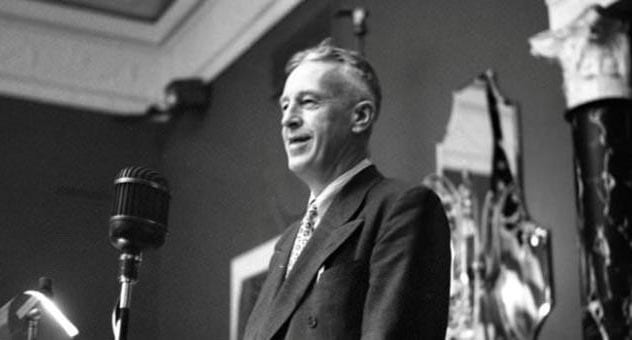 Edwin Thacher, whose friends called him Ebby, was calling on an old pal in Brooklyn Heights. It was 1934, and like a lot of Depression-era folks Ebby's comrade was down on his luck and out of a job.
He was also drinking heavily and obsessively. He had been trying to sober up but been unsuccessful. And since Ebby was an old drinking buddy, this friend, William Wilson, was looking forward to knocking back a few with someone who could keep pace.
But instead of liquor, Ebby brought a message of hope. He, too, had been unable to quit drinking. But with a set of principles he'd learned, in part, from a temperance-minded organization called the Oxford Group,[11] Ebby had arrested his alcoholism. He was, he declared, a free man.
The talk moved William Wilson so much that, today, he's more commonly known as Bill W., the co-founder of Alcoholics Anonymous and chief architect of its Twelve Steps of Recovery. He went on to become the most famous sober alcoholic in history.
Ebby went on to… get drunk.[12] A lot. He was a frequent relapser for the rest of his life.
Ironically, among the reasons AA diverged from and eventually disassociated with the Oxford Group was its overly zealous evangelism.[13] Ebby couldn't practice what he preached, which may have doomed him while indirectly saving millions over the next 85 years.
6

A Tragically Ironic Last Meal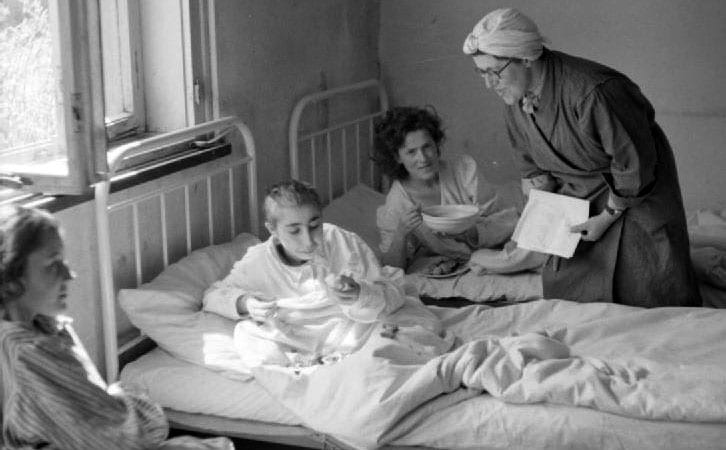 As the Allied Forces closed in on Nazi Germany from both east and west, the long-suspected rumors became terrible truth as dozens of concentration camps were liberated. At death pits like southwest Germany's Dachau Camp, bodies were stacked like cordwood[14] in some of the most gruesome, disturbing spectacles ever witnessed.
Still, the camps' liberation brought salvation for hundreds of thousands of those who'd managed to survive, if barely. At Auschwitz in Poland, Russian troops found 7,000 starved yet still-alive souls. In northern Germany, British troops arriving at Bergan-Belsen Camp saved 12,000.
Not surprisingly, the vast majority of freed prisoners were extremely emaciated, often days from death without proper nutrition. And unfortunately, for several survivors their starved status led to a tragically ironic demise.
Obviously, the Allies first goal was to feed those desperately in need of food. But when they did so, many experienced a shock to the system so severe that they died of overeating.[15] Their official cause of death is "Refeeding Syndrome",[16] which can develop when a malnourished person ingests too much too quickly and experiences a sort of "sugar shock" in which the food's conversion to glucose overwhelms the system.
10 Creepily Ironic Historical Deaths
5

An Accidental Anthem

Some songs end up being far more ironic than anything Alanis Morissette ever wrote.[17]

Born in the USA is one example. A familiar pre-speech crowd warmer at many a political rally, the song's title and soaring, seemingly joyous riff suggest a proud patriotism that binds both candidate and supporters to their homeland. Really makes me proud to be an Ameri-… uh, wait… what was that about killing a yellow man?[18]

Far from evoking pride, Springsteen's 1984 hit tells the story of a Vietnam War veteran who enlisted after getting into some trouble in his hometown. Upon his return, he finds employers unwilling to hire him and the government unable to help him (sounds about right). "I'm ten years burning down the road," the final stanza closes, "Nowhere to run ain't got nowhere to go."

That message of disenchantment is lost on many an American, including Ronald Reagan,[19] who was president when the song first hit the airwaves. "America's future rests in a thousand dreams inside your hearts," he remarked. "It rests in the message of hope in songs of a man so many young Americans admire, New Jersey's own Bruce Springsteen." Not quite, Gipper, but it's an easy mistake to make.
4

Biggie's Unfortunately Accurate Album

Arguably the greatest rapper ever to pick up a mic also dropped the most tragically ironic album in hip-hip history.

On March 9, 1997, Brooklyn-born Christopher Wallace, a.k.a. The Notorious B.I.G. and Biggie Smalls, was murdered while driving with an entourage from a nightclub in Los Angeles. The drive-by, assassination-style shooting came just six months after Biggie's rap rival, the comparably gifted Los Angeles-based star Tupac Shakur, was gunned down on the Las Vegas Strip. Considering the duo's unsurpassed talents, their murders were seen as the costliest consequences in a fatal feud between hip-hop artists representing the East and West Coasts.

One reason their deaths were such tragedies is that both Biggie & Tupac – already the industry's two best rappers – were so young. Tupac was only 25 years old at the time of his murder; Wallace was just 24. They had a lot left to give.

But it was what Biggie left behind that made his death particularly cruel: two weeks after his murder, his ambitious, 22-track double album hit the shelves. Its title? Life After Death.[20] The just-barely-posthumous album went on to become the fourth highest-selling rap album ever. Another layer of irony: the last track on Life After Death's second disc is the ominous "You're Nobody (Til Somebody Kills You)".
3

The Office Is Closed

Ever wonder why New York City Mayor Rudolph Giuliani was wandering around Lower Manhattan on 9/11,[21] rather than overseeing emergency response efforts from a command center? Simple: he didn't have anywhere else to go.

The city's Office of Emergency Management (OEM) was housed in… you guessed it, the World Trade Center,[22] which is a bit like placing a military field hospital directly between enemy lines. Part tragic irony, part poor planning, the NYC OEM was established in 1996. Considering this was just three years after the 1993 truck bombing[23] aimed at toppling the Twin Towers, it's at best a questionable choice for an office tasked with directing emergency response efforts during catastrophes.

The office was located at 7 World Trade Center, adjacent the two towers. On 9/11, this became problematic for two reasons. First, the OEM's communications relied upon the antenna atop 1 World Trade Center, the first building struck by a plane. That antenna soon became partially jammed because the Fire Department needed it to direct its own rescue operations.

And then, of course, the towers collapsed. It was ultimately the North Tower's implosion – the second of the towers to fall, at 10:28am – that damaged 7 World Trade so severely that the building needed to be fully evacuated. Later that afternoon it, too, collapsed.

Fortunately, what began as a forced migration north for Giuliani quickly became a situation where New Yorkers and the whole world saw a leader leading on the front lines.
2

Judge-ment Day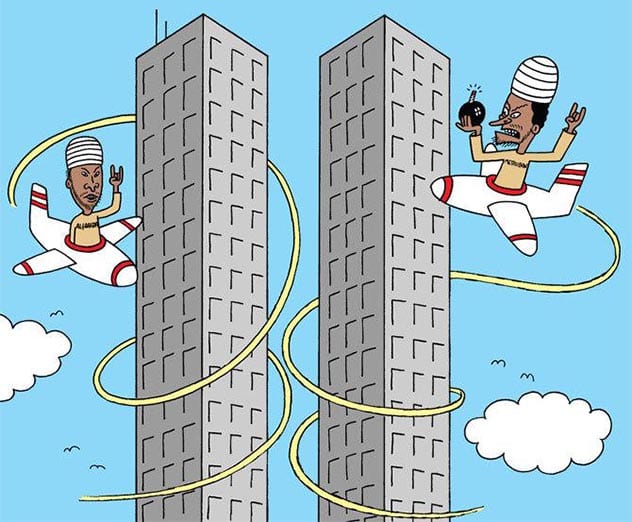 9/11 has plenty of strange coincidences,[24] but here's one that crosses into true tragic irony: the first person who depicted the day's destruction – some seven years before that fateful September day – has the same name as the day's first official victim. Well, almost.
In 1994, one year after the first, unsuccessful attempt to destroy NYC's World Trade Center, VICE magazine ran an article titled "What is al-Qaeda?".[25] The story was an in-depth look at the then little-known terrorist organization led by Osama bin Laden.
For whatever reason, the article's lead visual was a cartoon of Beavis and Butthead, who in 1994 were at the height of their popularity. The duo of dumbasses are shown wearing turbans while – you guess it – flying planes into the Twin Towers.
Beavis and Butthead were created by Mike Judge, who went on to write the 1998 cult comedy Office Space and the long-running cartoon series, King of the Hill.
On September 11, 2001, among the first to arrive at ground zero was Mychal Judge – or, rather, Father Mychal Judge,[26] the New York City Fire Department chaplain. Father Judge rode along with one of the first engines on the scene that day to provide solace in any way he could. He died when the South Tower – the first of the two to fall – collapsed.
His body was quickly taken across the street to a church where, though countless others had already perished that day via the initial impact (and terribly, jumping), Fr Mychal Judge became 9/11 Victim 0001,[27] the day's first official casualty.
1

Pain in the Glass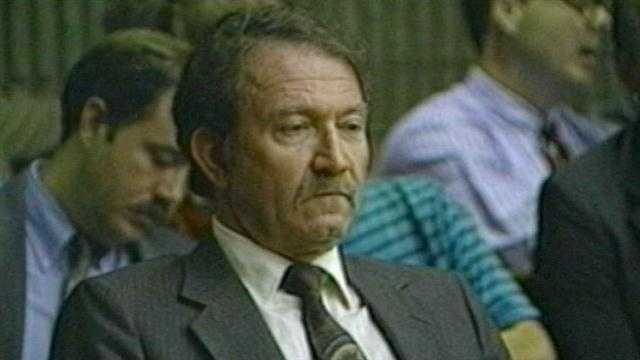 Melvin Henry Ignatow was not a nice person.
The Louisville, Kentucky man decided that if he couldn't have his girlfriend, Brenda Schaefer, no one could. So when Schaefer ended their two-year relationship, Ignatow ended her life.
It was a particularly brutal murder. Ignatow and an ex-girlfriend, Mary Ann Shore, fastidiously dug a grave and soundproofed the latter's house. On September 23, 1988, Ignatow took Schaefer to Shore's house, stripped, bound and gagged her, then repeatedly raped her. Already, I'm starting to wonder what Ms. Shore ever saw in this young man.
Ignatow then tied Schaefer to a glass table – an odd scene for a murder that comes back into play later – and smothered her with chloroform.
Worst of all, Ignatow and Shore got away with it. And we know the jury got their acquittal wrong because Ignatow later admitted to the murder[28] during a subsequent perjury investigation. He served five years for lying under oath during the murder trial, but per US law could not be retried for the killing itself.
Ignatow was released from prison in 2006. Two years later, he fell in his home, cut himself and bled to death. The culprit? A glass coffee table.[29] See ya in hell, Mel.
10 Popular Symbols With Bizarrely Ironic Origins
About The Author: Christopher Dale (@ChrisDaleWriter) writes on politics, society and sobriety issues. His work has appeared in Daily Beast, NY Daily News, NY Post and Parents.com, among other outlets.
We Publish Lists By Our Readers! Submit Here . . .