Students across the globe often gripe about their homework assignments. Those complaints frequently fall on deaf ears because parents expect teachers to guide the intellectual and ethical development of their children. Sometimes, that takes work. And, let's face it, parents know that kids are often just lazy.
But sometimes, the students have a point. Some teachers have asked their young scholars—from elementary school to college—to complete assignments that may be considered controversial and unethical. And when word got out, bam!
The public firestorm led to debates that put the embattled teachers smack-dab in the middle of those controversies in ways they never expected. Feelings were hurt, jobs were on the line, and content was created for an intriguing Listverse list.
10 Teachers Who Completely Lost Their Minds
10

Beer Brewing Assignment

Although the legal drinking age in the United States is 21, underage consumption of alcohol is widespread. Most minors who drink alcohol prefer to guzzle down cheap booze with little regard to how it was created. So, a biology teacher at Ralston Valley High School in Colorado decided to offer his students some insight into the process.

For this homework assignment, students brewed beer inside the classroom and were encouraged to learn more about the fermentation process outside of school hours. This included how wine, champagne, and vodka are made. For extra credit, students were urged to tour the nearby Coors Brewery, which allows men and women who are at least 18 years old to visit without adult supervision.

This assignment was met with resistance by a few hesitant parents. They feared that exposing underage students to alcohol would send a conflicting message while offering little educational value. One parent was afraid that such an assignment might spark her daughter's interest in the violent alcoholism that ran in her family.[1]

The Jefferson County School District, which controls Ralston Valley High School, was quick to offer an explanation for the assignment. They stated:

The teaching of fermentation, or anaerobic respiration, is a Colorado standard taught in biology classes. Teachers make choices in designing the lesson plans which help students meet those standards. While we value the efforts our teachers make to inspire learning in our students, we will be reviewing the assignment in question.
9

Serial Killer Assignment

When a teacher asked his ninth-grade students to do a comprehensive report on serial killers, he may not have considered the madness he would spawn. At Northern Bay College's Goldsworthy Campus in Corio, Australia—which is also a high school—the teacher provided the students in his forensic psychology class with a long list of potential projects related to serial killers.

Examples included: Create a cartoon illustrating how a serial killer would murder someone, write a poem about a serial killer, put together a children's book that would teach children about serial killers, make up a serial killer board game, and draw a floor plan of a serial killer's dream house.

Not surprisingly, the assignment was met with a flood of criticism. Outraged parents demanded that it be discarded, and their voices were heard. The high school principal immediately withdrew the assignment and banned it permanently from the curriculum.[2]

Why would such a gruesome assignment appear in a high school classroom, and what educational value would it provide? Scott Bonn, assistant professor of sociology at Drew University and a serial killer expert, explained:

This incident demonstrates just how deeply serial killers have penetrated the public consciousness and popular culture. [ . . . ] [This is illustrated by] the tremendous financial successes of the Showtime series Dexter and the book and film franchise based on The Girl with the Dragon Tattoo.
8

Slavery And Mathematics Assignment

In the United States, slavery is a sensitive topic. So it shouldn't come as a surprise that parents, community leaders, and even the NAACP became involved when a controversial homework assignment that combined slavery and math was handed out to third graders.

At Beaver Ridge Elementary School in Norcross, Georgia, two teachers distributed to four of the school's third-grade classrooms an assignment that asked these types of questions: "If Frederick got two beatings per day, how many beatings did he get in one week?" and "Each tree had 56 oranges. If eight slaves pick them equally, then how much would each slave pick?"[3]

When the young students brought the assignment home to their parents, some awkward conversations ensued. As one parent stated, "Now my son is asking questions about slaves and beatings, and I have to explain all that to him. I felt he wasn't ready for that."

Some parents even considered transferring their children to another school. Eventually, these parents contacted the school's principal and even reached out to the local and national media to express their outrage. With this exposure, the NAACP became involved, eventually calling for the termination of all teachers involved with the assignment.

While it was difficult for the principal to defend the assignment, he did his best to explain the thought behind its creation. He stated that the math teacher and social studies teacher were doing their best to create cross-curriculum assignments that helped students to better understand concepts.

To make the situation even more awkward, one objective of Beaver Ridge's improvement plan for 2011–12 included "increasing academic performances in math" for African-American students. The teachers involved did receive a disciplinary hearing and underwent a human resource investigation that ultimately led to the resignation of one teacher.
7

Nazi Homework Assignment

As part of the language arts curriculum, high school students are often tasked with writing a persuasive essay. This includes taking a stance on a subject and convincing readers that this point of view is valid. Although it's common for students to be asked to pick one side of a contentious subject, a few topics are considered too controversial for the classroom environment.

In 2013, a high school teacher in Albany, New York, decided to tread on this inappropriate line. She assigned her students a persuasive writing essay with the prompt: "You must argue that Jews are evil and use solid rationale from government propaganda to convince me of your loyalty to the Third Reich!"[4]

It isn't surprising that over one-third of the students refused to complete the assignment. They argued that the topic was not debatable and that no right could be found in the Nazi regime's actions.

Almost immediately, word spread across the city about the controversial assignment. Fingers pointed at the teacher who created the assignment as well as her boss, Albany Superintendent Marguerite Vanden Wyngaard.

Wyngaard eventually spoke to the media at a news conference held at the United Jewish Federation. Surrounded by school board officials and leaders from Jewish organizations, Wyngaard stated, "I would like to apologize to our families. I don't believe there was malice or intent to cause any sensitivities to our families of Jewish faith."

To strengthen their message, the school board invited the Anti-Defamation League to run sensitivity programs at the school.
6

September 11 Assignment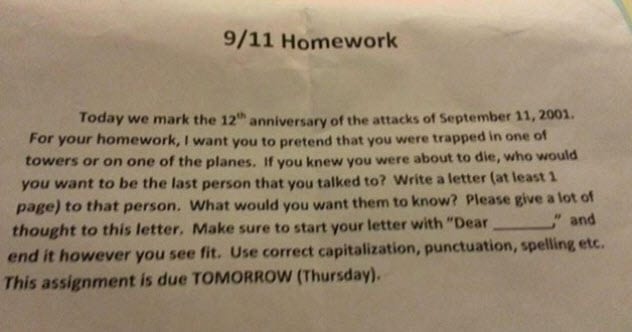 Continuing with the English composition theme, it's common for language arts teachers to ask their students to write from the perspective of someone different from themselves. In 2013, a teacher at Fairview Junior High in Alvin, Texas, did just this but pushed the envelope a little too far in most people's eyes.
Specifically, the teacher asked her students to pretend they were trapped in one of the towers or planes involved in the September 11, 2001, tragedy. Furthermore, she instructed her middle school students to write a letter to an imagined loved one or friend as they faced death.
Parents of the students were understandably upset when they found out about the assignment. They claimed the teacher had gone too far by requiring their children to write what amounted to a 9/11 suicide note.
The school district responded, "We sincerely apologize to any of our families that found this activity to be insensitive. As educators, we strive to meet the individual needs of our students both instructionally and emotionally while maintaining a high level of sensitivity."[5]
Although the 9/11 attacks are a painful subject among all ages, some in the media attributed the assignment's controversial nature to the youth of the students. Most were 12 to 13 years old.
Top 10 Reasons School Can Be Harmful For Mental Health
5

Native American Assignment
When math teacher Richard Vesbach handed out an algebra puzzle assignment to his high school class, there was no controversy at first. The beginning of the puzzle asked harmlessly enough, "What happened after Chief Short Cake died?" But once the problems were solved, the answer to this question caused quite the stir among a few parents in Minocqua, Wisconsin.[6]
After dinner that night, one of Vesbach's students showed the assignment to his mother. He asked her to explain the joke, specifically the punch line: "Squawburyshortcake."
Outraged at what she saw, the mother, who was a member of the Lac du Flambeau tribe, posted an image of the assignment on her social media page. It was quickly passed around the community and became a hot topic at the school, which had a 22 percent Native American population.
Although the term "squaw" refers to "woman" in Native American Algonquian languages, the word has evolved into a description more sexually charged. It is often used to demean Native American women and equate them to nothing more than sexual objects to be desired by men.
Once word got around, the teacher was quick to be contrite. He claimed that the assignment had come from a workbook sitting around his classroom since the 1980s. He offered to be sent home for a day without pay and take full responsibility for his actions. Furthermore, he stated that it was never his intention to offend the Native American population. The school was satisfied with this self-imposed punishment.
4

Stomping On Jesus Assignment

All our examples so far have centered around the introduction of a controversial topic to young students who might not be prepared for the conversation. But once young adults reach college or university age, many expect them to be able to handle more adult themes.

So, is it possible for a college professor to create a controversial assignment for his or her class? Let's study the case of Florida Atlantic University professor Deandre Poole.[7]

In Poole's Intercultural Communications class, students were told to listen carefully to the instructions of the teacher. Poole read from a lesson book that stated:

Have the students write the name JESUS in big letters on a piece of paper. Ask the students to stand up and put the paper on the floor in front of them with the name facing up. Ask the students to think about it for a moment. After a brief period of silence, instruct them to step on the paper. Most will hesitate. Ask why they can't step on the paper. Discuss the importance of symbols in culture.

Although the lesson was meant to be jarring, many students in Poole's class picked up the piece of paper, put it on their desk, and refused to participate in any further discussion. They were already highly offended by even being asked to step on Jesus's name. As one student stated, "I'm not going to sit in a class having my religious rights desecrated. I truly see this as being punished."

Eventually, Noemi Marin, the university's director of communication and media studies, offered her opinion on the subject. She said, "As with any academic lesson, the exercise was meant to encourage students to view issues from many perspectives. While at times the topics discussed may be sensitive, a university environment is a venue for such dialogue and debate."

Although the university did apologize for the professor's actions, it didn't satisfy some people. Then-Florida Governor Rick Scott called for an investigation into why students were being asked to compromise their beliefs. In the end, the professor was allowed to keep his job.
3

Sex Toy Assignment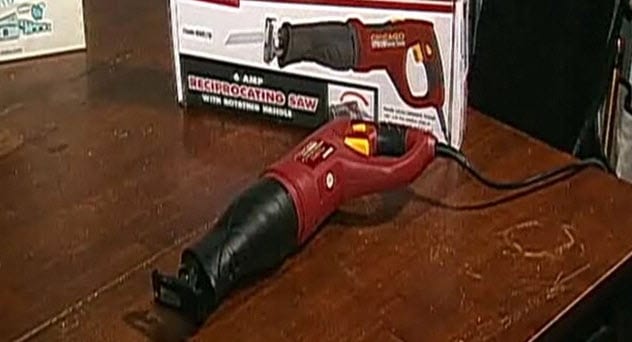 At Northwestern University in Evanston, Illinois, Professor John Michael Bailey's human sexuality course was one of the most popular classes. The course was well-known for offering unique experiences to students, including a question-and-answer period with a group of swingers or a panel with convicted sex offenders. But in 2011, one after-class event may have gone too far.
In this assignment, students were invited back to the classroom that evening to watch a naked woman "perform" on herself with sex toys. The woman's "highlight of the night": Using a sex toy attached to a reciprocating saw, an act that led to a lot of wide eyes that evening.
Earlier in the week, students were warned that the act would be graphic. Those who chose not to attend were not penalized for their decision. However, the students who attended were not the ones who protested the assignment.
Instead, the university administration stepped in with complaints of their own. The president of the university said, "I simply do not believe this was appropriate, necessary, or in keeping with Northwestern University's academic mission."
For his part, the class professor was torn, unsure of where blame, if any, should be laid. He stated:
Do I have any regrets? It is mostly too early to say. I certainly have no regrets concerning Northwestern students, who have demonstrated that they are open-minded grown-ups rather than fragile children. I have not enjoyed the press because I have assumed that reporters will sensationalize what happened and will not provide my side.
I suspect that my dean is not enjoying this publicity, and I do not like displeasing my dean. To the extent that this event provokes a discussion of my reasoning above, I welcome it. I expect many people to disagree with me. Thoughtful discussion of controversial topics is a cornerstone of learning.[8]
2

Public Killing Of A Chicken Assignment

There have always been artists who are more than willing to walk a controversial line. They often use the idea of "artistic freedom and expression" to justify their actions or creations. In spring 2013, a student at the Alberta College of Art and Design in Canada did just that after his artistic performance critiquing food production created outrage across the campus and country.

The performance, which was part of a class assignment, went as follows: The male student walked into the school cafeteria with a live chicken in his hands. He cooed and comforted the chicken before suddenly slitting the bird's throat, leaving blood to pour over the floor. If that wasn't enough, the student plucked the chicken's feathers and stuffed its corpse into a large cooking pot.[9]

Understandably, many students were upset, having been caught off guard by the violent act. They were also unwilling to accept the student's justification that the stunt showcased the gap in our understanding of how food arrives on people's plates.

Surprisingly, the student escaped much of the criticism. Instead, fingers were pointed at his professor, Gordon Ferguson, for signing off on such a horrific act. Ferguson had been a well-respected instructor in the college's sculpture department for 32 years.

Although it isn't clear if Ferguson supported the execution, he knew about the student's interest in performing it beforehand. Ferguson was suspended during an investigation, but he was eventually reinstated. The college offered counseling to those in attendance. The incident was also discussed at a public symposium the following year.
1

Obama Assignment

This one is not so much an assignment as a class requirement. In fall 2012, Sharon Sweet, an associate professor of mathematics at Brevard Community College in Florida, forced her students to sign pledges that they would vote for Barack Obama in the upcoming presidential election.[10]

After being handed a sheet of paper that read "I pledge to vote for President Obama and Democrats up and down the ticket," each student was asked to sign his or her name at the bottom. It doesn't take a college graduate to understand that pushing one's political beliefs on a group of people who didn't ask for it might be a bad idea.

As soon as word got around about the professor's action, Brevard Community College fired Sweet. They stated that her undoing was not her political leanings but instead her creation of a hostile environment for students. Many feared that their grades would be affected if they did not sign the pledge.

Sweet was also accused of misrepresenting her intentions. At the time, she claimed that she was registering voters at the community college and that the pledge was simply a "statistical analysis." It was discovered that Sweet had provided bookmarks from the GottaVote website to her students. The site was funded by the Obama campaign and sought to target young voters.

As a Brevard Community College spokesperson said, "The college has specific policies that address the political activities of faculty and staff, which state that no college employee shall solicit support for a political candidate during regular college work hours or on college property."

10 Of The Most Unusual Schools In The World

About The Author: Cod Zumwalt writes lists while surrounded by cats and the Tennessee hills.

We Publish Lists By Our Readers! Submit Here . . .