When serial killers are caught, they are removed from society. However, the lasting physical evidence of their crimes, the house in which they committed their murders is often left for all to see. They are often known as 'Houses of Horrors', a somewhat tabloid term, but one which succinctly describes their morbid, inerasable past. Sometimes they are destroyed and all evidence of even the plot is removed. Other times the houses are demolished and new ones are built in their place. Some just get left where they are, a tourist attraction for those with morbid curiosity. Below are ten examples of 'Houses of Horrors' and what became of them after their residents left.
Top 10 Incredibly Surreal Places on Earth
10

Pier Mie Vampez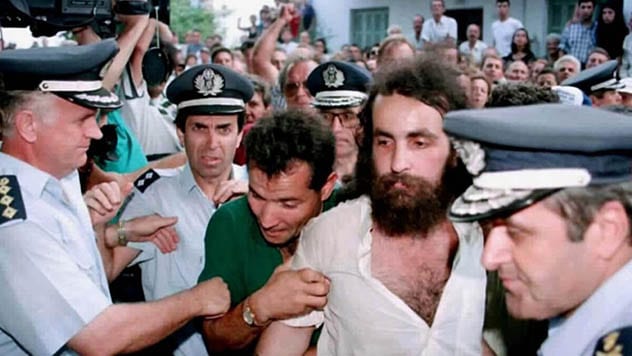 Thassos is a beautiful Greek island in the Northern Aegean sea, famous for its clear waters and the traditional, simple life-style of its locals. It's a haven for holidaymakers from far and wide looking to forget their worries for a week or two. Its famous sights include the ancient theatre, it's fascinatingly preserved ruins and otherwise anonymous house on Pier Mie Vampez. The house was inhabited by 24 year old Theophilus Sechidis, his father, mother and sister and grandmother. Like most families in tight-knit communities, they were well known in the area and so it struck the locals as odd when in May 1996 all but Theophilus suddenly disappeared. Theophilus explained to police investigators that they had all suddenly left Thassos, but soon changed tact and decided to tell the gruesome truth. He had first killed his uncle in an apparent act of self-defence and removed his head with a knife.[1] In a bizarre twist, Theophilus told police that over the next two days each member of his family in turn had attempted to kill him. Each time he managed to fend them off with an unlicensed pistol, placed their heads in the fridge and put their bodies in waste bags.[2] When investigators entered the house they found brain fragments adorning the walls and the carpets were soaked with blood. Strangely, the house has been left exactly as it was since 1996. Curtains hang in the windows and a model of a ship decorates one of the outside walls. Thousands of tourists most probably unwittingly walk past it each year with no idea of the horrors that occurred there. It is apparently up for sale, but no buyer has been found.
9

10050 Cielo Drive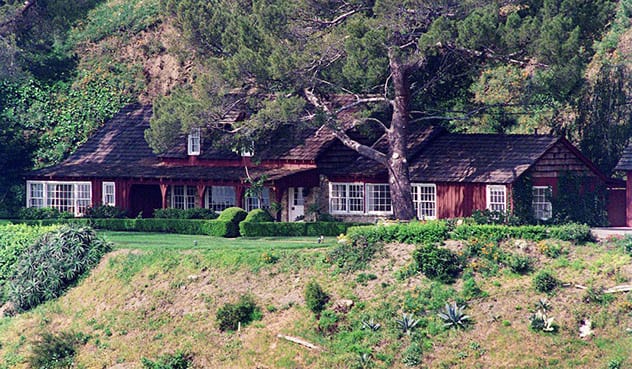 You may not recognise the address but you'll certainly recognise the crime. 10050 Cielo Drive has seen its fair share of celebrities over the years. The house was built for French film star Michele Morgan in the 1940s and housed the likes of Cary Grant and Henry Fonda. It was owned by talent manager Rudi Albotelli who leased the apartment to Roman Polanski and his beautiful young wife Sharon Tate in February 1969.[3] Polanski left to film overseas soon after the move, leaving Tate to occupy the house with her friends Jay Sebring, Abigail Folger and Voyteck Frykowski. On 9th August all 4 were murdered, along with a visitor to a nearby house in brutal circumstances by the infamous Manson Family. Recruited by evangelical drifter Charles Manson, 3 members of the 'family'; Patricia Krenwinkle, Susan Atkins, Charles Watson and Linda Kasabian had been ordered to approach the house and kill everyone inside, purposely linking it to a previous murder committed by Gary Hinman (by writing messages on the wall in blood) with the intention of starting a race war. The gang were later arrested for the murders and sentenced to death, which was later commuted to life in prison. The owner of the house, Rudi Albotelli moved back in immediately after the murders, and lived there for a further 20 years. Trent Reznor of Nine Inch Nails began renting the house in 1993, and started recording there.[4] He claimed that he did not know its history when he moved in and sold it the following year. In 1994 the house was demolished and a new mansion was built on the site of the murders
8

10 Rillington Place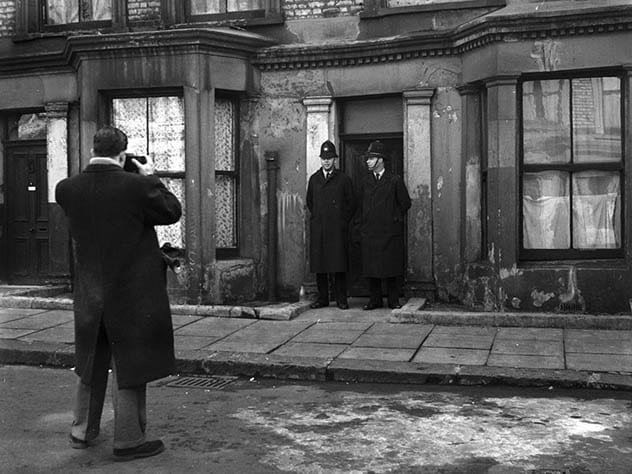 John Christie and his wife Ethel were described as a 'pleasant couple' who kept themselves to themselves. They appeared just like a normal every day couple to anyone they met, but John had some deep issues which would later result in him becoming one of the most infamous British serial killers. The two lived at 10 Rillington place, the last house on a street in Nottingham Hill, London. Christie's murder spree began in 1943 when he murdered Ruth Fuerest, a local prostitute. He buried her in the back garden, which would be later filled with more unfortunate victims. Between 1943 and 1953, at least 8 people would be murdered by Christie in the Rillington Place row-house. A strange twist occurred however in 1949, when a lodger of Christie's, Timothy Evans, informed police that his wife and child had been murdered at the address.[5] Police found the bodies and apparently extracted a forced confession from Evans which he later recanted, blaming Christie for the crimes. Despite his pleas he was hanged in 1950 for the murders, allowing Christie to go on killing for another 3 years, including murdering his wife Ethel in 1952. Christie was eventually kicked out of the house by his landlord when it was discovered he was subletting to a different couple. A new tenant found bodies stuffed inside the kitchen alcove and Christie was arrested. He was hanged by famed executioner Albert Pierrepoint in July 1953.[6] In an attempt to take attention away from the address, Rillington Place was renamed Ruston Close shortly after the murders and was occupied until the entire street's demolition in the early 1970s. The original location of the house is now believed to be between Bartle and St Mark's Road in Notting Hill.
7

River Valley Farm, Holcomb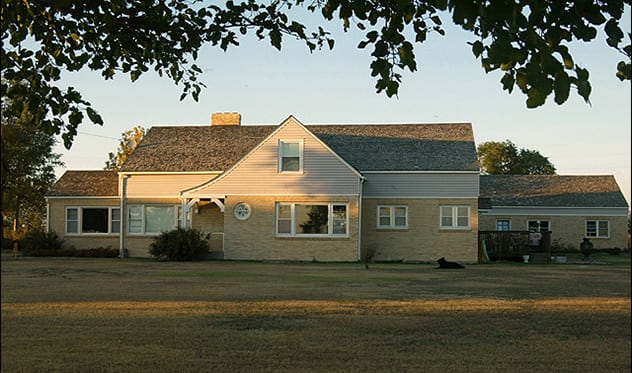 Holcomb is a quiet, picturesque area of Western Kansas which lies seventy miles east of the Colorado border.[7] The village is known for its vast farm land, close-knit community, and being the unfortunate subject of Truman Capote's 'In Cold Blood'. The book tells of the true story of the horrific murders of the Cutter family who occupied River Valley Farm in the 1950s. While in Kansas State Penitentiary, Richard 'Dick' Hickock learned from a cell-mate who had worked on Herbert Clutter's farm that the family were rich. Upon release, Hickock recruited partner-in-crime Perry Smith and the two set off on a road trip to Kansas, with the intention of robbing the family and making an easy escape. The robbery however, turned in to a mass slaying when, upon discovering there was no money in the house, Smith cut Herbert's throat and then murdered the entire family before making his escape. Smith later told police that Hickock was also involved in the murders, although Hickock denied this, insisting he had only intended to rob them while Smith single-handedly murdered them all.[8] The two of them were captured when the cell-mate of Hickock heard about the murders, and told the authorities. They were later hanged for the crimes. River Valley Farm still stands today, and the murders are no less fresh in the minds of many Holcombe residents. Visitors from all over the world still visit Holcomb in the hopes of catching a glimpse of the murder house, having read the terrifying details of the events in Capote's famed account. The current owners of the house however do not allow visitors on to the property and a clear warning to trespassers is displayed upon the gate. The only physical sign of the murders is a remembrance plaque unveiled on the 50th anniversary of the killings.
6

25 Cromwell Street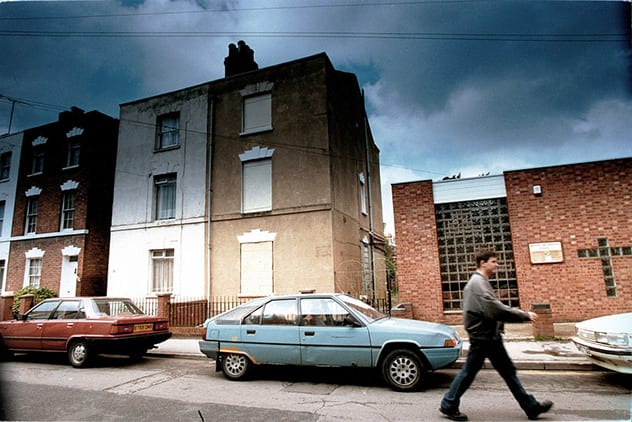 Another non-descript British house, 15 Cromwell street was the home to murderous couple Fred and Rose West. Fred was born in 1941, in the quiet village of Much Marcle. He proved to be troublesome from an early age, dropping out of school despite having an apparently good home life (although he later claimed that his father had sex with his sisters, something which has never been corroborated). West had a motorcycle accident at the age of 17 which apparently damaged his brain enough to cause limited impulse control and possibly contribute to his actions later in life.[9] His life spiralled out of control fast, and he was soon stealing and having sex with underage girls, something which managed to get him ostracised from his family. He fathered children to numerous women over the years before eventually meeting his future partner in crime Rose in 1969. In 1971 the first murder at the house occurred. While Fred was in prison for theft, Rose killed his stepdaughter Charmaine, daughter of his previous wife Rena who had been living with the couple. This was just the beginning. The mother was killed months later, having visited Cromwell street to collect her daughter. The West's went on to kill at least 13 victims, and bury them in the garden and several parts of the house until their arrests. The road on which the house stood is still called Cromwell Street and it is still accessible by the public. The house however was destroyed in an attempt by the local council to expunge the evil associated with the area. It is now a pathway connecting Cromwell Street with the parallel road.[10]
10 Creepy Places Around The World You Don't Want To Visit
5

The Hotel Of HH Holmes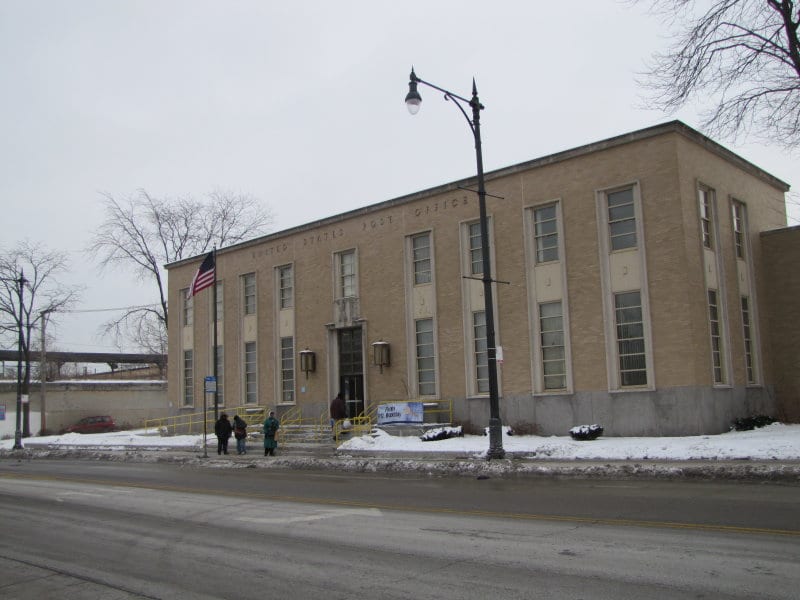 Until the release of the book The Devil in the White City in 2003, Holmes was pretty much unknown in popular culture, which is surprising considering he murdered between 9 and 200 people in the 1880s and 1890s. Holmes was born Herman Henry Mudgett in New Hampshire in 1861. He attended medical school and came up with a method of making money from the bodies in the laboratory there. He would steal them, disfigure them so they could not be recognised and claim that the people were killed in various accidents so he could claim money on insurance policies he had taken out on them.[11] He later moved to Chicago, a happening city which was preparing to host the 1903 World's Fair and built a hotel that he said was to be used for housing the thousands of expected visitors. However, the truth was very different. Holmes had the building created in such a way that he could kill its residents and transport them to the basement for disposal through a series of trapdoors, hidden tunnels and passages. The bodies would then be stripped of flesh and sold to medical schools.[12] He made sure that he used a series of different builders so that no single one knew of the entire plans. The building even housed its own gas chamber which Holmes would lock victims in before asphyxiating them. Holmes was hanged in 1896 and the hotel was eventually demolished but its location is believed to be that of the Englewood Post Office. Some partially built interior walls still exist in the basement which could have belonged to the 'murder castle'.
4

Beachcomber Lane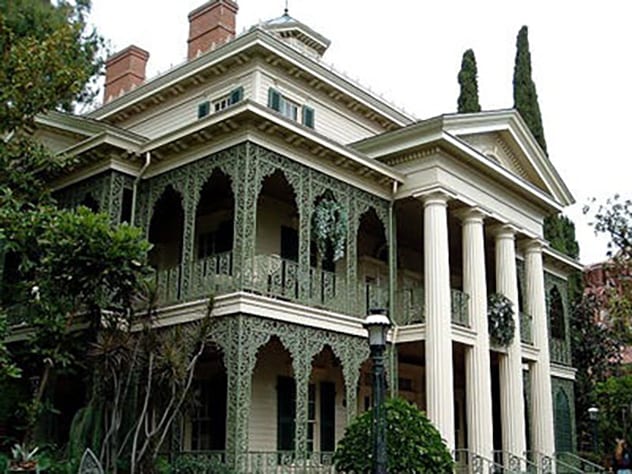 On the corner of Beachcomber Lane and Sea Lark Road lies a house with a tragic past. Until June 2001 it was the home of Russell and Andrea Yates. The couple met living in the same apartment complex in Texas and later married, promising to have as many children as possible.[13] Andrea had suffered from depression and an eating disorder in her teenage years, but seemed happy and content during her early relationship with Rusty. The problems started after the birth of their fourth son Luke in February 1999. Andrea attempted suicide several times and was put on Haldol to ease her depression, which seemed to work somewhat with her mood becoming calmer and outbreaks becoming rarer. The couple were advised by their doctor to have no more children but eventually Andrea became pregnant with her fifth child, a girl they named Mary, born on November 30th 2000. Upon the birth of Mary, Andrea stopped taking her prescription medication and relapsed back in to severe depression. Russell was strongly advised by their doctor Mohammed Saeed to prevent Andrea from spending any time alone with the children but Russell ignored the warnings, believing that she needed more independence.[14] On June 20th 2001, Andrea was left with the children Rusty left for work. She headed to the bathroom, ran a bath and proceeded to systematically drown all of her 5 children one-by-one. She then rang her husband and stated 'It's time'. Yates was imprisoned for the murders before being moved to a psychiatric facility in 2006 after a retrial found her not guilty by reason of insanity. The three bedroom home still stands and now serves as a rental property after being renovated following the crimes. It originally attracted a lot of attention from people who had read of the case but now enjoys a more peaceful existence.
3

92 Second Street, Fall Street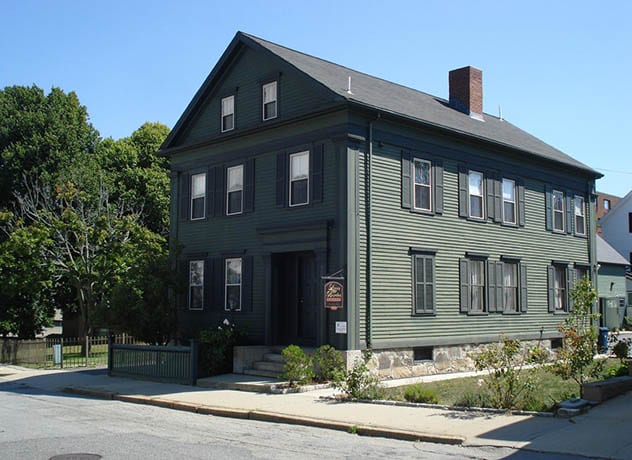 92 Second Street in Fall River, a Bristol County area of Massachusetts has a major difference from the rest of the entries in the list. Possibly due to the amount of time that has lapsed since the murders, and also because of its place in folklore, the house is now an unashamed tourist attraction. It was the home of the Bordens, a god-fearing family who enjoyed a financially comfortable existence which was often marred with arguments and rows over the father's actions. Andrew Borden was not a particularly popular man. He had built up great wealth in his years as a successful business man, but had been accused on occasion of taking part in shady business deals and apparently made numerous enemies on his rise to success.[15] On August 4th 1892 Lizzie, the youngest daughter, screamed to the maid from the downstairs sitting room. Andrew had been murdered, seemingly in his sleep. A hatchet like instrument had been used to cave his skull in with approximately 10 ferocious swings.[16] Moving to the bedroom, the pair also found the mother dead, her skull crushed in a similar way. The murder weapon was found in the basement, and, being first on the scene with no other suspects, Lizzie was charged with the murders. However, the jury at her trial acquitted her and she died in Fall River in 1927. The house in which the murders took place is now a bed and breakfast, which is heavily themed on its dark past. The owners arrange talks and murder tours of the property to visiting guests, if you're interested.[17]
2

8213 Summerdale Avenue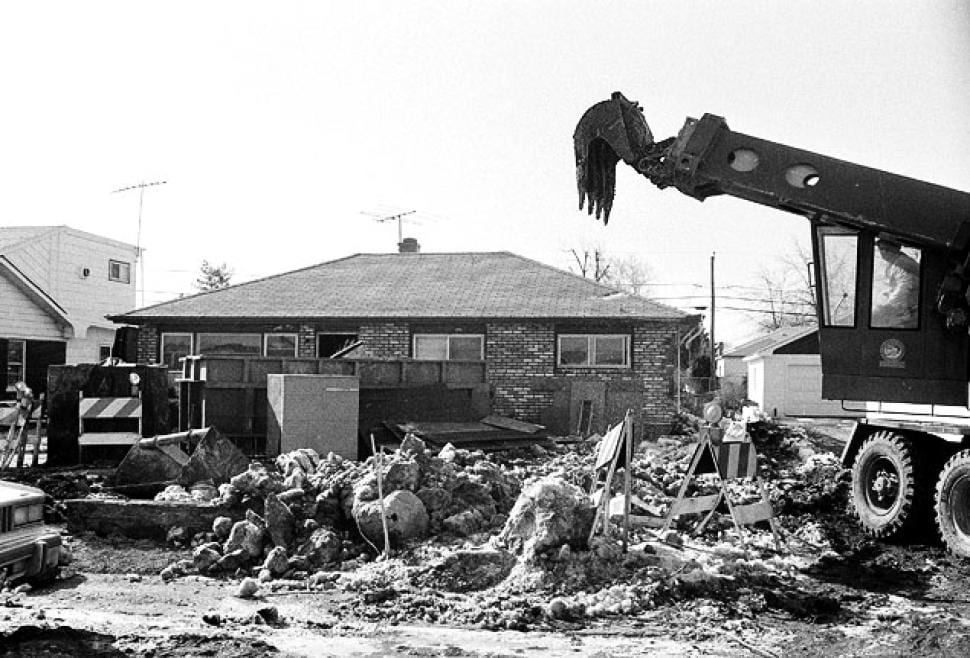 John Wayne Gacy, known as the Killer Clown was convicted of killing 33 people between 1972 and 1978, making him one of the most prolific serial killers in the United States. Gacy was born in 1942 to Marion and John Gacy Snr, an abusive alcoholic who the young Gacy idolised.[18] Gacy was known in his local area initially as friendly person, always willing to support local charities, often dressing up as a clown to entertain the children. It soon became apparent that Gacy had another side though. In the late 1960s he spent time in prison having been accused of sodomising a young man who worked in the same franchise restaurant he had become employed by through his wife's father. After being released from prison Gacy learned that his wife had left him. He married again in 1972, and things seemed to be going well. He was popular in the local neighbourhood, and often had people around to his house on 8213 Summerdale, Avenue although people frequently complained about the smell coming from the basement. Although he had already began murdering before, upon his second wife's departure in 1975, Gacy's killing escalated. His modus operandi was to invite young boys back to his house to show them a magic trick with fake handcuffs. Having restrained them he would murder them and bury them in the crawl space underneath the house.[19] He was eventually arrested for his crimes when his last victim was linked to him. During the removal of the 27 bodies buried at Gacy's property, police demolished the house. The lot stood abandoned for years before being bought. A new property was built on it and the address was changed to throw off would-be sightseers. The property stil attracted visitors however, some who would arrive on a tour bus to gawp at the home of one of the worst serial killers in American history.[20]
1

195 Melrose Avenue And 23 Cranley Gardens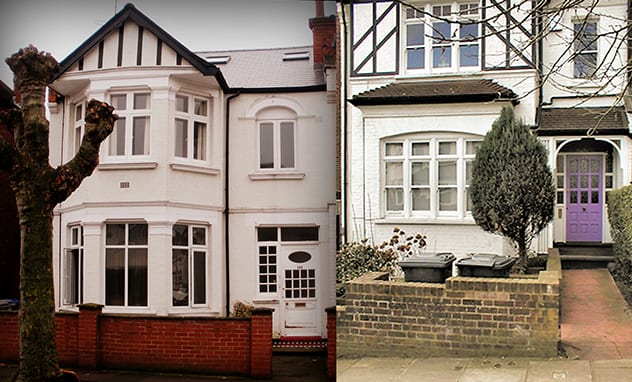 Dennis Nilson was a British Serial killer with a habit for keeping his victims remains around his house long after he had dispatched them. He has been known as the 'British Jeffrey Dahmer".[21] Nilson spent time in the Army and the Metropolitan Police Force before leaving his duties and starting his murdering spree in 1978. Nilson found his victims by trawling the pubs and clubs in the area and inviting men back to his flat. Afraid of the loneliness which would follow them leaving, he would murder them and often spend time sleeping with their corpses before disposing of them. He spent 3 years killing at his first address 195 Melrose Avenue where he would burn the remains in the back garden or bury them under the floorboards. 12 victims were murdered in the first address causing Nilson issues with storage. He eventually had to resort to repeatedly spray his room because of the number of flies the corpses were attracting.[22] In 1981 he moved to 23 Cranley Gardens where he killed a further 3 people. It was hear his crimes were discovered after the other residents of the building called a plumber to investigate the smell coming from the drains. The plumber discovered human remains and the police were contacted. He was sentenced to life in prison in 1983. Both houses are still standing and both still have tenants who understandably don't like talking about the past. In August 2013, Nilson's Cranley Gardens residence was put on the market for £100,000 lower than the value in the hope of attracting anyone to try to forget what happened there.[23]
Top 10 Places Famous For Bizarre Reasons
About The Author: John Sampson is an internet author who writes about anything that piques his interest. He does not use social networking as he believes this makes him more mysterious and interesting. He is wrong.
We Publish Lists By Our Readers! Submit Here . . .