Legislative houses are where national and international leaders meet to discuss policy and formulate laws and treaties meant to benefit the people they represent. As a result of issues of national and international interest being debated in these chambers, emotions will always run high. Because of this, proper decorum is always expected throughout the world. Despite these rules and expectations being in place, they are not always observed and governing officials do things that are embarrassing to themselves and their countries. These are 10 embarrassing incidents from legislative houses around the world.
10 Terrible Acts Of US Political Violence
10

Vladimir Putin Helps Chinese First Lady


While at the 2014 Asia-Pacific summit in Beijing, Russian President Vladimir Putin noticed that Chinese first lady Peng Liyuan looked cold, so he offered her his jacket, which Peng graciously accepted. All the while Chinese President Xi Jinnping was talking to then U.S President Barack Obama. Peng quickly realized that this could lead to embarrassment for her husband and swapped Putin's jacket with one given to her by an attendant. Unfortunately for Xi this wasn't enough to keep Chinese and international commentators from commenting on Xi's seeming indifference towards his wife. After several days of non-stop media and social media coverage of the incident, Xi had had enough. He banned any footage, commentary or reference to the incident from Chinese State media, in what many believe to be a petty attempt at saving face in light of his embarrassment.
9

Justin Trudeau in a Superman Costume


Canadian Prime Minister Justin Trudeau is no stranger to controversy, particularly controversy caused by his outfit choices. From wearing over the top Indian costumes on a trade mission, to wearing multiple costumes featuring blackface, Justin Trudeau's attire is something that many Canadians shake their heads at. And sadly he hasn't left those style choices out of Parliment. On October 31 2017 Justin Trudeau arrived at Question Period dressed as a Prime Minister should be. Blue suit, white shirt and red tie. But as soon as he was in front of the cameras he loosed his tie, opened up his shirt and revealed he was dressed as Clark Kent/ superman. He remained in his costume throughout the day, a first for a Canadian Prime Minister. Many of Trudeau's supporters saw this as a positive thing, and that he was engaging with regular Canadians who liked to dress up for Halloween. Many of his detractors however saw Trudeau's actions as a childish breach of the Canadian Parliament's dress code, which stipulates that male MP's are expected to wear jackets and ties while Parliament is in session.[1]
8

Silvio Burlosconi Flirts with Colleague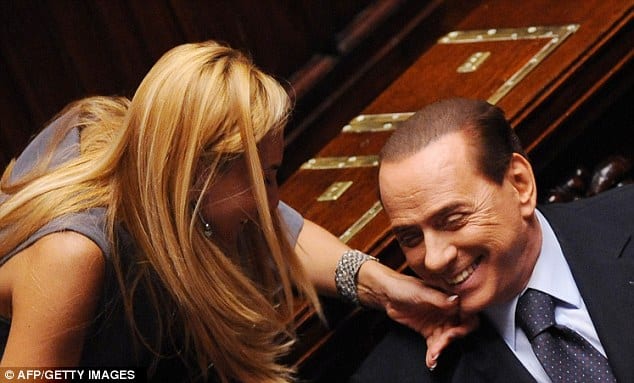 In August 2011 while Italy was facing economic ruin and the Italian Parliament was scrambling to find a solution, Prime Minister Silvio Burlosconi had other things on his mind. On August 4 2011, while Parliament was in session, the 73 year old Burlosconi was seen flirting with the 40 year old Michaela Biancofiore, a member of his party and political ally. Biancofiore was not the first woman Burlosconi was seen flirting with in Parliament. In a debate earlier that year, Burlosconi was seen speaking intimately with his Tourism Minister Michela Vittoria Brambill. In addition to these escapades in Parliament, Burlosconi was known for hosting sex parties with hired prostitutes at his mansions. These escapades were seen as disrespectful and frustrating by the Italian people, and made Burlosconi a joke within the international community. These sexual escapades, some of them illegal, later led to Burlosconi's downfall later that year. Despite this, his multiple criminal convictions and a ban on serving in public office, Burlosconi still continues to have influence by proxy in Italian politics.[2]
7

I Hear the Word Racist


For a country known internationally for its politeness, Canada's politicians clearly haven't gotten the message. Another example of a Canadian MP acting in an unparliamentary fashion was Reform Party MP Darrel Stinson, who had a reputation for his outspoken conservative views. On February 4 1997 when debating a prison reform bill, Liberal MP John Cannis called Stinson a racist for a statement he made in support of law and order. In response, Stinson became enraged and stormed towards Cannis, coming within 3 meters of him, while shouting obscenities towards Cannis. All the while fellow Reform MPs desperately tried to stop Stinson from starting a fight and the Speaker of the House called for order. Thankfully, no punches were thrown and the situation was defused. Stinson continued to serve as MP until 2006 when he retired after a cancer diagnosis, while Cannis served until 2011 when he lost his seat, only winning 32% of the vote.[3]
6

Bob Brown Shouts Down George Bush


Australia and the United States have shared a close relationship since the beginning of the Second World War when Australian and American forces fought together against the Japanese. In light of this history, one would expect the leaders of these nations would be treated with respect and dignity when on diplomatic visits. Unfortunately, in 2003 Australia was not such a welcoming host. When U.S President George Bush arrived in the Australian Parliament in October 2003 he was met with outbursts from Green Party Leader Bob Brown as well as Green Party Senator Kerry Nettle. Both Brown and Nettle were ejected from Parliament by the Sergeant at Arms after refusing to leave when ordered by the Speaker of the House. This was a national embarrassment for Australia who could not believe the behavior of their Senators towards a forgin leader. Brown on the other hand was unrepentant for his actions, stating that it was disgraceful that Australians were not allowed in Parliament during President Bush's visit.[4]

Top 10 Ways China Is Turning Into An Episode Of Black Mirror
5

Paul Gogarty Loses It


In a December 2009 sitting while debating the 2010 budget, things got heated in Paul Gogarty, in a heated moment yelled, "Fuck you Deputy Stagg. Fuck you," towards fellow MP Emmet Stagg. This outburst shocked the Irish Parliament. Gogarty apologized for this outburst, claiming that it was simply a heated moment of anger. After a special disciplinary session to deal with the outburst. it turned out that the use of the word, "fuck," is not considered a breach of protocol by Irish parliamentary rocedure. Therefore Gogarty received no formal sanction for his outburst and continues to serve as MP to this day.[5]
4

Nancy Pelosi Rips Up State of the Union Address


Donald Trump and Nancy Pelosi have been bitter political rivals since Trump declared his candidacy for President in 2015. When Trump took office in January 2017 their feud escalated into a tit for tat war featuring the longest government shutdown in U.S history and an impeachment that ended in Trump's acquittal. After Donald Trump gave his State of the Union address on February 4th 2020, Pelosi ripped up her copy of the speech upon its compilation. Pelosi later defended her actions, calling Trump's address a, "manifesto of mistruths," with many of her supporters agreeing with her. Pelosi's critics however viewed her actions as unnecessarily decisive on a night meant to unify America, as well as insulting to the many good things that had happened as a result of the speech such as a soldier reuniting with his family and a young girl receiving a scholarship to attend a better school. Nevertheless, Pelosi's actions only served to further polarise America and destroy any chance of a working relationship between Congress and the President. Today Trump still serves as President while Pelosi serves as Speaker of the House, with no cooperation between the two.[6]
3

1984 New Zealand Snap Election Announcement


In 1984 New Zealand was in the midst of a political and economic crisis with no end in sight. Prime Minister Robert Muldoon's National Party had overseen a period of growing debt, unemployment and inflation in its term of government. As a result Muldoon was facing criticism from the opposition as well as within his own party, and the pressure was getting to him. In early June 1984 Prime Minister Robert Muldoon stumbled out of his office and in front of the New Zealand press, visibly drunk, declared a snap election that would take place in a month's time. He hoped that the snap election would undermine the rival Labor Party and lead to a larger National Party majority. Unfortunately this plan did not work for Muldoon and the National Party lost its governing position to Labor. Muldoon left his position as leader of the National Party, but remained as an MP until 1991, a year before his death.[7]
2

Jacob Zuma Sleeps in Parliament


Jacob Zuma is one of South Africa's most incopotent and embarrassing Presidents. Controversies include being recorded singing the banned song Shoot the Boer, and being accused of sexual assault. Therefore his behavior in Parliament cannot be held to a very high standard. But even with all of these controversies, no one expected his behavior in Parliament on November 2 2016. While listening to a speech on the national budget Zuma fell asleep in plain view of Parliament and the cameras recording the event. Zuma's actions were seen as one of many examples of disrespect by the South African elite towards average South African citizens. Even though Zuma no longer serves as President, his ANC Party still governs South Africa, showing what appears to be indifference towards corruption and incompetence in their political system.[8]
1

Ugandan Parliament Erupts into a Brawl

In 2017, while debating a constitutional amendment to extend the age of a serving president, a full on brawl erupted in the Ugandan Parliament. Specifically the amendment was meant to extend the rule of 73 year old President Yoweri Kaguta Museveni, who at the time was 2 years away from reaching the maximum age restriction for Presidents, which at the time was 75. Punching, kicking, use of microphones as weapons and all forms of violence were seen on the House floor. The brawl lasted 2 days with several serious injuries being reported. In regards to the constitutional amendment, the Presidential age limit was scrapped and President Museveni's rule continued, and he is still in power to this day. The brawl remains as one of the most widespread, unprofessional political moments in modern world history.[9]

10 Historical Elections Fraught With Dirty Politics

Become Facebook Friends with Listverse Founder Jamie Frater