Have you been to London? Yes? Been on the London Eye? Of course, you have. Seen the Crown Jewels at the Tower of London? Yeah, we guessed as much. But have you visited the "hidden gems" of London that we list below?
If you haven't been to England's capital, take a trip (once it is safe to do so) to one of these places instead of joining the hordes of tourists at the usual spots. Some of these locations aren't strictly open to the public, but most are . . . or, at least, they have guided tours.
The ones that aren't open to the public? We're sure you'd get to see them if you asked someone nicely. Enjoy!
Top 10 Misconceptions About London
10

The Foreign And Commonwealth Office

This beautiful building is a must-see for lovers of grand spaces. The Grand Staircase is truly breathtaking, replete with marble columns, gold leaf accents (that are for once used sparingly for maximal effect), and neoclassical frescoes.

An international competition was held in 1856 to create the design of the building. Although his submission came in third, chief architect George Gilbert Scott was appointed to do the job. He is responsible for the overall design of the Foreign Office, but another architect, Matthew Digby Wyatt, also contributed to the project.[1]

Scott agreed to let Wyatt design and build the interior of the India Office. Already the India Office's surveyor, Wyatt also created the spectacular Durbar Court, an architectural masterpiece that opened to the sky. In 1868, two years after construction was completed, they added a roof to the court that gave the illusion of an open sky but protected against bad weather.

You may decide to skip visiting the nearby Buckingham Palace and spend an extra hour or two marveling at this lesser-known architectural nirvana. In London, other famous institutions, including the various museums and theaters, are designed for educational or entertainment purposes, but the Foreign and Commonwealth Office (FCO) is a working office with actual diplomats.

If you think a guided tour of your local DMV or Passport Office sounds as dull as ditchwater, you're right. But we wouldn't mind getting a guided tour around the FCO.

Nearest Tube Station: Embankment
9

The Clermont Club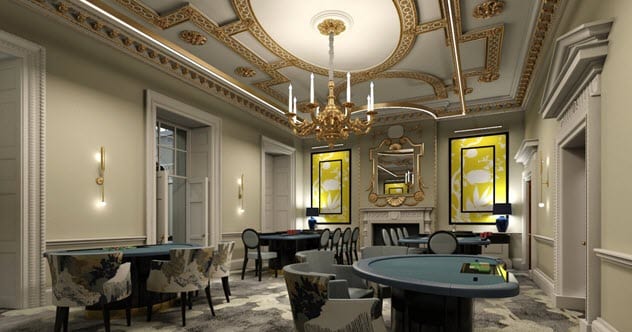 Who doesn't like a flutter? What's more exciting than putting the company payroll on red? The interior of this casino, like a real-life James Bond movie set, that's what!
However, don't think you can just walk in and lay a fiver on the house at the Punto Banco table—it's members only. For over 40 years, the high society gamblers of London frequented the casino, which is contained in an 18th-century townhouse built by William Kent.
Located in the swanky Mayfair area, this place is synonymous with opulence and wealth. Although the Clermont Club closed in 2018 due to financial difficulties, it's set to reopen in 2020.[2]
Despite the barrier to entry, many guided tours will take you to the historic Berkeley Square. Ghost tours often make a stop at No. 50, "the most haunted house in London," which is a few doors down from the Clermont Club (No. 44).
So, before hearing the spine-chilling tales of the haunting at No. 50, take a quick peek through the windows of No. 44—a brief glimpse of Heaven before descending into Hell!
Nearest Tube Station: Green Park
8

Middlesex Hospital Chapel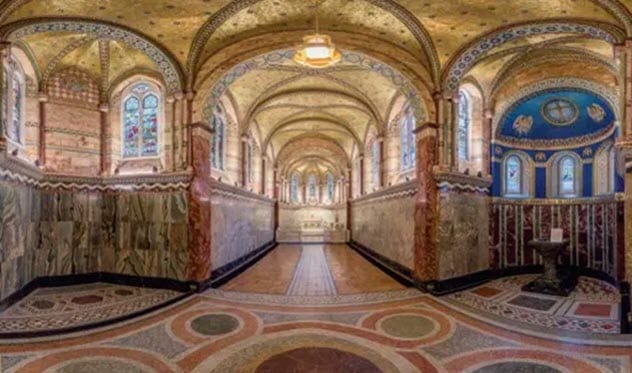 Middlesex Hospital was closed in 2005, and most of it was torn down in 2008. However, the chapel remained and with good reason—it's amazing. The Fitzrovia Chapel is a Grade II* listed building, which means it's a protected structure that can't be altered or demolished without authorization from the local planning authority.
The chapel is now flanked by 21st-century office blocks and flats—a lone island of beauty in a sea of banality. After a £2 million restoration, the historic chapel looks as beautiful as it ever did.
The mosaic decorations are reminiscent of Eastern Orthodox churches. Beautiful stained glass windows and restored lighting really make this chapel a welcome haven in an increasingly frenetic city.[3]
Nearest Tube Station: Goodge Street
7

Sir John Soane's Museum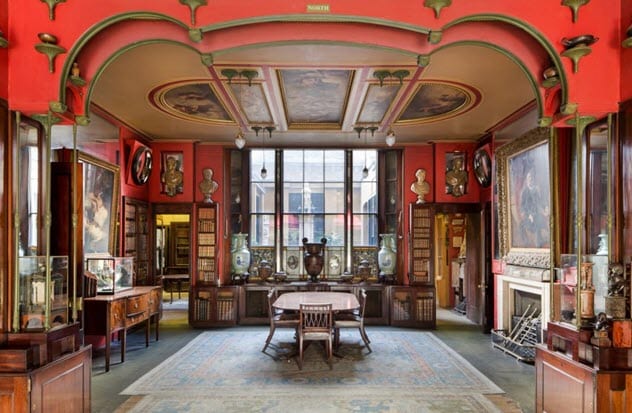 Sir John Soane (1753–1837) was an extraordinary guy. He was a star architect of the Regency era before becoming a professor of architecture at the Royal Academy. His museum is even more amazing. Housed in Nos. 12, 13, and 14 in the historic Lincoln's Inn Fields—buildings which Soane purchased and rebuilt himself—the museum has become a shrine to architectural excellence.
It's a weird experience to look at architecturally impressive exhibits in such a magnificent space, but it works. Fortunately, you can enjoy this place whenever you like . . . after the pandemic, of course. Until then, check out the amazing website for a taster.[4]
Nearest Tube Station: Holborn
6

The Royal Courts Of Justice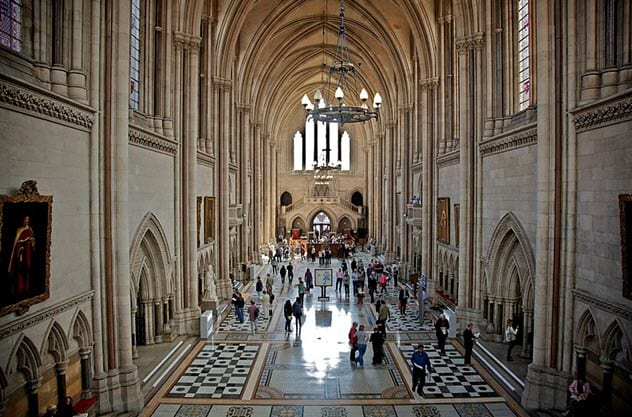 This court building is inspiring if you're a visiting tourist and scary if you're filing an appeal against your 20-year sentence. Either way, most people don't know you can pop inside this imposing structure for a gander.
Some have suggested that the interior is ecclesiastical in nature, but we think it's palatial. You get a real sense of imperial might here, including the weight of the decisions being made when you step into the vaulted Great Hall.
Designed by noted Gothic Revivalist G.E. Street (1824–1881), the building took over eight years to complete and was opened in 1882 by Queen Victoria. The Bear Garden, which isn't a garden and doesn't house any bears, is a series of small rooms and antechambers where prehearing dealings take place.
The novel name comes from the combative nature of deliberations that take place in the rooms. Ironically, it's reminiscent of the illegal practice of "bearbaiting." Despite the questionable nature of the name, the rooms are beautifully designed, just like the rest of this daunting yet captivating building.[5]
Nearest Tube Stations: Temple, Chancery Lane, Holborn
10 Unsolved Mysteries From London
5

Masonic Temple At The Andaz Hotel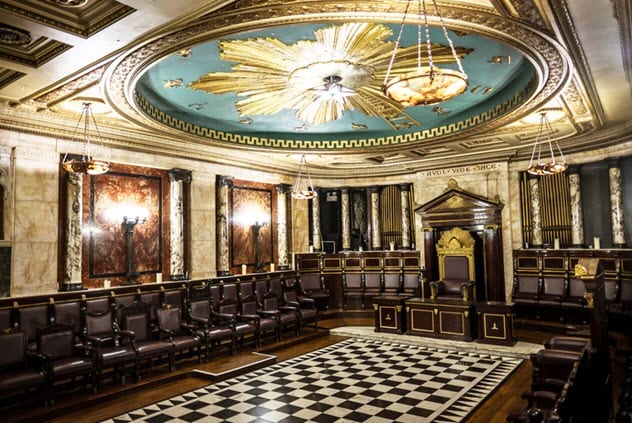 To call this a "hidden gem" was once true in a literal sense. A previous owner of the Andaz London on Liverpool Street didn't know the temple existed because it was hidden behind a thin fake wall.
The design was inspired by ancient Greece and constructed with 12 types of marble imported from Italy. Being attached to East London's busiest transport hub allows for guests to access the city from the hotel. But with this incredible temple, nobody would blame you for not leaving!
If, as many believe, Jack the Ripper was a Freemason, this probably was his lodge. Don't let that stop you from visiting, though, as many events are held at this gorgeous space—product launches, weddings, private dinners, and burlesque shows. HBO also used the Masonic Temple for their Game of Thrones pop-up restaurant in 2015. There's always something cool to attend in one of London's coolest hidden spaces.[6]
Nearest Tube Station: Liverpool Street
4

Drapers' Hall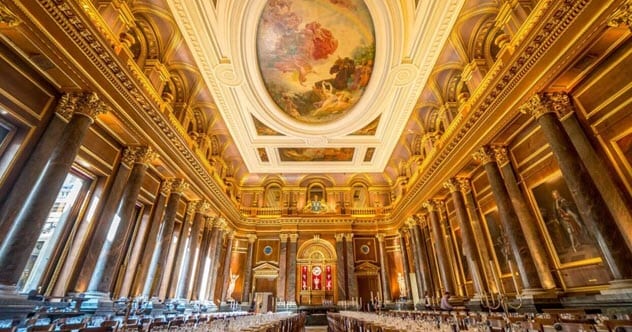 This building is the home of . . . wait for it . . . "The Master and Wardens and Brethren and Sisters of the Guild or Fraternity of the Blessed Mary the Virgin of the Mystery of Drapers of the City of London," more commonly known as the Drapers' Company. An ancient and venerable organization founded during the Middle Ages, the Drapers' Company has served as one of the Great Twelve Livery Companies of the City of London.
What does this mean?
They're an old company that used to act as a sort of trade association representing wool and cloth merchants from London. Today, the Drapers' Company is a charitable organization that operates from one of London's hidden architectural gems.[7]
As a hirable venue, you can get married here or hold a dinner party or a charitable event. Given the awe-inspiring chandeliers, marble statues, and ornately decorated plaster ceilings, you can guarantee that your party will be the best in town. James Bond movie GoldenEye, Agent Cody Banks 2: Destination London, and the award-winning The King's Speech all filmed in this lesser-known landmark. Not bad for a bunch of folks who used to peddle itchy sweaters.
Nearest Tube Station: Bank
3

Crossness Pumping Station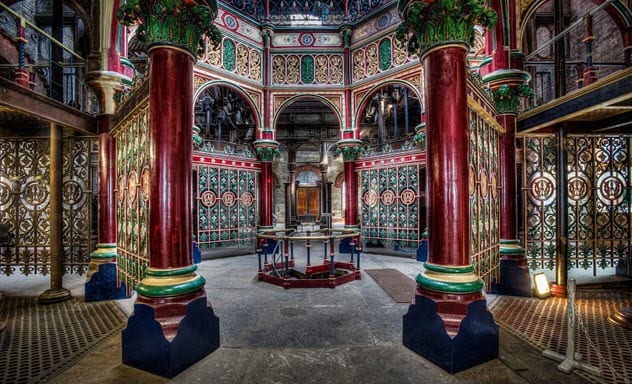 Crossness Pumping Station feels more like a cathedral than a pumping facility. We can see why steampunk is an alluring aesthetic trend; the Victorians knew how to wow with their architectural creations and innovations. The Crossness Pumping Station is a veritable place of worship for the might of England's industrial revolution.[8]
The building housed great pumps to help clean the polluted waters of the River Thames. The facility was created due to various cholera outbreaks as well as the "Great Stink" of 1858. The Crossness Pumping Station saved countless lives from cholera outbreaks alone.
The beautiful ironwork, finely repainted, is reminiscent of arts-and-crafts-era wallpaper. This place is proof that the highly utilitarian aspect of civilization needn't be devoid of beauty.
Nearest Tube Station: No Tube, but Abbey Wood train station is nearby
2

The Princess Louise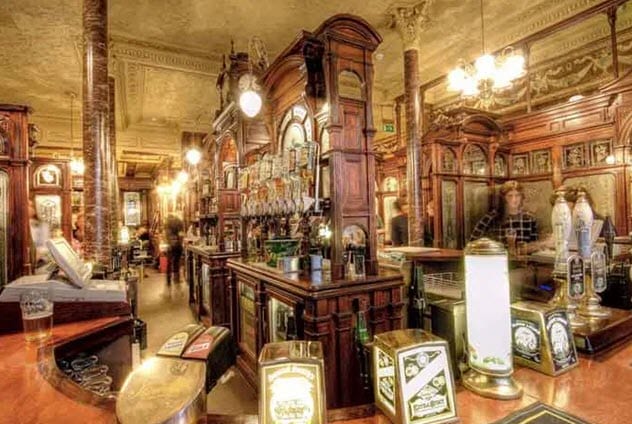 Is there anything more English than a good pub?
Lots of things, probably, but the good old boozer is pretty darned English! This little nook of Bacchanalian worship in London is a cool place to get drunk the Victorian way—chatting with an interesting, mustachioed artisan over a few jars of room-temperature ale. (The mustachioed bloke will probably be a hipster whose craft will be T-shirt printing but close enough.)
The interior of the Princess Louise demands your attention—it even includes marble urinals for its male patrons. The whole space is a step back in time for those who need a drink. It provides an experience that will delight and excite.[9]
Nearest Tube Station: Holborn
1

Harrow School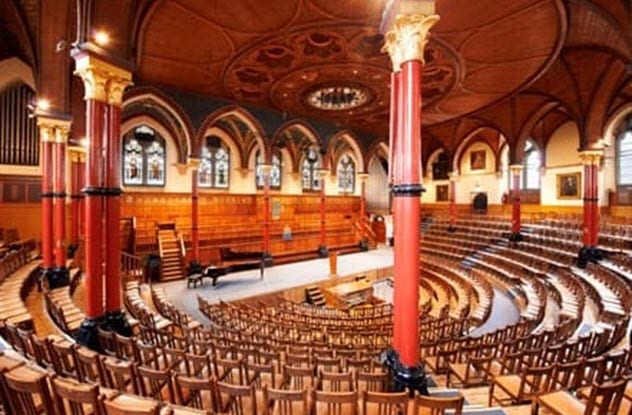 Remember cramming into a smelly, cold gymnasium and sitting cross-legged on the hard floor while being forced to listen to a head teacher drone on about something incredibly dull? Or, if you live stateside, huddling on a bleacher while being told that sex and drugs are not cool?
It's a little different at Harrow School. In addition, they've produced a clutch of world leaders, Nobel laureates, and kings. Still going strong since it was established in 1572, Harrow is one of the most prestigious schools in the world.
This school really does give Hogwarts a run for its money. The incredible Speech Room is a real highlight. In the paneling of the Fourth Form Room, another cool thing is the multitude of crudely carved names left there by former pupils like Anthony Trollope, four prime ministers, and William Henry Fox Talbot.
Talbot was a pioneer in photography whose student science experiments at Harrow were so destructive that the school's insurance company refused to cover any building in which he was working.[10]
Nearest Tube Station: Northwick Park
Top 10 Most Gruesome Things Hidden Under The Streets Of London
About The Author: CJ Phillips is a storyteller, actor, and writer living in rural West Wales. He is a little obsessed with lists.
Become Facebook Friends with Listverse Founder Jamie Frater