Tom Cruise. The movie star we love to hate for his oddball tendencies and batshit crazy religion. Like jumping up and down on Oprah's couch because Katie's love gave him so much "energy". Or professing that Scientology cured his dyslexia and refusing to have an action figure made in his likeness (he doesn't, however, seem to have a problem being the face Disney's Aladdin was modeled after).
Yet as much as we might like to throw shade, Cruise is one of the world's most beloved actors. Japan loves him so much, in fact, they gave him his own holiday on 10 October. And it's hard to argue with his very successful career. In 1996, Cruise became the first actor to star in five consecutive movies that grossed over $100 million in the United States.
His many accomplishments range from inventing the "movie star run" to earning his pilot's license in 1994 and even saving lives in real life. On this list are 10 other things you may or may not know about this larger-than-life mega movie star.
Top 10 Awesome Films Hollywood Ruined With Lies
10

A Cruise Christmas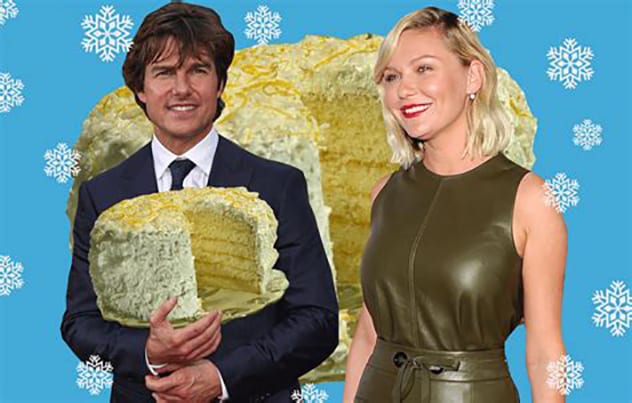 Cruise famously sends his co-stars and friends a "Cruise cake" every year for Christmas. The coconut and white chocolate confection is widely appreciated and fussed over by celebrities the world over. Recipients include, among others, Barbara Walters, Jimmy Kimmel, and Kirsten Dunst who co-starred with Cruise in Interview with the Vampire back in 1994. Henry Cavill also received a cake a couple of years ago and eventually devoured the whole thing by himself.
Perhaps this sweet touch harks back to his childhood. As many know, Cruise has always been open about growing up poor. The first Christmas after his parents split up, his family could not afford Christmas gifts. Instead, they picked each other's names out of a hat and did favors for that person. In true Secret Santa style, the giver was only revealed on Christmas Day.[1]
9

Camera-shy Cruise


It's hard to picture the benevolent Cruise without his million-dollar movie star smile. Yet those pearly whites weren't always there. Looking at his earlier movies, his teeth look like everyone else's: slightly yellowed, misaligned and chipped from a hockey incident as a child.

According to the late Patrick Swayze, who co-starred with Cruise in The Outsiders, Cruise was rather camera shy. In his memoir, The Time of My Life, Swayze recalled how Cruise would avoid publicity photoshoots and harbored a deep-seated embarrassment about his grin. Fortunately for the mega movie star, money, or rather braces and veneers, can indeed buy happiness.[2]
8

Cruise's crazy childhood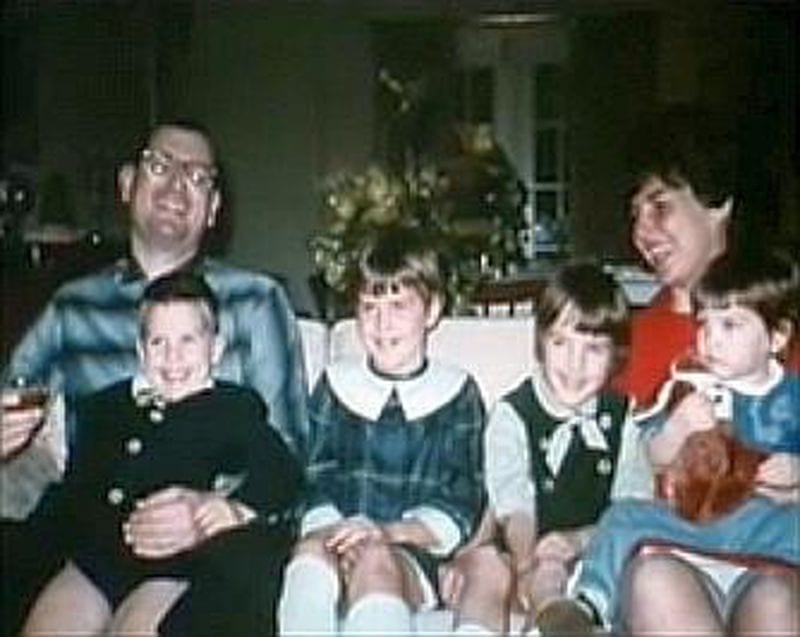 When you consider Cruise's troubled and sometimes traumatic childhood, it's sometimes not hard to see why he couldn't make his marriages work. Cruise grew up with an abusive father and has even told reporters that his old man was "a bully and a coward. He was the type of person that if something goes wrong, they kick you."
Couple this with the fact that he was bullied at school and had trouble making friends because his family moved so often and a lot of things about the man behind the movie star start to make more sense. During his 12-year school career, Cruise attended 15 different schools and, understandably, has very few lasting relationships from back then.[3]
7

Cruise, crash and burn


The above might also explain why he had a soft spot for Zac Efron who was in teen-star hell after the success of High School Musical. One day Cruise asked the heartthrob whether he knew how to ride a motorcycle, offered to teach him and invited him back to his house. According to Efron, Cruise showed him how a motorcycle engine works and showed off his own pristine collection. "It was just so nice that he cared at all. No one else did."

Cruise's love affair with motorcycles started way back when he bought a Yamaha motorcycle as a teen before he even knew how to ride it. This resulted in a not-so-surprising crash. That didn't stop him, however, and over the next couple of years he slowly put the motorcycle back together.[4]
6

Cruise the committed comedian


Although Cruise is best known for his action movies, he has also known success in comedic roles. He is credited for coming up with Les Grossman in Tropic Thunder, even suggesting his character should be balding and have enormous hands.

In Rock of Ages, Cruise stars as Stacee Jaxx, a scene-stealing washed-up rocker whose over-the-top antics include, among other things, keeping a baboon sidekick close by at all times (also Cruise's idea). The movie portrays not only his funny and charming side but is also a testament to his commitment. Cruise rehearsed 5 hours a day to perfect his rocker persona and technique.[5]

10 Warnings And Messages Hidden In Films And TV Shows
5

Need for speed


Cruise is probably most famous, though, for his commitment to action movies and insisting on doing all his own stunts. The man has dangled from planes, skyscrapers, and canyon walls in the name of art and can even hold his breath for about 6 minutes (a lifetime if you've ever tried it yourself). While filming Days of Thunder, the daredevil drove around the track at Daytona International Speedway at an average of 205 mph. Truly impressive, considering the land speed record is 223mph!

The people at Bugatti, however, were not impressed by his performance. Not on the track but on the red carpet. In 2006, Cruise arrived at the premiere of the third Mission: Impossible instalment in his 2005 Bugatti Veyron. Everything went smoothly until he tried to open the passenger door to help Katie Holmes exit the vehicle. The door wouldn't budge. Whether this was the fault of the car or the actor we will never know. The manufacturer, however, felt the episode reflected poorly on their craftmanship and banned Cruise from buying anything from Bugatti again.[6]
4

Aaaaand cut!


His 30-second fumble with the Bugatti's car door handle pales in comparison to the time it took Cruise 95 takes to nail "walking through a doorway" while filming Eyes Wide Shut, though. Again, however, it's not clear whether the fault lay with Cruise or director Stanley Kubrick. All we know is that after watching the playback, Kubrick apparently told Cruise "hey, Tom, stick with me and I'll make you a star."

Eyes Wide Shut is also featured in the Guinness Book of World Records for the longest constant movie shoot equaling 400 days.[7]
3

33 is not his lucky number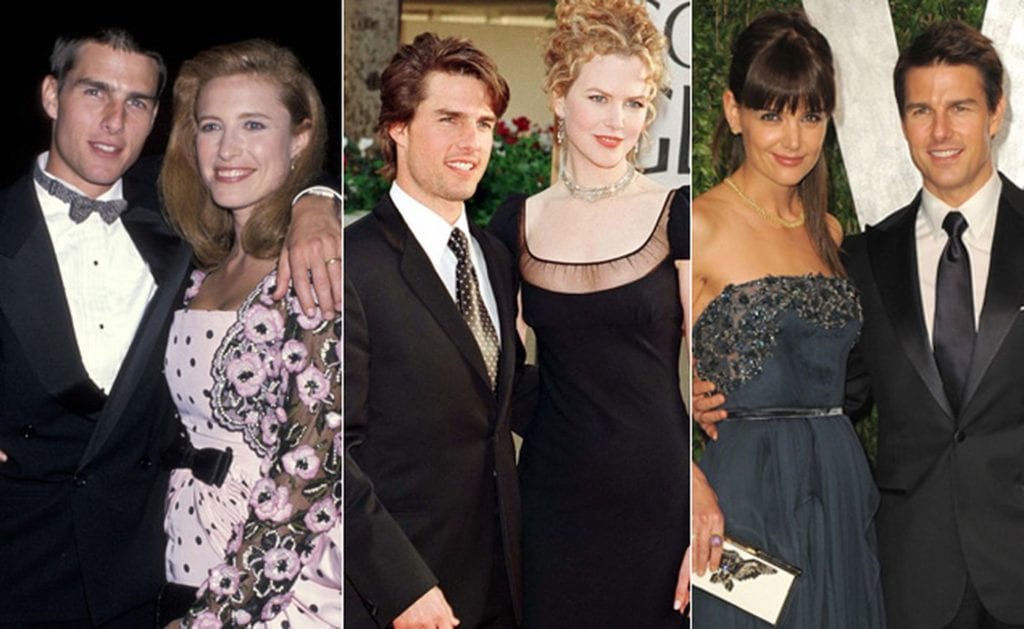 Nicole Kidman was not only Cruise's co-star in Eyes Wide Shut, she also married him in real life. Cruise, in fact, has been married 3 times: first to Mimi Rogers, who reportedly introduced him to Scientology; then to Kidman with whom he adopted two kids; his last marriage was with Katie Holmes with whom he has a daughter named Suri. A major movie star with 3 marriages is nothing new. Celebrities make up and break up all the time after all. There is, however, something a little weird about Cruise's three leading ladies.
Rogers was born on 27 January 1956 while Kidman and Holmes were born on 20 June 1967 and 18 December 1978 respectively. Not only were his wives all born 11 years apart, he also divorced them whey were each 33 years old.[8]
2

For better and for worse


Although Cruise has starred in several Academy Award-winning movies and has himself been nominated three times for Born on the Fourth of July, Jerry Maguire and Magnolia, the A-lister has never won an Oscar. His penchant for action-packed flicks that don't tend to earn nods will probably keep him out of the winner's circle for the foreseeable future.

Notably, Cruise is the first actor to star in a Best Picture and Worst Picture contender in the same year. While it's not that rare for an actor to win an Academy Award as well as a Razzie Award, in 1988 Cruise became the first to feature in the best film (Rain Man) and the worst (Cocktail) in the same year.[9]
1

Queen Cruise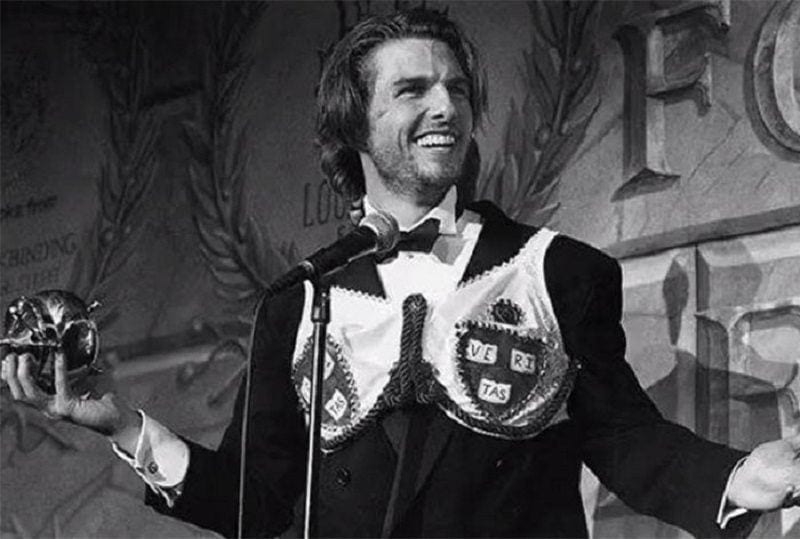 A Razzie is bad enough but having to show up in drag to collect his "Man of the Year" award from Harvard University's Hasty Pudding Theatricals was not his finest moment either.
In 1994, Cruise, who had played a Harvard graduate in both The Firm and A Few Good Men, made his way to the stage in bright pink heels and a huge white bra with the red Harvard emblem on each breast. 'This is how you turn people crimson,' said Cruise, referring to the school's official color.
Hasty Pudding producer Catherine Zipf said she bought the heels for Cruise because she'd 'read somewhere Tom doesn't like sharing the spotlight with someone taller than he is.' This is quite ironic considering each of his three wives were an inch or two taller than the diminutive Cruise.[10]
10 Shocking Scientology Conspiracies