In 1973, the illusion of a perfect family (as portrayed by TV programs such as The Brady Bunch) was shattered by the introduction of a 12-hour documentary series on PBS called An American Family. This was acknowledged as the first reality TV series and named as one of TV Guide's "50 Greatest TV Shows of All Time."
An American Family had viewers on the edge of their seats as the day-to-day lives of the Loud family were chronicled and their dirty laundry aired for all to see. At the time, the documentary-style series itself was enough to make people go "WTF!" However, An American Family paved the way for more complex and less "perfect" depictions of families in the shows that followed, including Roseanne and The Simpsons.
These days, reality TV is anything from baking to coupling up to being stranded on a deserted island and having to partake in grueling challenges. There are many such programs on various media outlets. Some shows are mundane, while others are extremely strange.
On this list are just some of the WTF moments that form part of everyday reality TV.
10 Appallingly Real Moments In 'Reality TV' Programming
10

Levitating Onstage

If Simon Cowell pulls a disdainful face or rolls his eyes, nothing good is in store for the person about to perform on the America's Got Talent stage. Sometimes, the face and eye roll are premature as was evident with Susan Boyle's audition. Other times, it is spot-on.

On the day that a contestant named Special Head took to the AGT stage in 2013, Simon Cowell was not one of the judges. Howard Stern was on the panel with Howie Mandell, Heidi Klum, and Mel B. None of them was prepared for what Special Head was about to do.

The 28-year-old man produced a deep, throaty hum and wasn't even thrown when Stern slapped his buzzer. Special Head hummed louder as he pressed down on a walking stick with one hand while the crowd booed him.

The audience was shocked, however, when Special Head suddenly lifted off the ground and levitated in the air with the same hand still holding onto the walking stick. Then his legs fell to the ground and a puff of smoke arose to the sound of the now-cheering crowd. He received four "yesses" from the judges.

Afterward, some sites "exposed" Special Head's trick. They said he held a cane that was somehow attached to a small seat beneath his robe, which made it look like he was levitating (when he wasn't). It still made for quite the WTF moment, though.[1]
9

Stop The Violence

Jersey Shore is not everyone's idea of a good reality TV program. In fact, there have been Facebook pages, Reddit threads, and Internet forums dedicated to people ranting about their hatred for the show and everyone on it. Jersey Shore ran for six seasons from 2009 to 2012 and introduced the world to The Situation and Snooki alongside six other people who shared a vacation home.

Despite the hate, the show was a pop culture phenomenon and returned for a reunion series in 2018. During the show's original run, there were a lot of "audible gasp" moments, including The Situation ramming his head into a wall (on purpose) and Snooki getting punched in the face by a man.

One of the weirdest moments, however, came when housemates Snooki and Angelina had a physical fight. It is truly a fight to remember . . . or not.[2]
8

The Wrong David

Big Brother follows the lives of "Houseguests" who live together in a specially constructed house while isolated from friends, family, and the public. The Houseguests wear microphones, and their activities are monitored by several cameras. The last person "evicted" from the house wins a cash prize.

The original Big Brother reality TV series first aired in 2000. Several spin-offs and adaptations have seen the light since. A South African version aired its first season in 2001, and that winner, Ferdinand Rabie, is remembered mostly for taking a dump in the garden on live TV.

As a whole, the show has seen multiple meltdowns, tantrums, shocking moments, and more. Some of the most WTF moments in Big Brother history happened during the celebrity version. A few examples include Megan McKenna completely losing it over mashed potato, Kim Woodburn being escorted from the house by security, and Charlotte Crosby wetting her bed.

David Bowie's ex-wife, Angie, was a contestant on Celebrity Big Brother in 2016 when she was told the news of Bowie's death in the "diary room" of the Big Brother house. She spoke to a fellow housemate about the devastating news and exclaimed, "David is dead." Her housemate, Tiffany, misunderstood and thought another housemate named David Gest had died.[3]

Cue the chaos.
7

'The Tribe Has Spoken'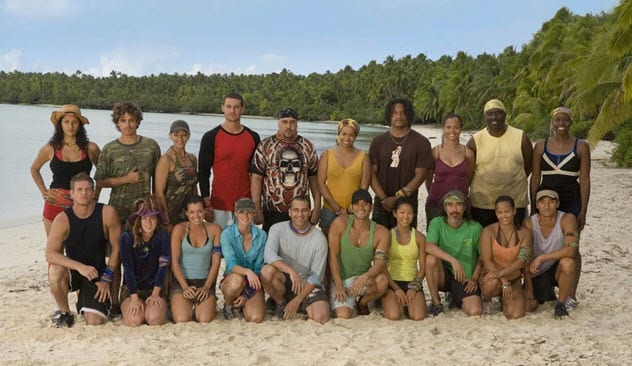 Those words have followed some of the most shocking and controversial "tribal council" moments in Survivor history. The program started out with a group of Americans on the shores of Borneo who faced judgment every three days at Tribal Council.
After every "courtroom" meeting, one person would be voted off the island and have their torch extinguished. The show has had a 40-season run with the 41st season having been postponed due to the ongoing COVID-19 pandemic.
Many jaw-dropping scenes have aired throughout the show's history, such as one contestant suffering third-degree burns on his hands after passing out in a fire. Other such scenes include naked contestants, medical evacuations, unexpected kisses, and the illegal removal of coral from the Great Barrier Reef.
In Season 13, the word "tribe" suddenly took on a whole different meaning and audiences worldwide were not happy (to put it mildly). The showrunners decided it would be a good idea to divide the tribes by race. These tribes were African-American, Asian-American, Hispanic-American, and European-American.
After sponsors Coca-Cola and Procter & Gamble dropped out, Survivor rethought this idea and rearranged the tribes.[4]
6

An Enemy Of My Sister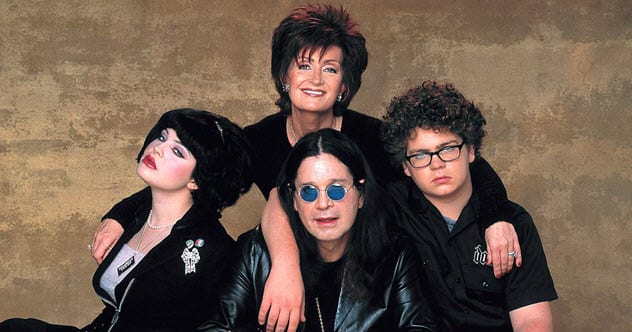 It is almost as though the Osbourne family was born to have their own reality TV show. Between Sharon's no-holds-barred swearing, Kelly's unique sense of humor, and, well, Ozzy, there was never any doubt that their program would be worth watching.
Throughout the show, there have been several memorable scenes, such as Sharon throwing ham at her neighbors, the family hiring a dog therapist, Ozzy swearing at the ocean, and Ozzy and Jack throwing firecrackers at pelicans.
During Season 2, Kelly became violently angry after learning that Jack had danced with her sworn enemy, Christina Aguilera, at a party. Shouting at her brother wasn't enough, so Kelly started punching and kicking him. Sharon had to step in and break up the fight.[5]
The final episode of The Osbournes aired in March 2005, but the wacky family made a comeback on the Travel Channel on August 2, 2020, with their new show, The Osbournes Want To Believe.
Top 10 Murders Caused By TV Shows
5

Have Some Water

American Idol is synonymous with Ryan Seacrest, Simon Cowell, Kelly Clarkson, Adam Lambert, and, of course, controversy. This reality show enjoyed unmatched rankings during its first eight years on the air. It went on hiatus for almost two years after its 15th season and was eventually revived in 2018.

Audiences worldwide have been known to shout at their TV screens (or computer screens) after voting results are revealed on the program. This was especially true after the controversial elimination of Chris Daughtry in Season 5 and Adam Lambert's loss to Kris Allen in Season 8.

However, it seems that people mostly watched during the beginning to experience Simon Cowell's acerbic comments. He once called a contestant a "bush baby" because he had big eyes. Cowell also said to a female contestant, "You're ugly when you perform." Finally, he insulted another one with "you sounded like Dolly Parton on helium."

Not everyone took the criticism lying down, though. During Season 3, 18-year-old Jonathan Rey stumbled his way through Shakira's "The One." Afterward, Simon said, "I think we're going to have to cancel this competition . . . that was terrible." Rey slowly walked up to the judges' table, picked up a cup of water, and flung it at Cowell.[6]
4

Be Anyone But Yourself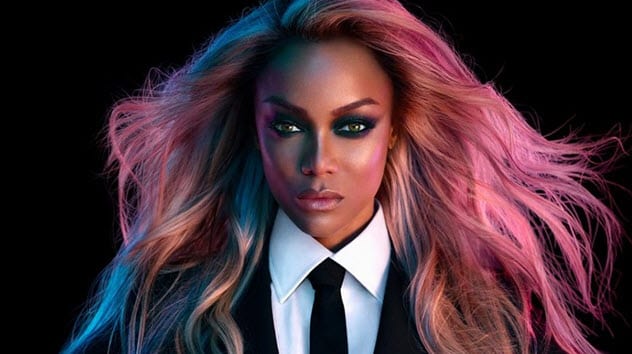 Tyra Banks's America's Next Top Model is well known for the cringey poses of the models and the catfights inside the house in which they live during the show. In 2020, Banks has also received a lot of criticism for goings-on during the program's several seasons. Creative director Jay Manuel admitted that many moments made him "uncomfortable."
Many of these incidents involved Banks herself. In one episode, she discouraged contestant Kim Stolz from being too open about her sexuality. After Stolz revealed that she was gay and really proud of it, Banks responded, "I think there's a certain thing of being proud. Like, I'm black and proud, you know what I mean? But I'm not walking down the red carpet: 'I'm black. I'm black.' "
Danielle Evans, one of the winners on the program, refused to have a gap in her teeth closed. Banks remarked that the gap wasn't a "marketable" feature and asked Evans whether she really thought she could win a CoverGirl contract with a gapped-tooth smile.
In addition, many photo shoots depicted white models in blackface. In a truly terrible segment from Cycle 15, a contestant named Kayla was pressured into kissing a guy even after she revealed that she had been sexually assaulted as a child. After she was guilted into going through with the kiss, she was told well done "for pushing aside your painful memories."[7]
In May 2020, Tyra Banks apologized via Twitter. She agreed with those who were shocked about the "insensitivity" of some episodes. She also said, "Looking back, those were some really off choices."
3

Evil Mom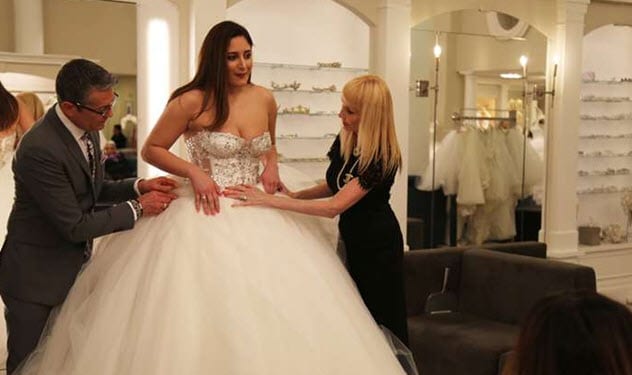 On Say Yes to the Dress, Randy Fenoli regularly urges brides who come into Kleinfeld Bridal in Manhattan to choose a wedding dress that they love and feel beautiful in. He doesn't want them to settle on a gown merely to please their entourage.
Some take the advice to heart and go with their gut when it comes to choosing a dress. Others are completely lost in the background while one of their family members or friends takes over the appointment and forces their opinion on the bride.
In the episode "I'm The Evil Mom Here," even softhearted, soft-spoken Randy couldn't contain his irritation with bride Samantha's mother. She made comments like "I don't like that dress. It's ugly."
When the "evil mom" was reminded that she had liked that dress when it was still on a mannequin, the mother said, "Yeah, not on Samantha. On her, it's ugly." Then the mother laughed.
Samantha had lost over 50 kilograms (110 lb) after learning that she was borderline diabetic. Now she just wanted to find a dress that made her feel beautiful. (She had already visited at least 100 bridal stores prior to her appointment at Kleinfeld.) Instead, her mom ridiculed her relentlessly and even called one of her favorite dresses a "curtain."
Randy had to excuse himself during the appointment. He said, "I've never seen anything like this. I don't want to be a part of this anymore."[8]
2

Love Is Hard

It feels like The Bachelor and The Bachelorette have been on TV forever. There have been various spin-offs of these shows, and different versions have popped up in several other countries.

This reality series has had quite a few wild moments, including a contestant sleeping with a producer and a "Bachelor" choosing neither of the two final contestants. Another "Bachelor" channeled Ross Geller and said the wrong name at the rose ceremony.

Yet another one broke up with the contestant to whom he proposed so that he could be with the runner-up. Oh, and let's not forget Bachelor J.J., who still lived with his parents at that point, trying to pick up Amy Schumer during Season 11.

The Bachelor seems to want to keep the WTF moments going, and Season 20 was just one of many examples. One contestant, Lace, thought it would be a good idea to kiss bachelor Ben Higgins right after she exited the limo on the first night of the season.

At one point, Ben told contestant Sam that she smelled "sour." Then, in the spirit of empathy, contestant Olivia decided to complain about her "cankles" right after Ben revealed that two of his close family friends had died in a plane crash.[9]
1

Keeping Up With . . . A Lot

A list like this really wouldn't be complete without an entry dedicated to the crazy world that is Keeping Up With The Kardashians. The Kardashian family announced in September 2020 that the reality show would be ending after 20 seasons, and it seems that fans aren't taking the news well.

Over the years, the Kardashians have arguably created more WTF moments than all the other reality shows combined. They have offended several sectors, accused one another of cheating, and shocked their audience with unexpected pregnancies and secret births that led to several conspiracy theories. There have also been arrests, sibling fights, a "shocking" decision to pose for Playboy, meltdowns, and breast milk issues.

Some of the family's most controversial moments included an extended feud with Taylor Swift, Kendall Jenner appearing in a widely criticized Pepsi advert, Kim being accused of using blackface to promote her KKW beauty line, and Kim apparently "promoting" appetite-suppressant lollipops.[10]

Top 10 Over-Exploited Reality Show Genres