Celebrities meet hundreds of people on their path to fame. A few monsters are almost sure to be among the throngs of fans. But these people had much weirder encounters than just passing glances.
The following 10 stars interacted with individuals who went on to kill or who had already murdered other people. It just goes to show that you should be careful about the company you keep.
10 Creepy Photos Of People Unaware They Are With A Serial Killer
10

Peter Lorre And The Hillside Stranglers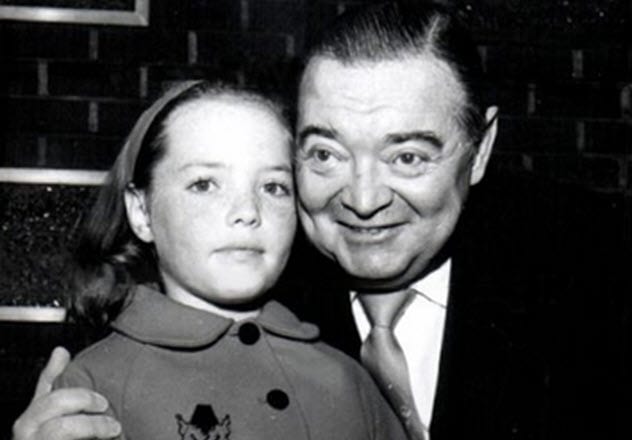 From beyond the grave, Peter Lorre saved his daughter. Decades after Lorre stalked young girls in 1931's M, real serial killers threatened Los Angeles. The partnership of Angelo J. Buono and Kenneth A. Bianchi terrorized 1970s Hollywood with a string of 10 kidnappings, rapes, and killings. Their body count would have been 11 if they had not been such avid movie fans.
One night in 1977, Catharine Lorre Baker, the only child of celebrated character actor Peter Lorre, hitched a ride with the murderous duo. They had every intention of killing her until she revealed her parentage.
Baker carried around a picture of her as a young girl with her father. The two men recognized the actor immediately. Being fans of the Hungarian-American movie star, the pair started gushing over their love of films like Casablanca and The Maltese Falcon.
Either out of respect for Peter Lorre's filmography or to avoid a high-profile victim, Buono and Bianchi released Baker solely because they saw the photo.[1]
9

Mark Jackson And The Menendez Brothers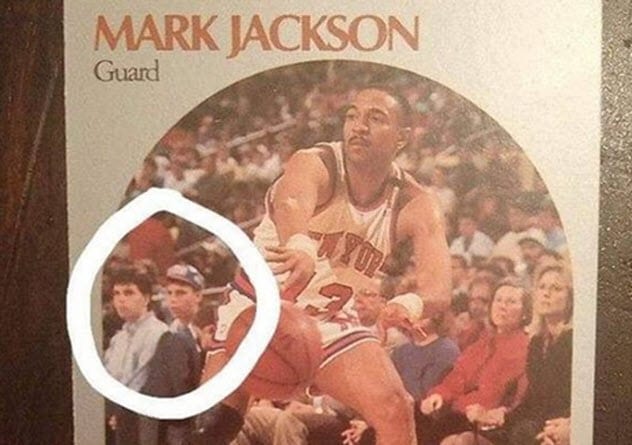 In 1989, Lyle and Erik Menendez had a chance to live their dream life. They were flush with an insurance payout after their parents died. The fact that the siblings were responsible for those deaths was not an obstacle.
During a months-long spending spree, the two spent nearly $700,000 on flashy trappings of wealth like jewelry, clothes, and cars. As big basketball fans, they couldn't pass up a chance to see Patrick Ewing in his 1980s prime.
Sitting courtside, the two watched the New York Knicks legend play alongside teammate Mark Jackson. Still early in his professional life, Jackson would go on to a respectable career as a player, coach, and television commentator.
At some point during the game, a photographer snapped a picture of Jackson in mid-action. The Menendez brothers can be spotted as spectators in the background.[2]
Nobody at the time understood the circumstance of the shot. That photo became the image associated with Mark Jackson's NBA Hoops trading card. Decades later, Lyle Menendez confirmed that it was he and his brother in the stands.
8

Alan Alda And Edward Edwards

The point of To Tell the Truth is to not lie. However, that was not Edward Edwards's specialty. Besides the redundant name, Edwards had many other problems. After his mother committed suicide while he was a toddler, Edwards developed personality issues. His teenage years included a long list of minor robberies and stints in juvenile facilities.

In 1955, Edwards was arrested for a break-in, but he escaped prison. During the following year, he committed enough armed robberies to end up on the FBI's Ten Most Wanted Fugitives list. Later, in Leavenworth prison, Edwards allegedly rehabilitated himself as a model inmate.

By the 1970s, Edwards's remarkable turnaround made him a minor celebrity on the lecture circuit. Producers of the popular game show To Tell the Truth invited Edwards to appear on a 1972 episode. The panel was made up of celebrities Gene Rayburn, Kitty Carlisle, Alan Alda, and Peggy Cass. Only Cass and Rayburn identified the real Edward Edwards among the imitators, but nobody figured out the ultimate truth.

In reality, Edwards had never been rehabilitated. Between 1977 and 1996, he had murdered at least five people. The total is believed to be much higher. Conspiratorially inclined investigators have thinly connected Edwards to famous unsolved crimes such as the Zodiac killings, the West Memphis Three, and the murder of JonBenet Ramsey.

Far more believable is the earliest alleged incident, the lovers' lane slayings of Larry Peyton and Beverly Allan in 1960. If that claim is verified, then Edwards made his game show appearance in the middle of his killing spree.[3]
7

Jeremy Bulloch And Mark Twitchell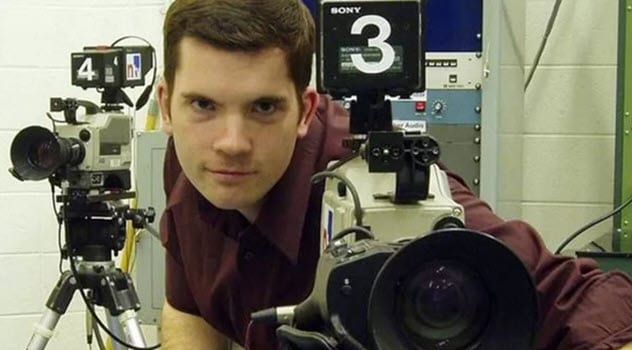 Boba Fett was a terrible bounty hunter. It makes sense when the suave Han Solo escapes your clutches. It is less impressive when even a gawky movie nerd outwits the galactic defender.
Mark Twitchell was obsessed with fiction. He modeled his modus operandi after Dexter Morgan, Michael C. Hall's titular forensic detective turned vigilante serial killer. An enthusiastic cosplayer, Twitchell posed as Dexter Morgan on Facebook and talked like a sadistic creep.
It was not that far of a stretch. Twitchell used this mindset to create the amateur movie House of Cards. The film centers around a murderer who lures married men into a torture chamber by catfishing them on dating sites.
To add authenticity to his craft, Twitchell tried it out twice in real life. Gilles Tetreault, the first intended victim, escaped Twitchell's studio. Johnny Altinger was less lucky.[4]
While in custody for the Altinger murder, Twitchell kept telling police officers that he was an avid filmmaker. The bloody torture instruments were merely props for his upcoming movie, he insisted.
Twitchell proved his credentials by mentioning that he had directed the fan project Star Wars: Secrets of the Rebellion. The film was a thoroughly amateur affair except for the fact that he got Jeremy Bulloch to reprise his role as Boba Fett.
That was a nice but rather pointless gesture considering Boba Fett's face is hidden by Mandalorian armor. It was not the work of a devoted fan, either, because Twitchell preferred the prequels.
6

Tom Petty And Mark Rogowski

Hundreds of wannabe skateboarders idolized Mark Rogowski. Within a decade's end, they all loathed him. A descent that fast can only be described as a free fall.

Along with the inaugural class of prominent skateboarders like Tony Hawk and Steve Caballero, Rogowski transformed extreme sports into a national phenomenon in the 1980s. Outside of his niche world, Rogowski made a cameo in the mainstream.

Halfway through the music video for Tom Petty's signature song, "Free Fallin'," Rogowski skates a half-pipe while girlfriend Brandi McClain watches. The top 10 hit details a relationship in disarray. Rogowski could have sung the song himself.

Shortly after appearing in the video for the aptly titled classic rock staple, Rogowski had his own free fall. In West Germany, he plummeted from a hotel window. Surviving the resulting injuries inspired him to convert to evangelical Christianity.

The newfound religion and occasional violent outburst ended Rogowski and McClain's relationship. Unable to move on, he became obsessed with McClain. On March 20, 1991, mutual friend Jessica Bergsten reached out to Rogowski. He decided to get revenge on McClain by raping and killing one of her friends.[5]

10 Murderers Who Did Not Kill Anybody
5

Richard Linklater And Bernhardt Tiede II

Richard Linklater had already directed Dazed and Confused and School of Rock. He did not have to do anything else to prove that he was a hero. Then, in 2011, he began to try to get a man released from prison. Arguably, that is a greater achievement.

Bernie Tiede is not an innocent man. He fully admits to shooting his 81-year-old lover, Marjorie Nugent, and stuffing her remains in a freezer.

Linklater took up the case because of the cycle of abuse that caused Tiede to resort to violence. In light of new evidence that Tiede had psychological issues, Linklater and others petitioned the judge to reduce Tiede's sentence and set him free.[6]

From 2014 to 2016, Tiede's freedom between trials came with the condition that he had to move in with Linklater, who had turned Tiede's story into the 2011 black comedy Bernie. Tiede moved into a garage apartment behind Linklater's house in Austin.

The story does not have the wacky sitcom ending that it sounds like it would. After a jury reheard Tiede's case, they decided that the evidence did not exculpate him. His sentence was extended from 50 years to 99 years or life.
4

Groucho Marx And Eugene Leroy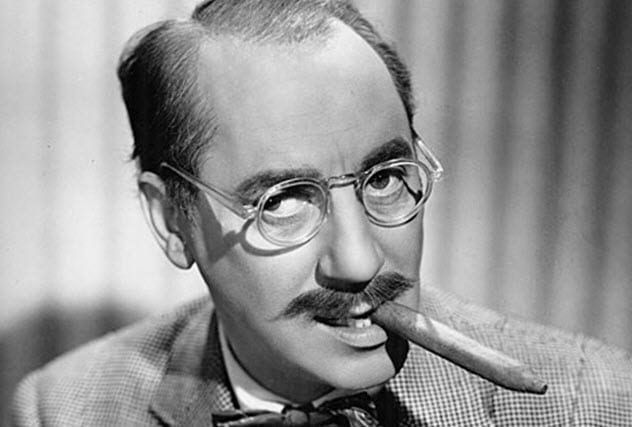 Before there was Groucho, there was Julius Marx. He barely had facial hair, let alone a trademark mustache, when Eugene Leroy discovered the future comedy legend. As one member of the Leroy Trio, Leroy gave a teenage Marx his first job in vaudeville. Eugene Leroy's shtick was singing songs in drag with Marx as backup.
Marx first experienced the struggles of entertainment when Leroy took all the act's profits and abandoned the 14-year-old in Denver, Colorado. The partnership spurred the comedian's career, but Marx resented Leroy as a person. Marx was a good judge of character.
Years later, an unclaimed trunk arrived at Grand Central Station. It sat in the terminal for one month before anybody decided to open it. Inside was the disemboweled body of Leroy's wife, Katherine Leroy Jackson.[7]
The package was mailed to Jackson's secret boyfriend. She had bet her life that Leroy would never find out about the affair. She lost that bet. Eugene Leroy was never seen again.
3

Ashton Kutcher And Michael Gargiulo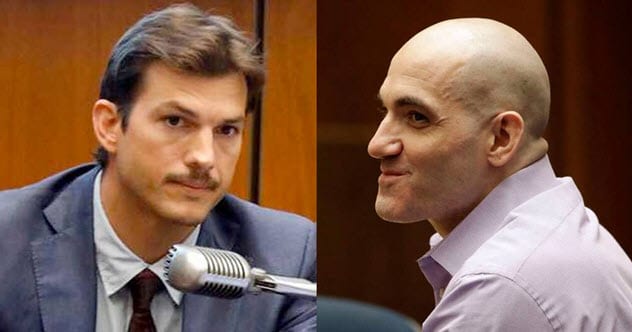 Ashton Kutcher was all set for his date. He and new girlfriend Ashley Ellerin intended to go to a Grammy Awards after-party. When he knocked at the front door, there was no answer.
Peeking through the curtains, he saw red stains on the carpet. He thought that it was spilled wine from an earlier party and that she had left without him. It never occurred to Kutcher that he had stumbled upon a murder scene.[8]
Between 2001 and 2008, Michael Gargiulo (aka the "Hollywood Ripper") had killed two women and attempted to murder another one. Speculative estimates put the total victim count closer to 10. Gargiulo was later charged in a fourth murder, that of then-18-year-old Tricia Pacaccio in 1993.
In California, the testimony from star witness Kutcher helped the prosecutor's case. In May 2019, Gargiulo was convicted of all counts charged in California. Legal nuances have delayed his sentencing.
It's possible that Kutcher could have stopped Gargiulo earlier. Gargiulo's timeline that night has never been firmly established. It is likely that he was still in the house when the actor stopped by.
2

Abraham Lincoln And The Donner Party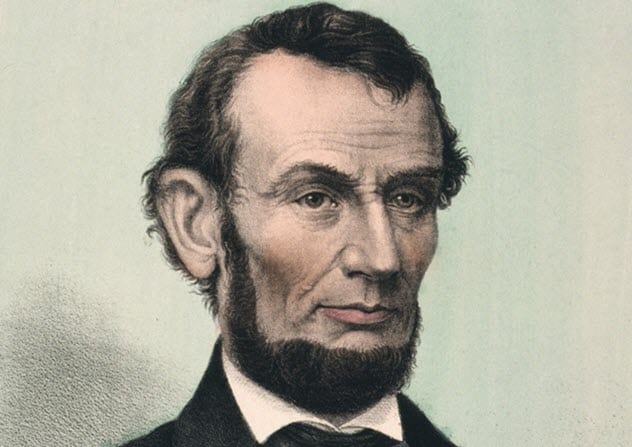 Almost two centuries after the incident, it is still hard to fault the Donner Party. Confronted with an unbearable winter and a dwindling food supply, the doomed expedition resorted to cannibalism.
Faced with almost certain death, the party only killed when they thought it was necessary. The majority of the lives were taken in the faint hope that it would save their families. But there was one exception.
Murder was the best thing to ever happen to James Reed. Before the caravan took a disastrous wrong turn down the mountain, Reed stabbed John Snyder over the way he had abused Reed's cattle.
Reed avoided the calamitous fate of his fellow pioneers by killing Snyder. As punishment, the group banished Reed. In return, he outlived most of the convoy. Aware that the trip was taking longer than expected, he sent out a rescue mission to save the remaining members.
Before heading west, Reed had formed a friendship with Abraham Lincoln during the Black Hawk War. Reed tried to convince the young lawyer to leave Illinois. Earlier, Lincoln had helped Reed recoup his losses from several ruinous business ventures. Reed wanted to pay Lincoln back by giving him some of the land purchased in California.
Lincoln was all set to go until his wife, Mary Todd, persuaded him otherwise. If he had tagged along with his old acquaintance, the future president could have easily died on the mountain pass.[9]
1

Wilbur Wright And Oliver Crook Haugh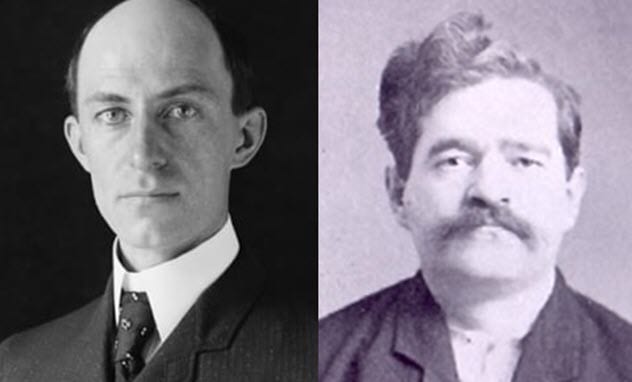 It might have been an accident or the first glint of Oliver Crook Haugh's sociopathy. Either way, nobody could have predicted the strange, circuitous impact of an errant hockey stick on history.
Circa 1885, Oliver Haugh's worst sin was terrorizing his neighborhood as a bully. One of the local hockey matches devolved into chaos when the young Haugh struck a teenage Wilbur Wright.
In the scuffle, Haugh's stick hit Wright's jaw with such force that the future aviator needed false teeth. Wright had to set aside his plans for Yale while recovering from his injuries. He stayed in Dayton to tend to his dying mother and work with his brother Orville.
To take his mind off both his and his mother's poor health, Wilbur became a voracious reader. This was where he first developed his fascination with aeronautics, which culminated in the pioneering 1903 flight at Kitty Hawk.[10]
Haugh has a far less noble place in history. In cocaine-addled visions, he dreamed of creating a new race of humans by eliminating the infirm. He went to medical school to help develop his new society.
At the Cincinnati Medical College, Haugh fell in love with Anna Margaret Eckley. After they married, she routinely tried to leave him, citing his violent and adulterous streaks.
It's possible that Haugh wed up to nine other women while still married to Eckley. Regardless, he seemed to leave a trail of bodies, especially those of his patients, wherever he went. In Cleveland, Haugh was arrested and jailed for disorderly conduct while living with another woman.
When he was released, Eckley wanted nothing more to do with him. Haugh returned to Dayton and moved in with his family. But his parents cut him out of their will. Haugh threatened them with harm if they didn't put his name back in their will.
On November 5, 1905, he burned down his parents' home with his family trapped inside. Eventually, Haugh was connected to additional suspicious deaths.
In total, Haugh likely killed at least 13 people. Ultimately, his violence had far-reaching consequences on society in ways he never intended.
Top 10 Famous People Who Got Away With Murder (Maybe)
About The Author: The only thing Nate has murdered is the English language on his social media page. If you want to read more things he's written, you can follow him on twitter @Nateyungman. If you thought this article was a crime, you can write questions or comments to his email, [email protected]