The old adage goes that there are only two things certain in life: death and taxes. Death is inevitable, and once you're gone, you're gone, but there are a million different ways to send our loved ones into the great beyond. Funeral parlors may not be top of most people's lists of "most comfortable places to hang out" but they are an essential part of the end-of-life process, providing a time and place for our last goodbyes. These funeral homes are some of the most unusual we've come across.
Top 10 Fascinating Deathbed Moments
10

For Pets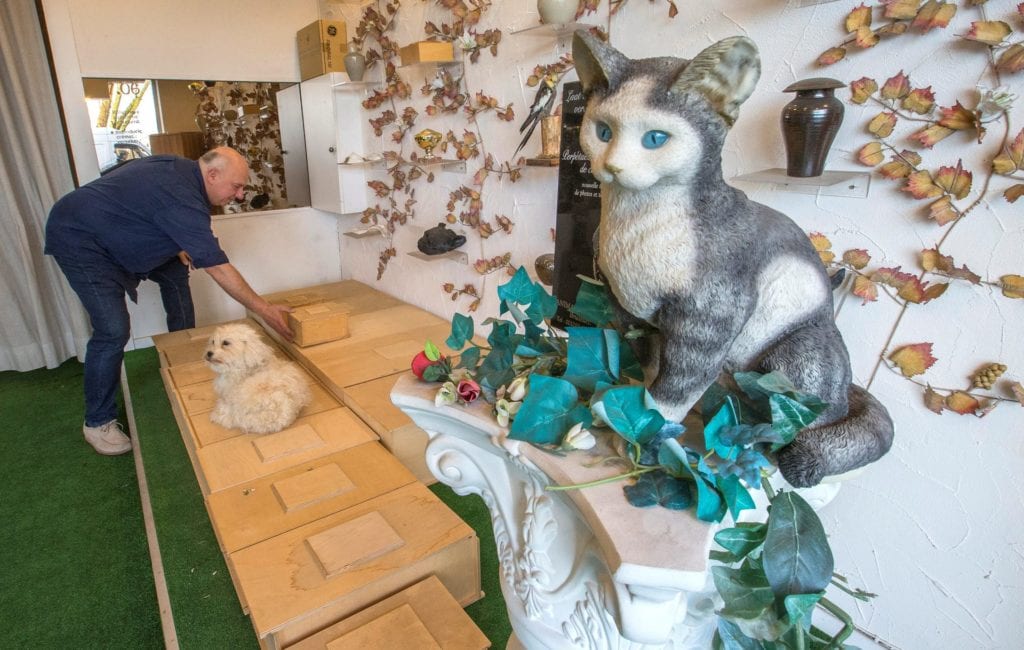 Why should humans be the only creatures to be honored by a proper send-off? Samsara Eternity crematory in Soignies, Belgium, agrees. Clients at Samasara can have a memorial service where their beloved pets are surrounded by decorative fabrics and soft lighting. Those who do not want to have their furry friends cremated may opt for a burial in a nearby pet cemetery or choose to have their best pals stuffed by trained taxidermists to eternally keep them at their master's sides. The services are arranged by Animatrans, started in 1995 by founder Patrick Pendville. Pendville says his company claims it is the first of its kind in the country, and presents it as an alternative to "no-frills" disposal of pet remains.[1]
9

Irish Pub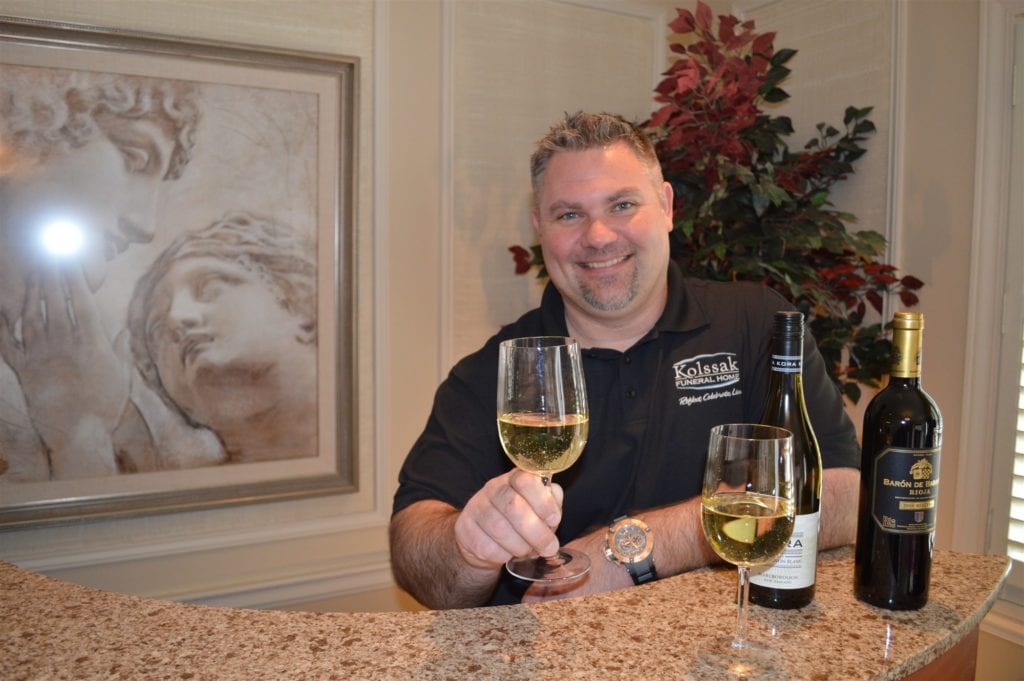 When the "last call" lights come on in a bar, it's usually time to settle your tab, find your purse and make your way to the exit. But last call at McBride's Irish Pub in Providence, Rhode Island is a little different. When the bell rings, it's time for last respects, not last martinis. The pub is adjacent to Monahan Funeral Home, and, since it opened in 2011, "tears and cheers," a ceremony where the name of the deceased is read aloud, happens nightly at 10 sharp. The restaurant was once a garage that housed Monohan's cars and hearses, and is owned by the same family. The two establishments share a building. Owner Mark Russell says that many that choose to have their family funerals at Monahan do so because McBride's comes as a part of the package. But you don't have to have a relative lying in the next room to take advantage of the unique service. Anyone can request the bell be run in honor of a loved one, have the name be placed into a memorial book kept in the pub, and have all patrons in hearing raise a glass for one last toast.[2]
8

Drive Through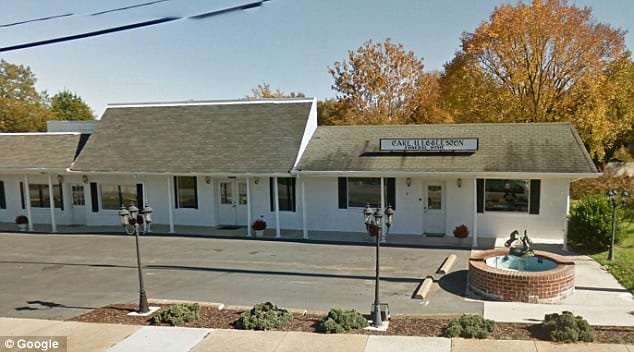 Americans spend so much time in their cars that almost any service that can be is offered as a drive through option, from fast food to cupcakes to liquor. But Oliver & Eggleston Funeral Establishment in Farmville, Virginia kicks it up a notch by offering drive through funerals. Funeral home president Carl Eggleston cites the convenience of the service for mourners who may be too eldery or otherwise unable to attend a more usual service. The drive through funerals are set up much as the interior services, only in an adjacent room with a large picture window, so the casket can be seen from vehicles. The casket is illuminated with lights, on a timer, for as long as the family wishes the viewing to last. Virginia is not the only state to boast a drive through funeral parlor, though, they also exist in California and at parlors in Chicago and Louisiana.[3]
7

Wine Cellar

A classy, wood-paneled room, redolent of leather and littered with tables made out of wine barrels, might convey more "fancy hotel bar" than "funeral parlor" but Hodges Funeral Home in Naples, Florida, wants to change your perception of mourning. For this reason, the owners gutted and remodeled an existing community room to make way for a wine cellar, and instead of services full of crying family members, they encourage "celebrations of life" complete with a couple glasses (or bottles) of wine. Seth Minso, funeral director and general manager, says he's never, in his quarter century in the business, seen such a service, and that more and more people are requesting it. In fact, Hodges doesn't want any trappings of the Victorian funeral home environment at all, shooting for a high-end restaurant feel instead, with flat-screen televisions and plans to switch out the pews for "lounge areas" full of relaxing couches and squishy chairs.[4]
6

Very Modern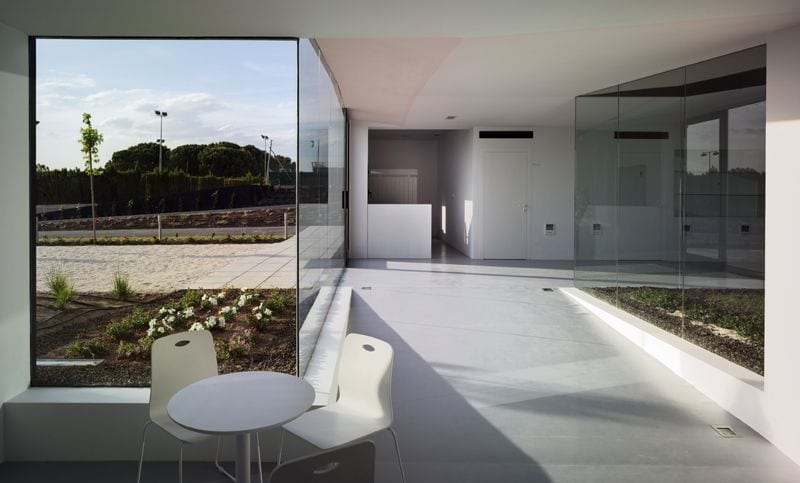 Most funeral parlors are built after the Victorian concept of funeral architecture, with tall, bone-white Gothic columns, dark carpets, and gold sconces, with very few windows. The Funeral Home and Garden in Pinoso, Spain, couldn't be further from this concept. It looks like a chic, mid-century-modern-style home with a low, square, profile located on the side of a hill, complete with generous courtyards. The glassy black exterior boasts copious amounts of windows that let in floods of natural light. The interior is also shockingly modern, bright white, and thoughtfully designed with stylish furniture scattered about. Even the chapel is rendered in a pure, bright white, with a very minimal look. The whole place feels much more like a trendy art museum rather than a place for the dead.[5]
Top 10 Things You Should Do To Prepare For Your Own Death
5

Most Haunted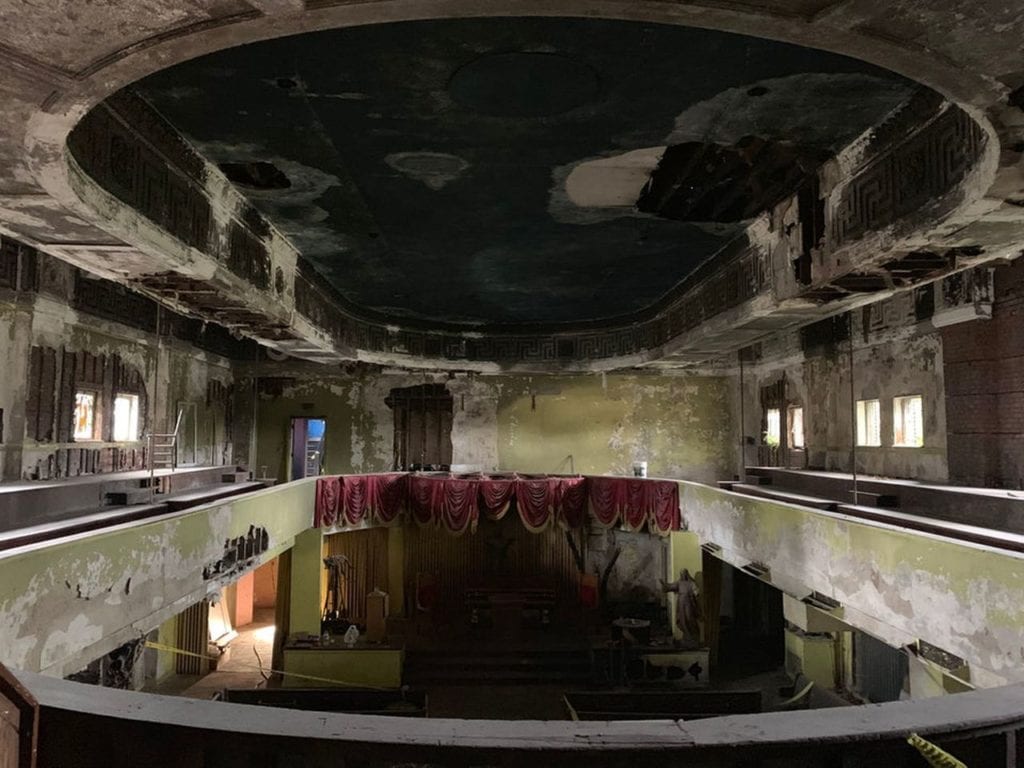 All funeral parlors are fertile ground for haunting stories, so to boast the title of "most haunted," is really saying something, though Cleveland's House of Wills is a strong contender for the honor. The building dates back to 1900, and was named for founder John Walter Wills. It was one Cleveland's longest running African-American businesses when it shut for good in 2005, and fell into disrepair. The building, with its elaborately themed rooms, was rumored to be a speakeasy during Prohibition and a meeting hall for Freemasons at one time, bulking up its haunting potential. "I don't believe in ghosts," says, Eric Freeman, current owner. "I didn't before, and I still don't. But I have seen stuff here that can't be explained." There are many stories connected to the property, all of which you can hear in detail, as the Cleveland Paranormal Society hosts ghost tours at The House of Wills. The parlor was also featured on season 2 of "Ghost Brothers."[6]
4

For the Rich and Famous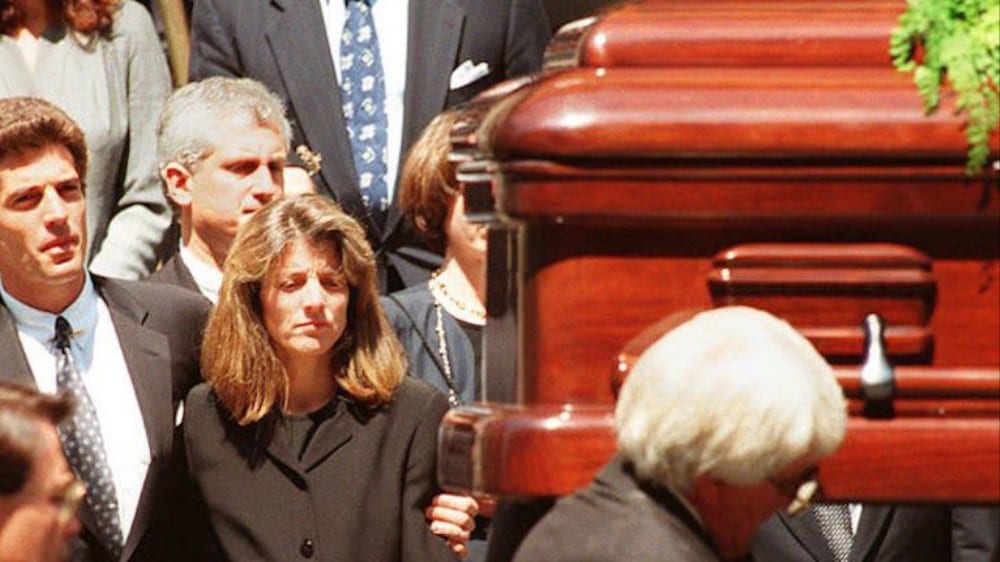 If asked what John Lennon, Jackie Onassis, and Philip Seymour Hoffman have in common, other than being famous (and late), you might have a hard time coming up with it. But all of had glitterati goodbyes at the same funeral parlor: Frank E. Campbell Funeral Home in Manhattan, which provides send-offs for the rich and famous. If you want to die like the stars, though, you need to have a bank account to match. Campbell sells a $90,000 casket and, in one case, the bill came to $150,000 in total. In order to conduct one-percenter funerals with dignity, this Upper East Side parlor has to deal with some really bizarre circumstances, such as being ready for uninvited fan break-ins, and conducting services with utmost secrecy, not to mention strict guest lists.[7]
3

Oldest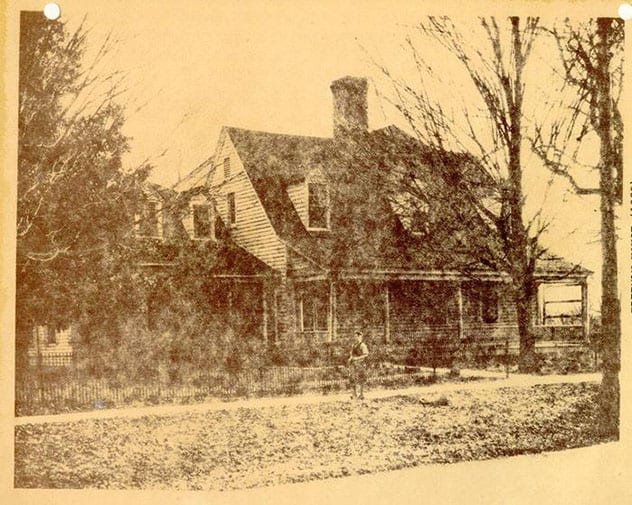 Bucktrout of Williamsburg, Virginia is the oldest funeral home in the United States, opening in 1759, making it 261 years old. It didn't start as a funeral home, strictly, but Benjamin Bucktrout and Anthony Hay made wooden caskets and provided burials on their farm, which, over time, transitioned into a more formal funeral parlor. Through the years, Bucktrout changed hands many times. It was also the first funeral home to own and operate a crematory. In 2011, it was purchased by the Altmeyer family who have restored and renovated the historic location.[8]
2

Museum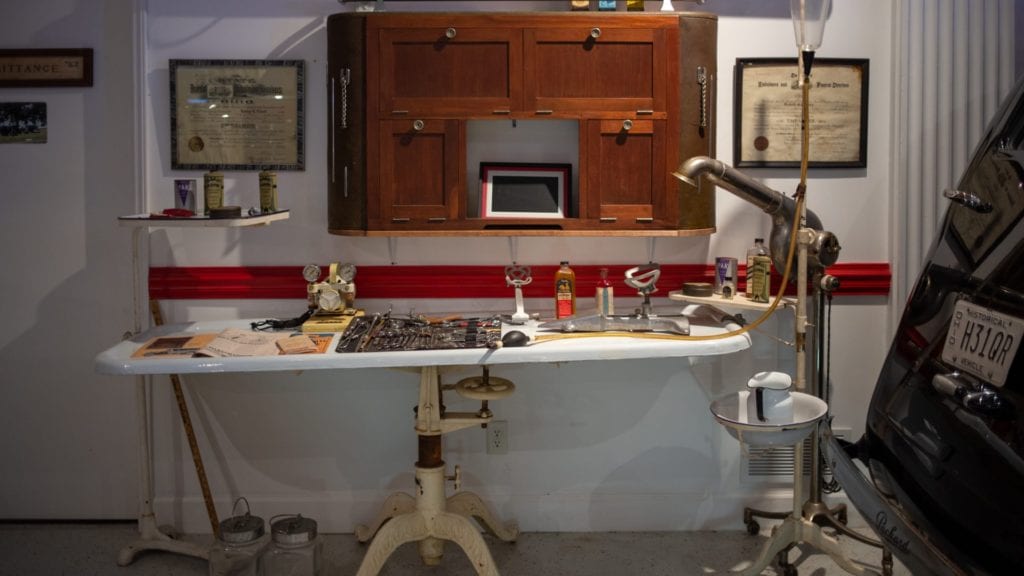 Marietta, Ohio might be the only small town on earth that can claim a funeral parlor/museum mash-up. Cawley & Peoples Funeral Home/Mortuary Museum is the brainchild of William "Bill" Peoples, current owner and funeral director. The museum, located in the former garage of the funeral parlor, opened in the early 2000s as a place for Peoples' collection of vintage vehicles, specifically hearses, and has grown to include burial garments, caskets, and antique tools of the trade. The jewel of the collection is a fully-restored Henney hearse, dating from 1927, affectionately referred to as "Miss Henney" (Miss Henney has appeared in several movies, including Radio Days and Get Low). The Mortuary Museum regularly hosts guests from all over the United States, and has already outgrown its current space. Peoples plans to expand the museum in the near future.[9]
1

"Standing" Funerals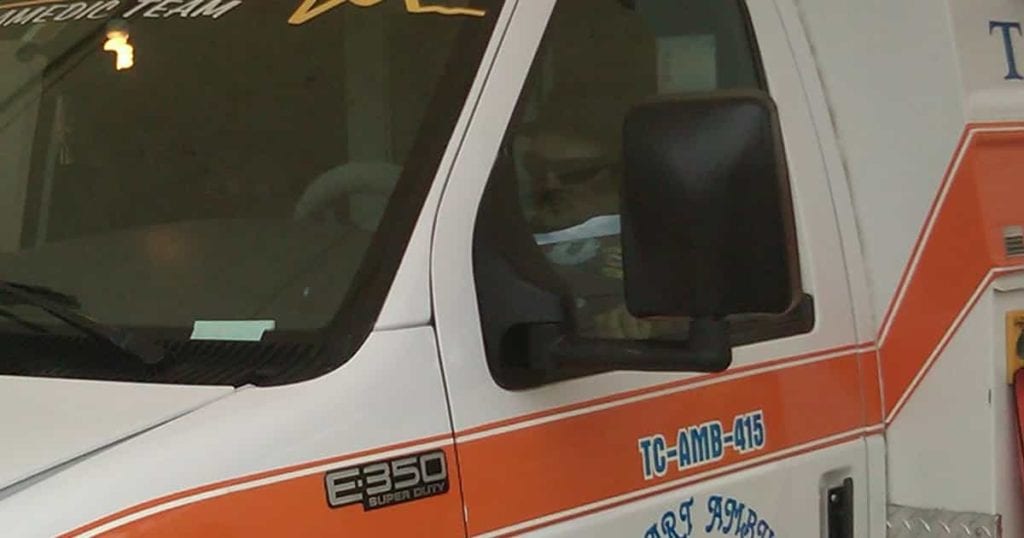 In 2008, Angel Luis "Pedrito" Pantojas Medina died. And then, he stood, silently, for three days at his own wake. Such is the specialty of the Marin Funeral Home in Puerto Rico, which has popularized "standing funerals." While the family of the deceased may choose the more traditional route, having the corpse laid out in a casket, Marin also offers to pose the body in tableaus that include sitting or standing, and even more elaborate scenes like playing cards or driving an ambulance (for a man that was an EMT in life). The funeral home even constructed a boxing ring for a young man who wanted his athletic skills known even in death. Included with the service are elaborate costumes, if requested, such as one man whose family dressed him as his hero, Che Guevara, or a woman who wanted to be a guest at her own funeral wearing her wedding dress. The practice is legal, though controversial, with some folks believing that it's downright sacrilegious.[10]
Top 10 Ways To Dispose Of Your Body After Death
About The Author: A.L. Montone is a teacher, playwright, and magician in Baltimore area.