It takes a unique soul to become an artist. Some have it, some don't. But with any artist, sometimes a creative mind can be a burden and drive them into some pretty dark places. Substance abuse and outright violence are common issues, especially with musicians. A study conducted on popular musicians from 1956 to 2006 showed that the median age of death in North America was only 45.2 years. Needless to say, these ten real-life scenarios of pure insanity are listed from simply felonious to outright brutal and murderous. Rock on, lunatics!
Top 10 Musicians Who Sold Their Soul To The Devil
10

The Theft of Jim Morrison's Headstone (May 9th, 1988)


Even though he only lived there for six months before his mysterious death, Jim Douglas Morrison is buried in Paris' legendary Napoléon-built, Père-Lachaise necropolis in division 6. In 1981, for the tenth anniversary of his death, Croatian Mladen Mikulin placed a 280 pound (127 kilo) sculpture of the singer's bust on his grave. Even in death, The Lizard King drove French authorities insane as his grave (which is the same hallowed ground that holds Édith Piaf and Oscar Wilde) became the hottest spot to throw a Black Mass or have an orgy with prostitutes. On May 9th, 1988 it was stolen in the middle of the night by two self-professed "fans" on a motorbike. They even gave an anonymous interview gloating about the theft and posing for photos with the bust. In the early 90's, the Morrison family placed their own rectangular head stone with a Greek inscription that means "True to His Own Spirit". The gravesite is now heavily policed and surveilled, with up to 300 riot police on-call in case of any further incidents. There is currently a petition to allow Mikulin to place an already cast replacement on the gravesite. Rest well, sweet prince.[1]
9

That Time Grace Slick Tried to Drug Nixon With LSD (April 1970)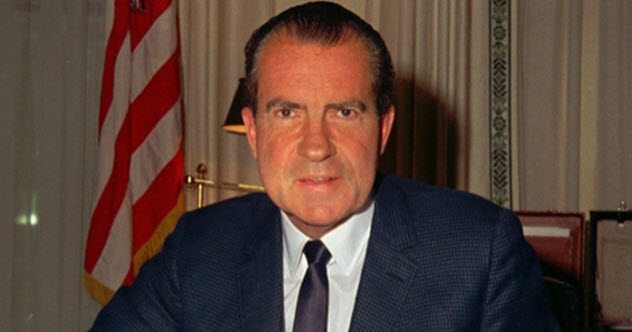 Yes, you read that right. Grace Slick, legendary singer from the most rebellious and groovy band of the era, Jefferson Airplane, received an invitation to the White House and immediately concocted her plan. With a 600mg tab of LSD hidden under her long finger nail, she planned to strike up a conversation with Nixon and try to casually drop it into his drink. The plan was doomed from the very start as it wasn't actually the president who invited Slick, it was his daughter, Tricia (both her and Slick attended Finch woman's college in New York City). As it was an alumni party, she had no chance to get near Nixon. Another mistake was bringing hippie prankster and activist Abbie Hoffman with her. Hoffman was a tour-de-force antagonist and too disobedient to go undercover. Even with a crisp suit and his hippie frock slicked-back, he immediately got into an argument with the secret service as Slick badly stuck-out amongst the preppy and brightly dressed women all adorning pageboy hairstyles. Demanding that he was Slick's bodyguard, he was abruptly turned away from the entrance. Walking past the White House gate, he quickly pulled a marijuana-leaf "Yippie" flag and hung it up (it was taken down almost immediately). Slick was busted too, but ran to Hoffman and both were quickly driven away by another Jefferson Airplane bandmate. Ambitious plan, terribly executed.[2]
8

Billy Idol VS. The Thai Military (1989)


Billy Idol is straight-up one of those "un-killable" rock stars. With 19 overdoses and 7 flat-lines under his belt, Idol lived so fast he almost was killed by the Thai military as they forcefully evicted him from a Thai hotel. In 1989, he flew with Michael Jackson and a man named Bubbles to Thailand for a perverse drug-fueled weekend. Jackson, according the Idol himself, disappeared to engage in the ripe "Ladyboy" scene that Bangkok is notorious for as Idol dedicated his time to drugs in his room at the Orient Hotel. Things go so out hand, Idol racked up a $250,000 bill ($140,000 of it in damages alone) in three weeks and Thai Military officials needed to be called as he was formidably holed-up in his room. Forcibly subdued, they strapped both Idol and Bubbles to stretchers and they endured the 14 hour flight back to the states in the luggage hold as they still had not calmed down. Idol admits that this incident made him think of his kids and has been sober since. It takes A LOT to have the military called on you in notoriously rambunctious Bangkok, but Idol managed to do it and survive the ordeal.[3]
7

James Brown, PCP, And A Shotgun (September 24th, 1988)


James Brown is a flat-out force of nature. The Hardest Working Man in Show Business had an office in Georgia near an insurance office holding a quiet seminar. Brown, who was horribly addicted to PCP at the time, grabbed his pump shotgun and burst into the seminar, high as a kite, and started accusing the mortified onlookers of using his office's restroom. Police quickly arrived at the scene when Brown hopped into his car with his wife and took off (his wife was also addicted to PCP and once stabbed a woman in the butt thinking she slept with her husband). Brown wildly drove around a V-shaped police barricade, which then prompted him to pull into a parking lot where two detectives fired 17 rounds into the car, almost hitting the gas tank. They then shot out his tires and tried to rip him out of the vehicle through a broken window when he then proceeded to drive across the Savannah River and another 6 miles on only his rims. Brown, who at this point had an army of cops on his tail, finally junked his bullet-ridden vehicle in Augusta and was apprehended. In jail he would have his teeth implants knocked out. Shockingly he only served two years in jail but in 1998 he was arrested for basically the exact same type of charges. Brown claims this was all fabricated and that the cops were intentionally trying to kill him. It should be noted that the FBI file was kept secret for 18 years.[4]
6

The "Suicide" of Kurt Cobain (April, 8th 1994)


A few days before Kurt Cobain's death he smoked a cigarette outside of a California rehab facility and proceeded to climb a brick wall and escape, making his flight back to Seattle before Courtney Love could cancel his credit cards. At this point, his team was constantly supervising him after a botched suicide attempt (which was flagrantly denied) in Rome, where he downed 50 pills of rohypnol (roofies). The story goes that Cobain shot himself up with the last of his heroin and shot himself with a shotgun in the head. Now the strangeness begins, as the suicide note was actually a draft of something Cobain had been working on for a while as a break-up letter that was intended for his band. Cobain was done with grunge and was actually going to collaborate with Michael Stipe of REM before his death. The theory goes that Courtney had tried to hire punk singer El Duce (who was interviewed in Kurt & Courtney but was killed by a train two days after being filmed) for $50,000. When he refused, Love hired a private detective to find him after his rehab breakout and they figured out a more ingenious way to kill Cobain. Forensically speaking, Cobain did have too much heroin in his body to lift a heavy shotgun and get the round off. Also, his suicide note is brashly finished up in blatantly different handwriting. Love has said that she would "follow Cobain through hell" and although she tried to cease and desist multiple documentaries about the "suicide" it is thought she never moves forward as she doesn't want the truth to come to light. The park across the street from Cobain's last residence is an unofficial memorial to the late singer.[5]

Top 10 Truly Disturbing Classical Pieces
5

Teen Stabbed During a Rolling Stone Performance (December 6th, 1969)

Meredith Hunter was your average 18 year-old with a touch of rebellion and adventure, as he had just started to wet his appetite with live concerts and festivals. Hunter grew up in Berkeley and was very progressive, and as a young African American man in the late 1960's, he was still quite naïve about the aggressive racism that lied on the fringes of Alameda County. Ignoring his sister's advice, Hunter borrowed his mother's boyfriend's 1965Mustang and the dashing 6'2" music fan drove towards the free festival with his white girlfriend, Patti Bredehoft, and a .22 revolver for protection. The arriving attendants were unaware that the Hells Angels motorcycle gang were hired as event security for only $500 worth of beer. The event took a while to get started and it was actually the Hells Angels who started riling up the crowd. Hunter, at some point, thought the whole event was a drag and consumed some methamphetamine. This was when, against the wished from his girlfriend, he scaled one of the speaker boxes to get a better view as the event quickly turned into chaos. Just as the Rolling Stones finally took the stage, it happened very quickly. Hunter was dragged off the speakers by two Angels and beaten. Instead of leaving, he turned back to the stage for more and when he was surrounded by a group of Angels, he pulled out his revolver. Footage from a news camera possibly shows a flash, but no bikers were hurt. Hunter died right there at the Alameda Speedway awaiting a helicopter, succumbing to 6 stab wounds, a severely broken nose, and multiple head and torso wounds. The craziest thing about all of this is barely anyone, from performers to the crowd, had any idea a man was killed. Hunter was buried in an unmarked grave for decades until a tombstone was finally placed.[6]
4

The Death of Elliott Smith (October 21st, 2003)


Elliott Smith was an Oscar-nominated musical genius that could exude despair and sadness like no other. A whirlwind of a personality, Smith suffered with substance abuse and mental illness for years. At the end of his Figure 8 Tour, Smith started using heroin. It got so bad that it was rumored he would smoke about $1,500 a day in crack and heroin. Failing a project with Jon Brion for DreamWorks Records, he became deranged and lashed out at executives trying to find out why he was hell-bent on his own sabotage. He even threatened to kill himself if they didn't cut him from his contract with the studio. Distancing himself from friends and loved ones, he became sickly and paranoid of the record label, thinking they were following him constantly in a white van. On the day of his death, his girlfriend Jennifer Chiba who he lived with and was used to relentless suicide threats from Smith, called 911 at 12:18PM. Her side of the story says they got into a fight and Smith disappeared into another room. When she came in to check on him he was standing silently facing the wall, as he turned to Chiba he exposed his chest wounds with a kitchen knife sticking out. As terrifying as it is to think of plunging a kitchen knife, twice, into your own chest, Smith had been spotted with self-inflicted wounds in the same torso area before. It should be mentioned that Chiba acknowledged in her statement that they both were in the midst of a massive fight. The coroner could also not determine if the wounds were self-inflicted. And although Smith was a very unique individual, statistically only 2% of suicides are by stabbing. An extremely sad end for a man I don't think wanted to get better.[7]
3

Literally, Death Metal (April 29th, 1993)


How can you write about insanity in music and not mention death metal? In 1992, teen Hendrik Möbus founded the band Absurd and was one of the first right-wing extremist death metal bands. In 1993 one of his bandmates, the 17 year-old Sebastian Schauseil, was having an intimate relationship with an older married woman. A 15 year-old boy named Sandro Beyer was privy to this poisonous information and got a bit cocky with it, spreading rumors and basically blowing-up Schauseil's spot. Well, the 17 year-old death metal musicians decided to take things into their own hands. They invited Beyer to a campfire in the woods and wound up strangling the young boy with an electrical cord. As Beyer ceased to live, bandmate Andreas Kirchner famously quipped "Oh s***… now I've completely ruined my life." All of the musicians were released in 1998 because they were technically minors when they murdered Beyer. Möbus would have a long history post-prison being either assaulted or having his property destroyed by anti-fascists. He almost started a riot at a metal concert in 2019 for handing out nazi propaganda. He also was rearrested years later for a hammer attack on an American national socialist who was actually putting Möbus up with money and place to sleep. The band still exists, just without a single original member.[8]
2

Sid Murders Nancy (October 12th, 1978)


John Simon Ritchie, famously known as Sid Vicious of the Sex Pistols, was the purest form of rock and roller. Addicted to drugs, vibrantly insane, and famously useless with a bass guitar; he simply brought attitude to the table and couldn't care what anybody else thought. Nancy Spungen was born to a middle class Jewish family in Pennsylvania, but things became identifiably clear that she had issues. Diagnosed with schizophrenia at 15, she wound up getting kicked out of school at 17 and moved to London (supposedly to hunt down Jerry Nolan of The Dolls), and settled with The Sex Pistols where she honed in on Sid. I don't think Johnny Rotten wouldn't have been her type as he didn't drink or do drugs. Sid and Nancy would go on to have an extremely tumultuous and legendary 19-month relationship that ended with Spungen being found dead with a single abdomen knife-wound on the bathroom floor of their room in the Hotel Chelsea. Out on bail, Sid Vicious himself would be found dead four months later before he could go to trial. The NYPD closed the case, but punk-rock historian Phil Strongman believes that stand-up comedian and actor Rockets Redglare actually killed Spungen in a drug-deal gone wrong. Redglare's personal friends also have spoken about how he would get massively intoxicated and "confess" to the murder to a shocked audience. Honestly, Gary Oldman as Vicious in the 1986 film (of the same topic) is his best role. Every music fan should see Sid & Nancy.[9]
1

The Murder of Dimebag Darrell (December 8th, 2004)


Darrell Lance Abbott was one of the founding members of Pantera and Damageplan and is considered one of the godfathers of death metal and was a world-renowned guitarist. Dimebag Darrell was simply there to perform that Wednesday evening in Ohio and entertain his 200+ fans when 25 year-old Nathan Gale walked onto the stage and fired several close-up shots into the legendary guitarist's torso, killing him instantly. Gale then began to cowardly fire into the audience, killing three more individuals including venue staff and a bodyguard. This is at the top of the list as it was during a live performance and shooting spiraled into a savage hostage situation when luckily patrol officer James Niggemeyer overheard the 15 rounds going off at 10:18 PM. By 10:20 PM Niggemeyer had snuck into the venue through a side door and saw Gale holding a hostage in a headlock about to kill again. That's when the patrol officer took out Gale in one perfectly aimed shot with his shotgun. In the footage of the chaos, a body guard says "You had to do it" to an absolutely stone-cold Niggemeyer who was still holding his rifle in hand. No one truly knows what Gale's intentions were. Darrell was so beloved by fans, that as his body lay on the stage bleeding profusely, fans held his hands and feet with several trying, in vain, to give him CPR. RIP Dimebag Darrell, and as Rob Zombie was quoted after the shooting "I'm speechless."[10]

Top 10 Iconic Moments From The History Of Music