Most people will have at least one happy memory of visiting a theme park, a fairground or a zoo. Even water parks and aquariums can produce wonderful days out for families. But many people will also have some pretty crap days in such places – outdated, boring rides, long lines on hot Summer days and extortionate prices for a fried pickle on a stick (extra $4 for mustard). Some of us will even remember getting ripped off—you shell out $3000 to try and win a state-of-the-art minidisc player (batteries not included… and no longer produced), throwing rubber ducks at a revolving peg to try and hook on 3-in-a-row.
The events listed here go far beyond some dodgy, deep fried foodstuffs or a rigged carnival game. No, these are some of the most shocking, scandalous and tragic events that have happened at leisure parks, theme parks and water parks over the years. Some are relatively well known (especially if you live in the locality of the site), some are obscure. They are all awful.
10 Abandoned Amusement Parks With Horrific Histories [Disturbing]
10

The Luna Park Ghost Train Fire

An historic Australian funfair next to the world-famous Sydney Harbour Bridge, looking out over the waters, would be most young kids' dream of a fun day out. Hell, most adults too! But back in 1979, Luna Park became the site of a nightmare.

A fire broke out on the park's ghost train ride, which had been a draw for punters since 1935 when the park first opened, killing seven—John Godson and his sons, Damien and Craig and students Jonathon Billings, Richard Carroll, Michael Johnson and Seamus Rahilly.

An inquest found that the park's operators were guilty of not implementing a proper safety policy, despite being warned to do so by the local council and the fire department months before the fatal blaze. The park was shut down and, despite backlash from fans and campaigners, remained so until 2004. The cause of the fire has never been conclusively determined.

One of the more worrying rumours to emerge regarding the mysterious fire emerged in 2007. An article in the Sydney Morning Herald claimed that infamous underworld figure Abe Saffron, known as "Mr. Sin" for his links to Sydney's red-light district, burned down the ride in order to gain control of the seaside park. The story, allegedly divulged by his niece, was quickly denied by the source, despite the paper claiming it was gathered during a taped interview. Saffron's son Alan, who died in April 2020, also believed his father was responsible, with his widow citing documents in her possession that proved as much.
9

The Poisoned Pool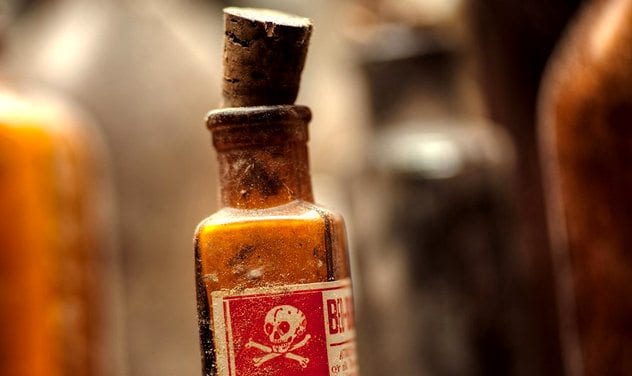 Getting a mouthful of sea water is gross. A couple of accidental gulps of dirty pool water will make you feel queasy. One thing you do not expect at a water park is a glug of acid down your gullet.
That's what happened at a park called Splashin' Safari, found in Holiday World theme park, back in 2009. Guests got a dangerously high level of chlorine too. Officials at the Indiana park quickly fixed the issue, reporting that a water pump malfunction was to blame for the dangerous toxins entering the water, sending 24 people to hospital. Sales of their "I came to Holiday World and all I got was this stupid t-shirt… and a hole in my lungs" remain low.
8

A Series Of Dark Events At A Much-Loved Funfair

Much like Sydney's Luna Park, the small seaside town of Porthcawl in South Wales has been entertaining tourists with various attractions for decades. There's mini golf, a dinosaur park, lots of pubs, but the main thing to do in Porthcawl has always been the funfair. First set up to entertain American GIs stationed nearby during the Second World War, Coney Beach is a small fairground located on the eastern promenade—slap bang next to the long, pretty beach below. But the much loved and thoroughly nostalgic seaside resort has been the site of many dark tragedies.

In 1994, after a couple of non-fatal accidents on some of the rides, a 9-year-old boy died when riding the water chute. A gantry fell onto the track due to adverse weather, causing the ride's carriages to come off the rails. More accidents due to shoddy maintenance and human error, as well as incidents of antisocial behaviour further blotted the park's reputation over the next decade. One of the worst incidents occurred in 2004 when the park's operators hired a registered sex offender—2 weeks after the man had received a court order barring him from being around kids.

Tragedy struck again in 2007, this time the park was the setting for a phenomenon that affected the whole county—the 'Bridgend Suicides'. A spate of suicides in the county between 2007 and 2009, totalling in 26 individuals taking their lives, all save one by hanging, far above the average expected for the period by an order of magnitude. One of the individuals who died was found hanged in one of Coney Beach's unused warehouses.
7

"Racist" Rides Defended

There is a lot of furore in this age of cultural warfare around the subject of race. Whether or not you believe the term 'racist' has been weaponized in order to lambast anyone who simply holds counter-narrative opinions or that the word itself has been devalued and redefined in such a way as to render the accusers racist themselves, it is hard to defend the presence of rides like these ones found in Danish and Dutch fun fairs—they are objectively racist depictions of black and Asian people – surely nobody would miss them if they were scrapped? some people did indeed stand in favour of keeping these rides in operation. Why? For some, it was freedom of speech. For others, it was nostalgia.

The criticism did not go totally unheeded. Despite promises made by the park in Holland to update some of the more dated stereotypes on display, there was no plan to change the 'Monsieur Cannibale' ride, where gusts sit in a huge cooking pots, below the figure of a stereotypical 'African Cannibal' with a spoon through his nose. Whatever side of this you may fall on, there isn't much doubt that these sorts of depictions are remnants of a by-gone era, and not an intrinsic part of Dutch or Danish culture.
6

The Death Of Debbie Stone

Many people today scoff at the excesses of 'health and safety' culture run amok. It is true that extreme measures are often taken in the name of 'safety' (or lawsuit-dodging), hampering fun and even, in some cases, freedom. But there was a time, not all that long ago, that the very notion of health and/or safety being something to consider in the workplace would get you laughed out of the smoke-filled office. Dangerous working environments were common, even at the 'happiest place on earth'.

In 1978, 18-year-old employee Deborah Gail Stone was crushed to death between the moving parts of a ride called 'America Sings'. The ride was a rotating ride where guests watched animatronic animals sing about America's musical tradition. On July 8th, just 9 days after the ride first opened, Stone tried to navigate her way between the moving tableaus. She got trapped between a moving wall and a stationary one as the ride was resetting to begin another rotation, getting crushed to death. Her screams were heard by guests as the robot animals began to sing. By the time workers shut down the ride and got to her, Debbie Stone had died from her injuries.

Stones family managed to settle a wrongful death suit with Disney. The company first installed safety lights in the area Stone died as a safety measure. This clearly wasn't good enough; Disney installed break-away walls which would allow a means of escape should anyone else fall between the walls some time later.
5

Heinous Unsolved Crime At Legoland

Back in the Summer of 2016, two six-year-old girls were groped by a pervert whilst they played in the tower of a pirate themed play area called 'Castaway Camp' in the Berkshire theme park. Two suspects were arrested a few months later but were quickly cleared of any wrongdoing. The perpetrator of this heinous crime remains at large.

The fact that this incident occurred at what is ostensibly England's foremost child-orientated attraction makes it even more alarming—Legoland should be a kiddie's paradise. How this perfidious sex-crime committed at a theme park that is always teeming with visitors and peppered with CCTV cameras could remain unsolved years later is truly awful.
4

A Sole Orca

People used to love attractions like SeaWorld. The documentary "Blackfish" changed the image of such parks forever – SeaWorld has made some changes and is certainly moving in the right direction, despite still digging its heels in on certain issues.

Beyond the famed chain of ocean life parks, many smaller parks still operate, and are often worse with regards to the way they treat the animals they hold. Take 'Lolita', an orca from the pacific northwest who was been in captivity since her capture in 1970. She currently resides in Seaquarium in Miami, FL, the only orca at the park. Orcas are one of the most emotionally tuned mammals, relying on family interaction. The fact that this animal has remained in isolation, forced to be gawped at for no good reason (what's better – staring at a sad, imprisoned animal or a rollercoaster?) is nothing more than a remnant of a past that we're slowly leaving behind. For 'Lolita', still stuck and alone, this is no comfort at all.
3

The Dead Man In The Haunted House

We have all heard the urban legend of the corpse in the theme park attraction (which turned out to be true). This story from Hong Kong, however, wasn't a long-forgotten mummified body in a park attraction – this body was fresh.

Ocean Park opened a Halloween attraction called "Buried Alive" back in 2017 – the haunted house-style attraction was set to give visitors the experience of "being buried alive alone, before fighting their way out of their dark and eerie grave". One 21-year old man, however, didn't find his way out. Much like the case of Debbie Stone, the young man found himself in a restricted area. He was struck by a mechanical coffin and was rendered unconscious. The man was confirmed dead when he arrived at the local hospital some time later. The local government immediately closed the attraction.
2

The Pony Guy

State Fairs have been much-loved institutions in the US since the mid 1800s (when the city of Syracuse played host to the first annual New York State Fair in 1849). One thing that you can rely on is crazy, super calorific fried foods like funnel cake, elephant ears or, if the Minnesota State Fair gets back up and running, a Halo Cone—a swirled cotton candy and blue raspberry soft serve ice cream on a cone, all enveloped in a cloud of cotton candy and covered in Fruity Pebbles cereal. Indulgent food is expected. So too are animal-related attractions—pony riding, petting zoos, agricultural shows. What shouldn't be expected is a serial killer stalking the park, working on one of these attractions. In 2019, this is exactly what happened at the Tennessee State Fair.

Carnival worker James Michael Wright worked with the ponies at various fairs in the South-Eastern US. He not only tended to the animals as he went from fairground to fairground, he also killed young women. He is currently awaiting trial, having confessed to the murder of 2 women – 22-year-old Elizabeth Vanmeter from Carter County, Tennessee and 17-year-old Joycelyn Alsup from Cobb County, Georgia. Wright is also accused of killing 25-year-old Athina Hopson but has not yet admitted to involvement in her disappearance.
1

A Zoo, Gardens And A Museum! What's Not To Like?

A lot—there is a lot not to like. Mumbai's Jijamata Udyaan (formerly known as 'Rani Bagh') is a gem or both horticulture and architecture. It is not a gem of animal welfare, however.

Local animal rights activists have long criticised the zoo for their awful record – cramped conditions, neglect and the transfer of animals wholly unsuited for the climate to the park (Humboldt Penguins, accustomed to the long coastline of Chile, now living in a small enclosure in an Indian zoo. They live for 20 years!)

But don't fret too much for these animals and the awful conditions they are subjected to. Once they die, experts at the park will stuff them and put them on display in the taxidermy museum. So, it's all good, then…

10 Insane Rides From The World's Most Dangerous Amusement Park

About The Author: CJ Phillips is a storyteller, actor and writer living in rural West Wales. He is a little obsessed with lists.