Easter is just around the corner and Christians worldwide are gearing up to celebrate in unique and colorful ways. The Easter holiday concludes the "Passion of Christ" and incorporates Lent, a 40-day period of prayer and fasting which ends with Holy Week that includes Holy Thursday and Good Friday.
On this list are some of the various Easter celebrations from around the world, in pictures.
10 Unique Easter Traditions Around The World
10

Poland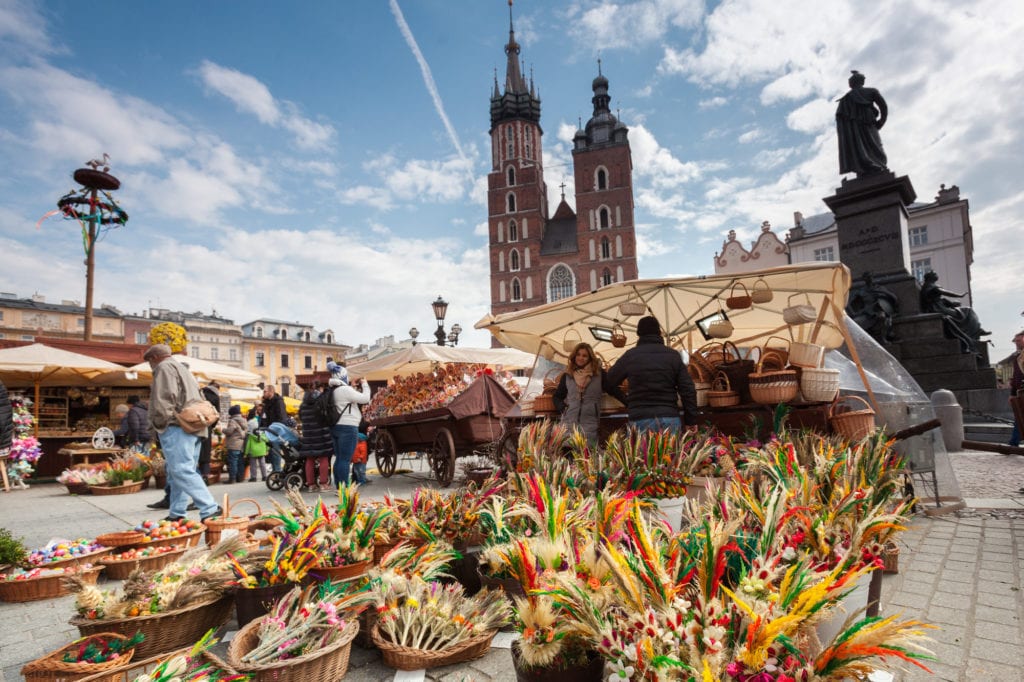 Easter is one of the most important annual holidays for Catholics in Poland and during the celebration period it is customary to see handmade 'palms' for sale of which some are taken to church on Palm Sunday to be blessed before they become decorations inside homes.
On Easter Saturday traditional hand-decorated easter eggs are placed into an Easter basket alongside sausages, bread, beets, horseradish, salt and a symbolic dough ram and the basket is taken to church to be blessed. The most important day throughout the Easter celebration is Easter Sunday when families gather together for a feast and to commemorate the resurrection of Christ.
9

Spain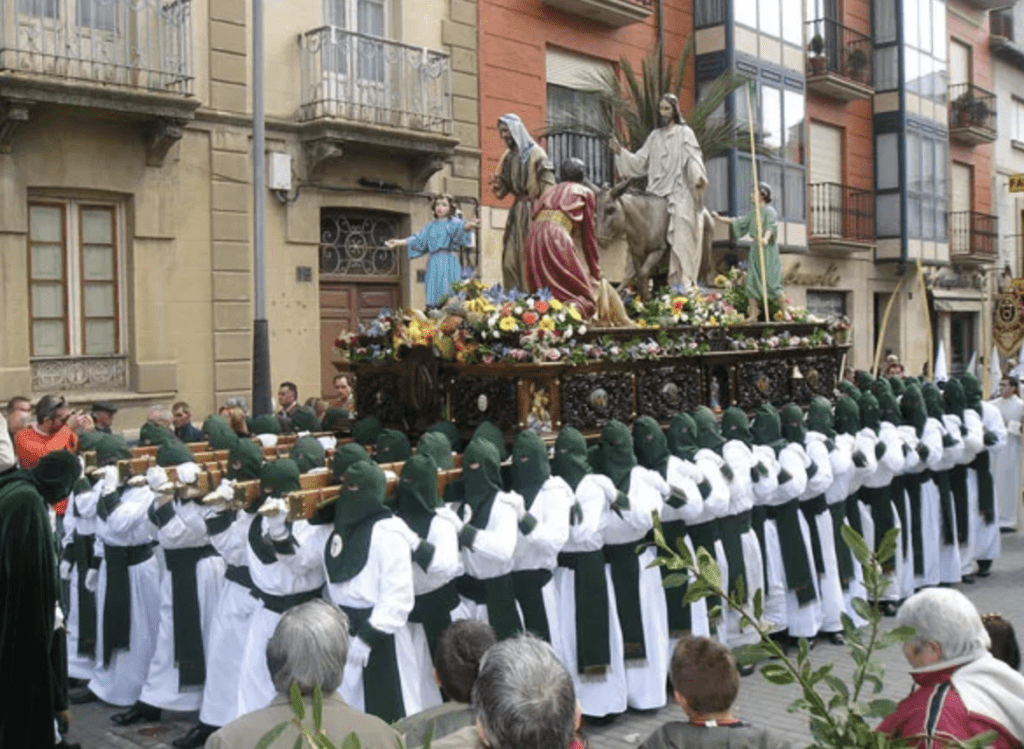 A lot of big businesses in Spain give their employees an entire week off during Easter while smaller organisations take some time off during Semana Santa, which is the Spanish celebration of Holy Week. Holy Week begins with Palm Sunday and ends on Easter Sunday and during this time solemn parades take to the streets of Spain.
"Mourning" figures dressed in hoods carrying floats sporting statues of Jesus or Mary are part of a procession that makes its way past large crowds. When night falls, candles are lit as a statue of Jesus is taken down from a cross on top of a float decorated with purple iris and one red rose.
8

Brazil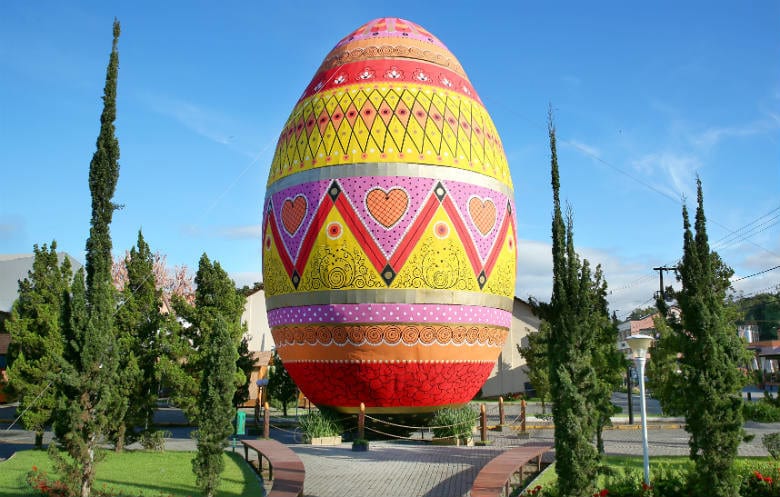 There are many ways to celebrate Easter in Brazil. These include the celebration of Holy Week that incorporates many religious services and the weaving of crosses out of palm branches. The street between the Matriz de Nossa Senhora do Pilar church and the Nossa Senhora de Conceição is lined with flowers, sand and sawdust in the form of beautiful patterns while children sing religious songs.
In the south of Brazil, you will find pink and blue cats and dogs running around, painted to remind everyone that Easter is the "sweetest time of the year."
Brazil is also home to the largest decorated Easter Egg in the world, created in just 48 days and standing 15.02m tall.
7

Russia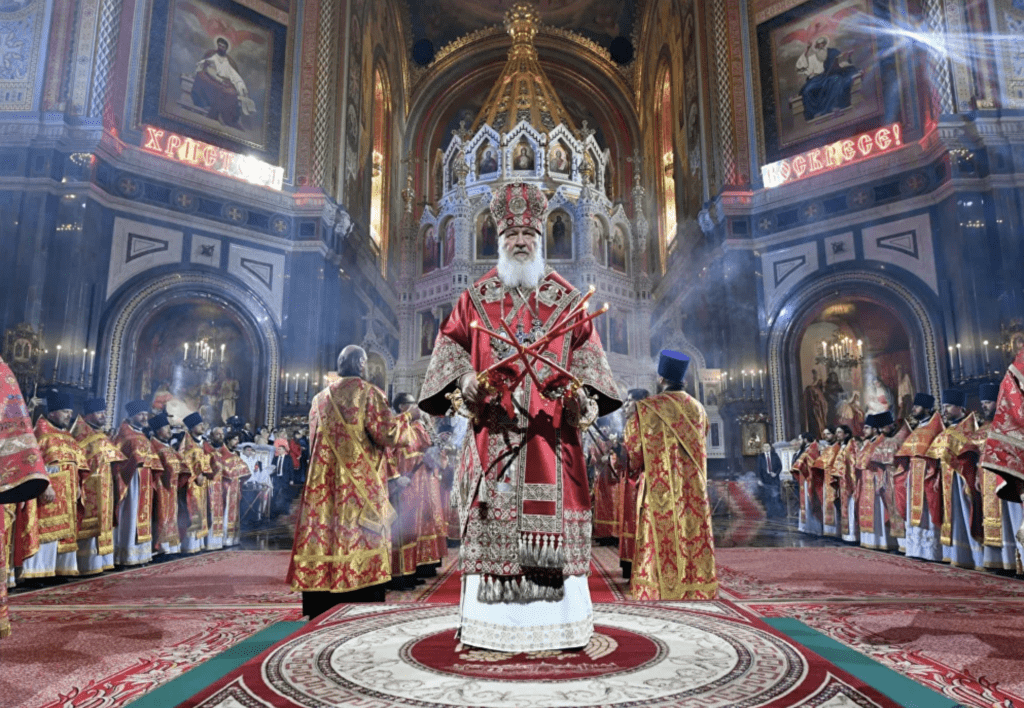 Sitting in a dark church on the night before Easter is how many kick off celebrations in Russia. As midnight draws near, the priest will declare that 'Christ has risen' after which candles are lit, chanting begins and general happiness ensures.
This same event occurs in Catholic Churches around the world at the "other" midnight Mass (Easter Vigil) as seen in this video . . . it is particularly moving as the bells ring out the joy of the rising of Christ from the dead as the altar is unveiled and redressed in flowers and gold and silver:
On Easter Sunday, some Russian citizens pay their respects to the dead and bring food from the Easter feasts to their loved ones' final resting place in a cemetery. After a massive lunch, it is time to visit the House of Faberge or an Easter gift festival and finally cap off the celebration with the Russian Easter Music Festival.
6

Germany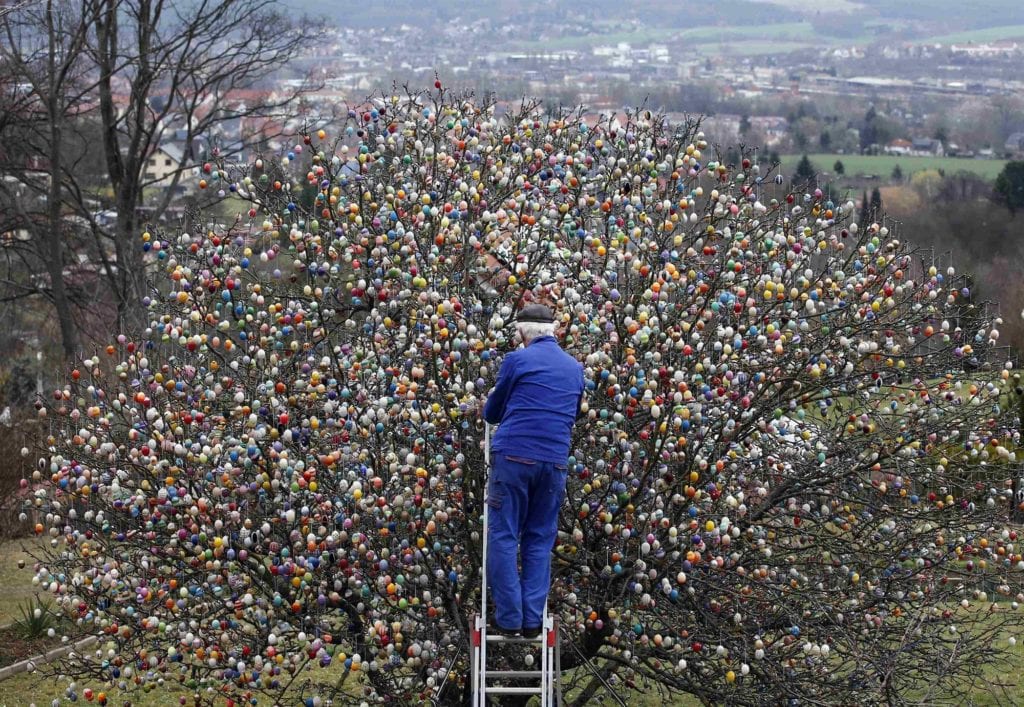 In 1909, a fountain in Upper Franconia was decorated with ribbons, eggs and flowers. In the years that followed fountains all over the area were also decorated but the tradition came to an end with the start of WWII. In the 1980s the tradition started up again and to this day, fountains are decorated for Easter every year.
In addition to this, there are also Easter trees in homes and public parks in Germany, decorated with colorful eggs. The most famous Easter tree is located in Thuringia at a family home where the Kraft family hangs thousands of eggs on their tree each year, making for a beautiful tourist attraction.
5

Israel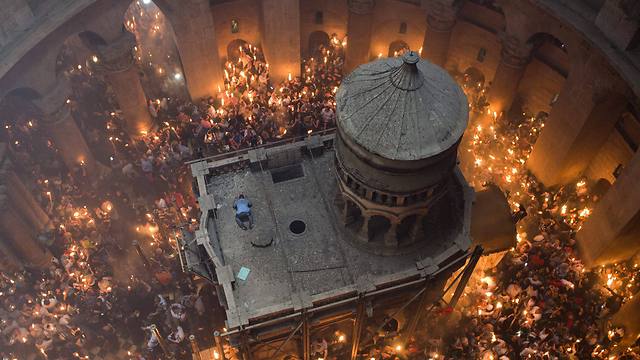 Spending Easter in Israel is the dream of many Christians. Thousands have made their dreams come true by visiting the Holy Land and joining the procession along the Via Dolorosa in Jerusalem on Good Friday.
On Saturday, Orthodox Christians take part in celebrating the Ceremony of the Holy Fire and await the lighting of the Patriarch's candle from within the tomb of Christ.
Palm Sunday is celebrated with Jesus' entrance into Jerusalem re-enacted by the Christian pilgrims who sing hymns and wave palm leaves. Protestant Christians attend the Sunrise Service at the Garden Tomb on Easter Sunday.
4

Argentina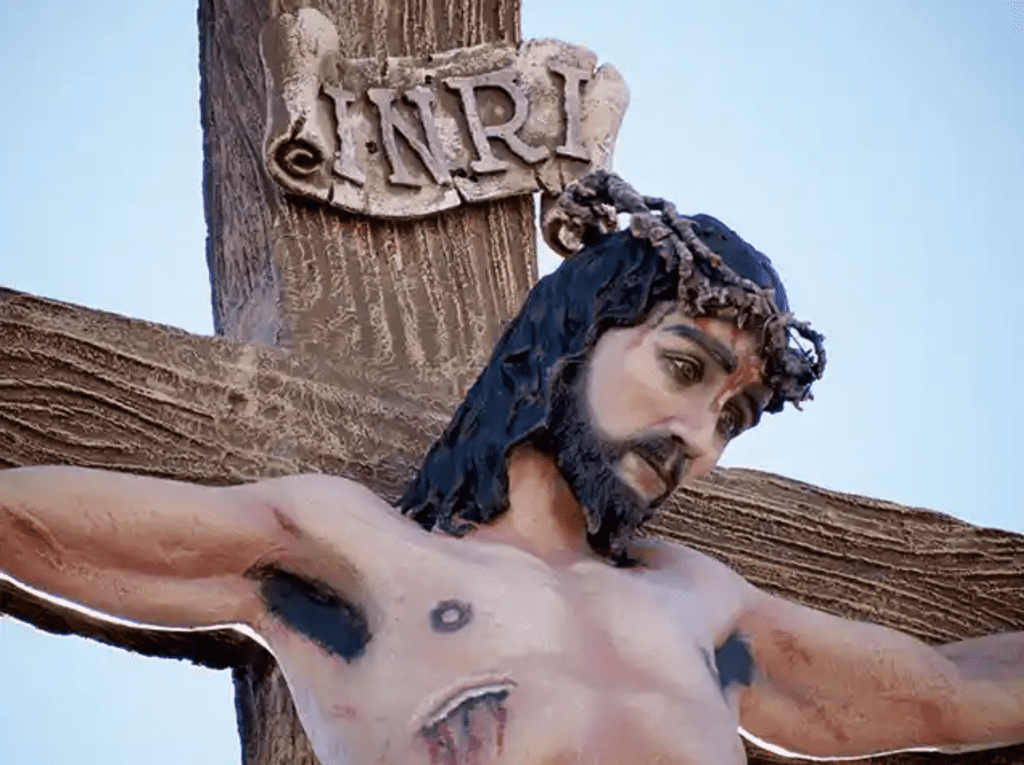 As carnival season comes to an end in Buenos Aires, Easter starts. Often carnival festivities and Easter celebrations overlap and all sorts of street parties and parades and processions take place, that are not necessarily religious in nature. Santa Semana is often celebrated by the above-mentioned street parties in lieu of going to church and families gather for a feast of fried pastries and red wine.
Of course there are religious processions and celebrations as well, considering that Argentina is largely made up of Roman Catholic believers. One of the biggest processions in the country is the Via Crucis or Stations of the Cross which ends at Monte Calvario, which is a small hill that houses a sculpture of Jesus on the cross.
There is also Tierra Santa theme park where there is an hourly 'resurrection show' (and not only during Easter time).
3

Denmark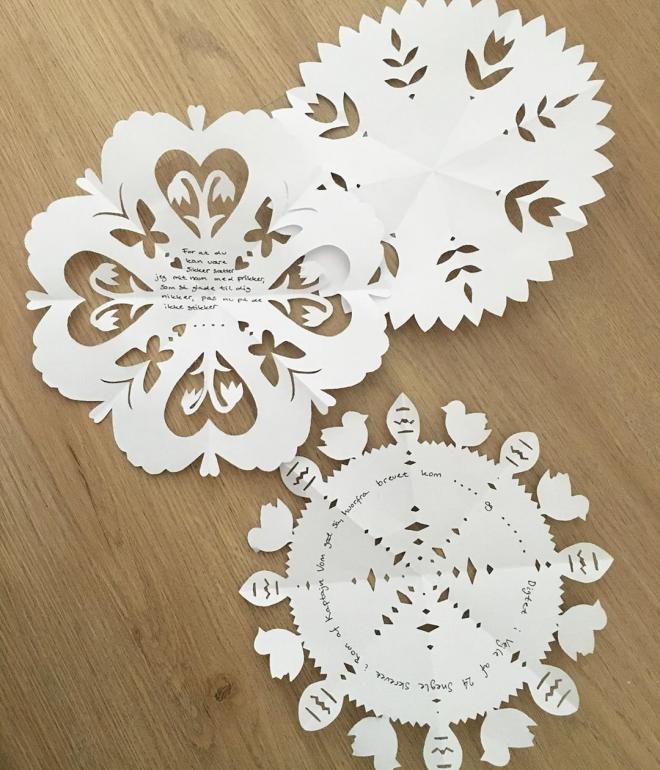 There aren't massive Easter celebrations in Denmark, with Danes preferring to take a short holiday to their summer homes instead to celebrate the end of winter.
This doesn't mean they don't get into the Easter spirit however. As the holiday approaches, children in Denmark write short 'poems' on intricately patterned paper which they sign with a number of dots equal to the letters in their names. These poems are called gækkebrev and if the recipient thereof correctly guesses the writer, they must provide him or her with an Easter egg. If he doesn't guess correctly then the other way around applies.
Decorations in the form of yellow candles, napkins and eggs can be found in houses during the traditional Easter lunch and sometimes boiled eggs are used in a competition to see who can throw them the farthest.
2

Mexico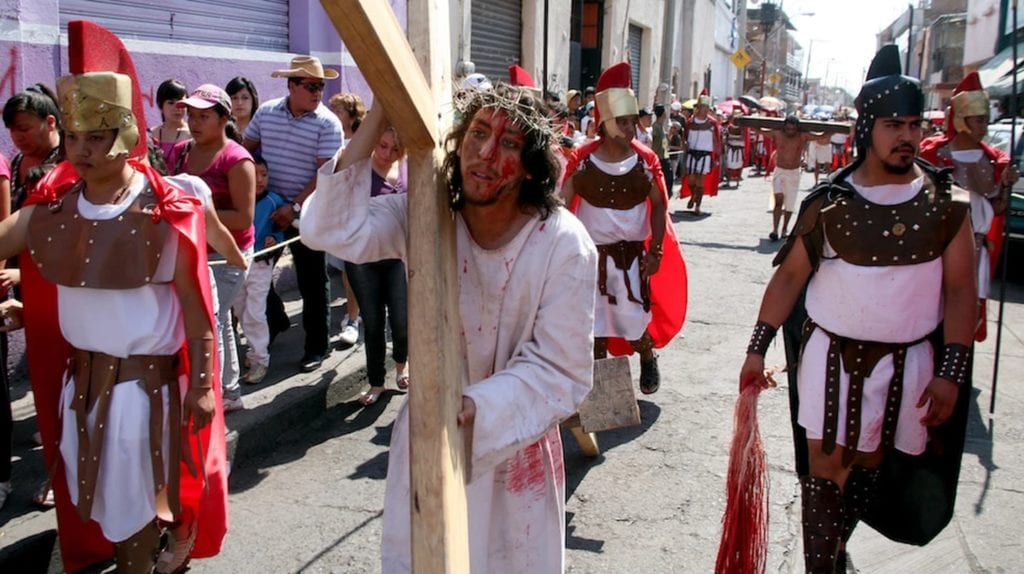 Easter is huge in Mexico, and celebrated over the course of two weeks that include Holy Week and the week after Easter, Semana de Pascua. Crucifixes and other items woven from palm leaves are blessed by priests and then placed over the doorways of homes to prevent evil from getting inside.
On Holy Wednesday the betrayal of Jesus is remembered by Mexican Catholics and some churches re-enact the scene during an afternoon mass in a ceremony called Vespers of Darkness.
Holy Thursday sees the commemoration of the Last Supper during which bread is handed out to visitors. On Good Friday many processions to commemorate the Passion Play happen around the country which includes the Procession of Silence where participants wear hoods while carrying crosses. Holy Saturday is the 'waiting period' between Jesus' death and resurrection and in some places an Easter Vigil is followed by the burning of effigies of Judas.
On Easter Sunday, after mass, the period of Pascua begins which marks the start of 50 days to the ascension of Jesus into heaven.
1

Guatemala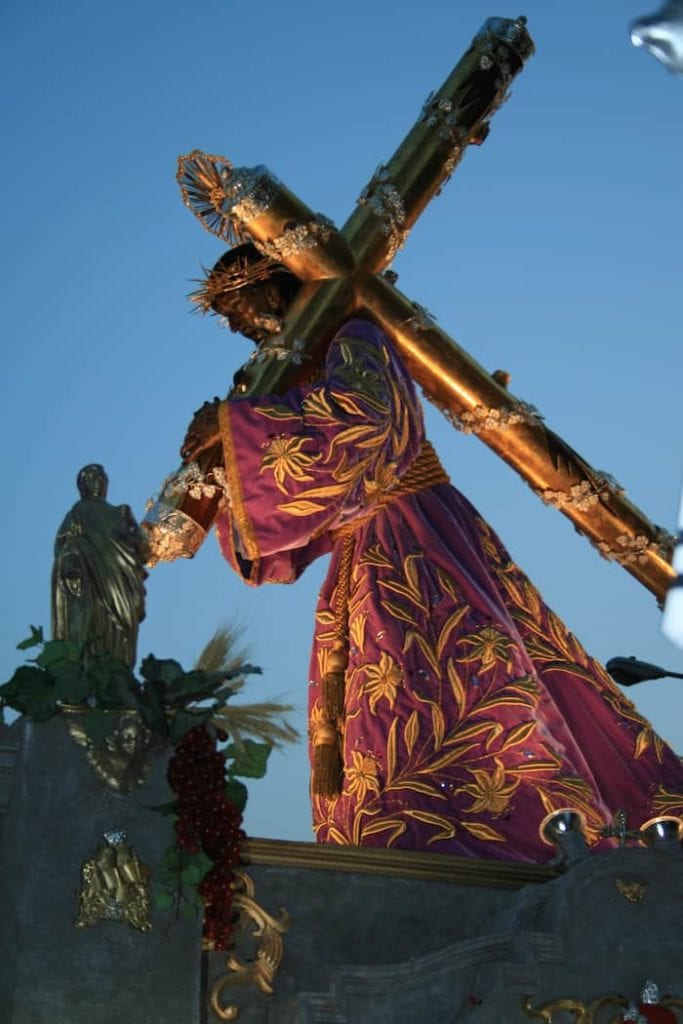 Guatemala hosts the biggest Easter celebration in the world during which all aspects of Jesus' death on the cross and subsequent resurrection are commemorated.
The tradition of a procession of men in purple robes and hoods carrying floats with sculptures of Jesus while walking in tune to a marching band was brought over to the country by Spanish missionaries during the 16th century. The musicians play sorrowful funeral marches using bass drums and trumpets to create a feeling of intense sadness over the prolonged suffering of Jesus Christ before his eventual death on the cross.
The whole city participates in the event alongside hordes of tourists and it all begins with Palm Sunday. By Good Friday, everyone is dressed in black and mourners burn black incense. On Holy Saturday there are funeral processions in honor of the Virgin Mary and then on Easter Sunday the resurrection is celebrated with fireworks.
Children also take part in the celebrations by putting on a play that recreates the 'Passion of Christ.' Some also take part in a spiritual retreat that includes baptisms, fun activities and a bonfire.