Celebrities are just like us. Sometimes they like to have a night in with some popcorn. Sometimes they like to dress up and go out and have a nice dinner with their significant others. Sometimes they are kept awake at night with sleep paralysis, frozen by the whispers of demons and spirits that inhabit their homes and waking nightmares. They're just normal people, guys. While the juicy celeb gossip may be hard to resist, sometimes a good ghost story is even harder. Rest assured, there is no shortage.
We've already brought you a list of ten hauntingly famous ghostly tales, but now it's time for another round. So, pull up the covers, and let's dive right in. Here are ten more of your favorite famous faces that have had their brush with the supernatural.
Related: 10 Celebrities Who Had A Terrifying Ghostly Experience
10

Brittany Howard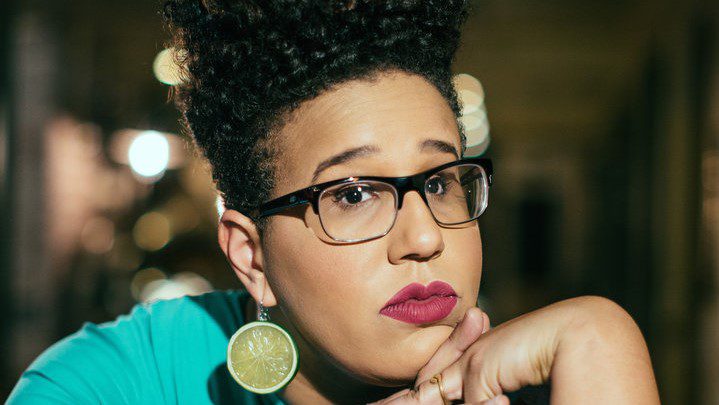 Former frontwoman of Alabama Shakes, Brittany Howard, doesn't shy away from her past with hauntings. In an interview with The New Yorker, she casually mentioned the house in which she grew up, "Oh, yeah. That bitch was haunted as hell."
Brittany lived in a dilapidated house in Athens, Alabama, close to the railroad tracks. Her great-grandmother passed in the house shortly after Brittany and her mother moved in, and her mother claimed to see her great-grandmother's spirit on the end of her bed frequently. Brittany claimed in the same New Yorker article that it always felt like someone was watching her. The cabinets and doors would slam on their own frequently when she was home alone.
After a while, the ghost in the house got personal, opening and closing her bedroom door while she would try to sleep. She assumed it was the ghost of her great-grandma like her mom used to see, but Brittany didn't take any chances and started sleeping in the living room to be safe. That lasted all of one night while the spirit started terrorizing Brittany, growling at her in her sleep. As to who the spirit is? It's still not known even to this day. We may never know.[1]
9

Ariana Grande

You'd think if Ariana Grande had a date with the Devil, we'd all have heard a song about it by now. The truth is that's apparently what happened back in 2013 when she visited Stull Cemetery in Kansas City. The cemetery is supposedly one of the seven sites where the Gates of Hell on Earth exist, and satanic activity is rampant should you be so unlucky to take a stroll around Stull. Grande did just that, knowing the ramifications of her actions. Upon entering the site, she said, "I felt this sick, overwhelming feeling of negativity over the whole car and we smelled sulfur, which is the sign of a demon, and there was a fly in the car randomly…"

For weeks, the pop star saw shadow figures and black masses. She heard whispers and growling and felt a heavy presence while trying to sleep. It has all the elements of summoning a demon. When seeking advice on how to rid herself of this entity, she was told to "tell it to eff off," to which Ariana said she was too scared to try. Take this as a cautionary tale if you're ever in Kansas City. Don't visit a portal to Hell unless you're willing to suffer the consequences.[2]
8

Matthew McConaughey

You don't need to have starred in a ghost movie to see a ghost, but it makes this list more fun. Star of Ghosts of Girlfriends Past, Matthew McConaughey actually claims that his Hollywood Hills home was haunted by a spirit named Madame Bleu. Alright, alright…alright?

While at a press junket for the film in 2009, McConaughey revealed the spirit came to him when he had to stand his ground with the angry spirit wanting to stake her claim in his home. Guests to his home felt her presence, and he finally came to an accord with the spirit of the Madame to share the home. Since then, everything has been quiet and serene. We hope.[3]
7

Melissa McCarthy

This Ghostbuster has earned her keep dealing with the dead. She revealed that during her college experience in Boulder, Colorado, she moved into a house and lived in an attic that was definitely haunted. Her friends wouldn't dare walk through the threshold, maintaining that same "creepy" feeling you get when there's supposedly a presence around, and the door would inexplicably open and close by itself when McCarthy was alone. Two weeks later, she moved to New York.

McCarthy also revealed in a telling interview with Ellen DeGeneres about when she was in the 2nd grade. Her great-grandmother passed and revealed herself in spectral form the same way she looked weeks prior. *Bonus: Ellen then revealed she has seen the spirit of a man from the turn of the century in a three-piece suit that just stared at her. Creepy![4]
6

Mike Colter

Before he was Luke Cage, Mike Colter grew up in the very haunted state of South Carolina, where he claims a slew of paranormal goings-on occurred. He told Kelly Clarkson on her show back in October of 2019, "When I was a kid, I used to have this thing that was sitting on my chest when I would sleep, and it was keeping me from getting up, and I couldn't open my eyes, and I would struggle, and I couldn't breathe very well."

Colter's mother casually claimed the spirit was a "hag," or the unsettled spirit of a woman come to haunt her son night after night. Colter admitted he and his cousins used to speak ill of the creepy, lonely old woman next door, and he's positive the spirit was hers. He claims she could have been a witch all along. Let this be a lesson to always be kind to your neighbors.[5]
5

Dan Aykroyd

It turns out that Dan Aykroyd has a fairly involved history busting ghosts. His fascination with the paranormal started in early childhood. His great grandfather, Simon Aykroyd, was a pretty renowned spiritualist who held seances. A book titled History of Ghosts written by Aykroyd's father, Peter, mentions the family history in mediumship. Says Akyroyd, "They passed it [psychic powers] on to me, and then I took it and turned it into a ludic exploitation with Ghostbusters."

So, has he seen a ghost? Plenty. One story is particularly chilling. Ackroyd relays how something climbed into his bed one night when he was home alone. He recalled that the door was closed, so he would have heard the door open had anyone entered the room. After feeling a chill and the mattress next to him being depressed slightly, he decided to go with it as he had been working all day and was too tired to deal with anything. He just "snuggled up next to it" and went to sleep. He awoke in the morning, noting he actually had a good night's sleep.[6]
4

Megan Mullally and Nick Offerman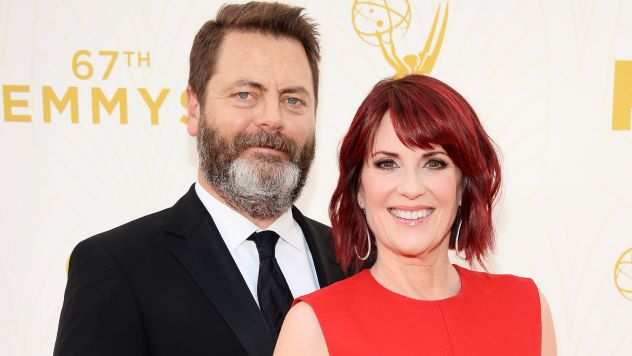 It's not too often that the ghost doing the haunting is more famous than the living. That's allegedly the case with Megan Mullally and Nick Offerman, who have claimed to be haunted by the ghost of Nicole Brown Simpson in their Hollywood home. Mullally told Busy Phillips on her talk show "Busy Tonight" that they lived in a home on the same property of a house that once stood where O.J. Simpson had rented a home for Nicole Brown Simpson.
Said Mullally, "In one corner of the house, like maybe where the bedroom used to be in the old house, we would have all these sounds and weird things all the time. I would be like, 'That's Nicole, and she's pissed because Nick doesn't get it.'" Mullally claimed all the paranormal activity came to a screeching halt after Offerman watched Simpson ESPN documentaries and Ryan Murphy's American Crime Story series covering Brown Simpson's murder. She claimed that the spirit of Nicole just needed to be heard and understood.[7]
3

Jenny Slate

Jenny Slate has made the story of her family's home and its paranormal hauntings one of her talking points in her book, her recent Netflix standup special, and pretty much anywhere anyone will listen. She did this as a cautionary tale on how to address death to children and how the paranormal can shape identity.

Slate grew up in Milton, Massachusetts. The home her parents moved into still had all the furniture of the previous owners (who had died) sitting idle in each room. It creeped her out even then. She claims that her father saw the ghost of a sea captain staring at him from the bottom of the stairs almost immediately upon moving in. Every member of her family has seen spirits in that home except for Jenny, but she claims her current home is also haunted. She spoke on the hauntings in her standup special and in an interview for Refinery29, "Ben and I live in a very old house, and it was made for his great-grandmother as an old dance hall. A lot of people who sleep over, guests that we've had, say that they have wild dreams and hear things in the house."[8]
2

NeNe Leakes

Sometimes the ghosts we encounter reveal the trauma of our past. For Real Housewives of Atlanta's NeNe Leakes, this seems to be the case. Leakes recently opened up about her ghost story on A&E's Celebrity Ghost Story to reveal a terrifying and traumatic experience with the paranormal.

Leakes was at a wedding and kept hearing the voices of children. Every time she would turn to look, there would be no children around. Leakes sought the help of psychic Kim Russo, who delivered messages from Leake's mother, revealing an emotional past where she revealed having missed out on formidable moments in her own childhood. The conclusion being that perhaps these ghost children following the Real Housewives star could be manifestations of that residual energy she has left behind. It brings to light what ghosts really are to us and how we carry them with us in our lives.[9]
1

Ice-T

While Ice-T is usually in character as the tough, no-nonsense cop on Law and Order: SVU, his mettle was tested when filming an episode in an old factory in New Jersey. He recalled some disturbing stories from when they filmed at the site of the abandoned factory. He never wanted to film at the location again, so, much to his surprise, he returned with the specific intention of investigating the property.

While he claims to be a skeptic, he admits his wife, Coco, is a believer. Deciding to revisit the location with psychic Kim Russo, Ice-T and Coco participated in an episode of Celebrity Ghost Stories. While touring the factory, lights flicker on, causing Ice-T to want to leave immediately. After he is convinced to continue, the trio visits the basement, encountering more unexplained feelings and sounds. It seems the experience still wasn't enough to make him a true believer…no matter what his wife felt.[10]