In the nearly 150-year history of professional baseball in America, only a small handful of active players have been murdered. These boys of summer were cut down in their prime, unable to outrun fate despite reaching the pinnacle of their sport.
Stricken from stardom far too soon, their heartbreaking deaths leave baseball fans wondering: what could have been?
Related: Top 10 Forgotten Murders Of Once-Famous Athletes
10

Greg Halman

Greg Halman had the baseball world at his feet. After winning the Dutch league Most Valuable Player award in 2004, the outfielder worked his way through the Seattle Mariners' minor league system. In 2008, the team named him their minor league MVP. A year later, he represented the Netherlands in the World Baseball Classic. And in 2010, he made his Major League debut with the Mariners, becoming the fifth Dutch-born-and-raised player to reach "The Show." When he returned to Seattle in 2011, he hit his first two big-league home runs, and he went into that offseason on the cusp of stardom.

But tragedy struck on the morning of November 21, 2011. Police officers in the city of Rotterdam were called to Halman's home, where they found him bleeding from a stab wound. They gave aid, but the injuries were severe, and the 24-year-old outfielder died several hours later. Police arrested his brother, Jason, and charged him with manslaughter. A subsequent investigation discovered the tragedy occurred after the two had a dispute over loud music. In 2012, Jason was acquitted after a court determined that he'd been in a state of psychosis at the time.[1]
9

Dernell Stenson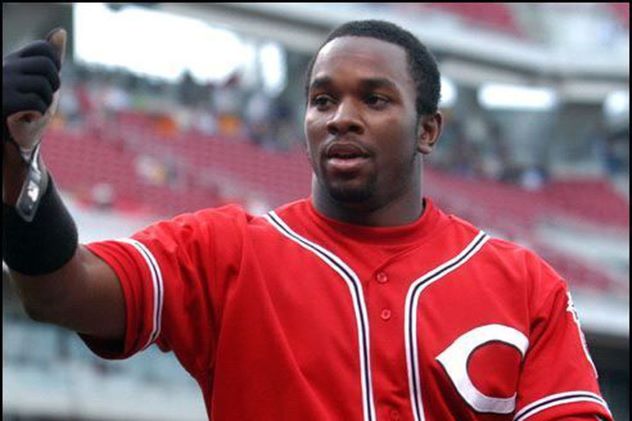 Once a top minor league prospect with the Boston Red Sox in the 1990s, Dernell Stenson's career stalled before reaching the majors. The Cincinnati Reds gave him a second chance in 2003, and he made the most of it. He reached the big leagues that year and hit three home runs in his first 37 games. After the season, the Reds sent him to the Arizona Fall League—a circuit meant for each team's best young prospects—and it seemed like Stenson was going to fulfill his potential.
It all went wrong in Arizona on November 5, 2003. That night, Stenson was tied up, shot several times, and run over with his own SUV in a carjacking attempt. After his awful death, the fall league suspended play for two days. Investigators arrested several men in connection with the crime. One of them, David Griffith, was convicted and sentenced to life in prison in 2007. A second man named Reginald Riddle agreed to a plea bargain in the case and received a life sentence with the possibility of parole after 25 years.[2]
8

Lyman Bostock

Lyman Bostock, the son of a Negro League baseball player, had been a college baseball star before a strong big-league debut in 1975. Bostock enjoyed three good years with the Minnesota Twins, including one where he hit .336 in 1977. He later signed with the California Angels in 1978. Exceeding high expectations, he had the highest batting average on the team that year when the Angels pulled into Chicago for a late-season series.

Following an Angels victory in the Windy City on September 23, the 28-year-old outfielder visited his uncle in nearby Gary, Indiana. The pair went to see one of Bostock's childhood friends, Joan Hawkins, and her sister, Barbara Smith. From there, the group departed in a car for dinner. Unbeknownst to them, Barbara's estranged husband Leonard was following. When the car pulled up to a stoplight, Leonard fired a shotgun into it, intending to hit Barbara. The blast mortally wounded Bostock, who had been sitting next to her in the backseat.[3]
7

Miguel Fuentes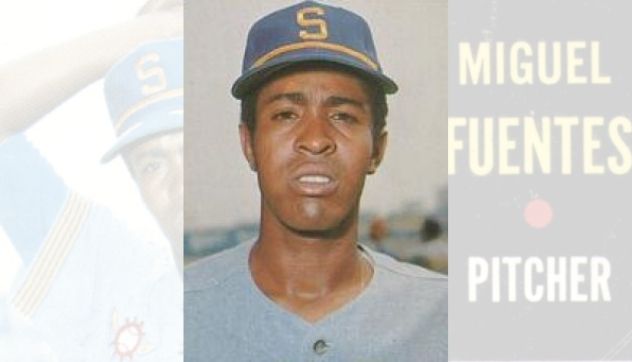 Miguel Fuentes was signed out of Puerto Rico as a teenager by the Seattle Pilots in 1969. They sent him to their minor league team in Clinton, Iowa. He dominated the Midwest League with an 8-2 record and a sparkling 1.46 ERA. Impressed with the rookie, the expansion Pilots called him up to Seattle to finish the season. There, the 23-year-old appeared in eight big league games, winning one and throwing the final inning of the final game in Pilots history, as the team moved to Milwaukee after the 1969 season.
Fuentes wasn't destined to join them in Wisconsin, though. On January 29, 1970, he was shot three times during a disturbance outside a bar in Puerto Rico. Reports from the island allege that the bar was experiencing plumbing problems, and the pitcher had gone outside to relieve himself. Another man took issue with Fuentes's choice of location, claiming it had been too close to his car. During the ensuing argument, he shot the star pitcher. Fuentes was rushed to a hospital but died from his wounds later that night.[4]
6

Howie Fox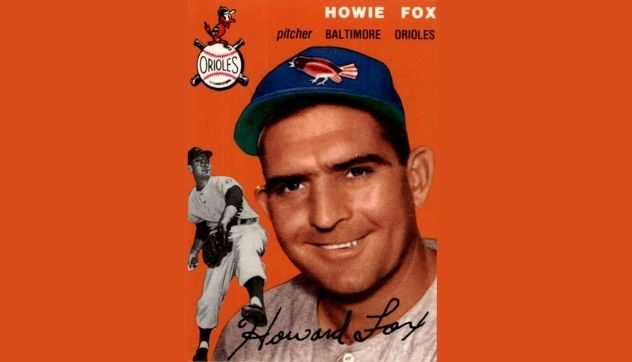 After serving in the U.S. Army in World War II, Howie Fox pitched for nine seasons in the big leagues with the Cincinnati Reds, Philadelphia Phillies, and Baltimore Orioles. He threw 104 innings for the Orioles' minor league club in San Antonio, Texas, in 1955 in a bid to get back to the big leagues again.
That offseason, he purchased a bar in the Texas city, intending to run it after his playing career. Barely a month later, he was stabbed three times outside the bar in an altercation with a group of men he had been attempting to remove from the premises. The veteran pitcher died as he was trying to crawl back into the establishment. A local college student named John Strickland was later arrested for the crime and indicted for murder with malice.[5]
5

Porter Moss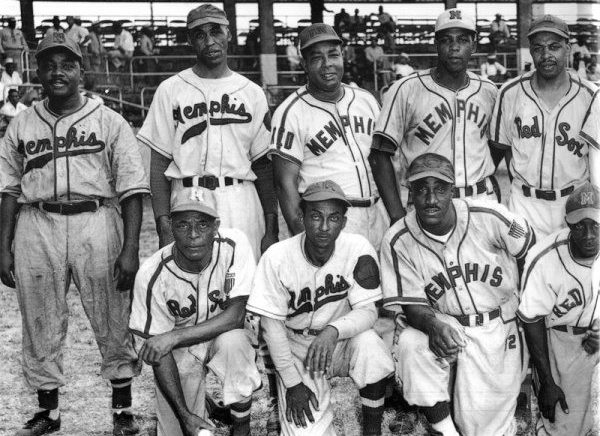 Porter Moss was a submarine-style pitcher and three-time All-Star in the Negro Leagues who was known to his Memphis Red Sox teammates as "Ankleball." On July 15, 1944, he boarded a train home with the rest of the team after their bus unexpectedly broke down following a road game in Nashville. On the ride home, teammate Johnny Easley got in an altercation with other passengers that escalated to involve the train's conductor.
As the train pulled into the city of Camden, Easley pulled out a gun and fired it at the conductor. The bullet missed its target, instead striking Moss in the stomach. Teammates tended to their star pitcher in the baggage car, but there wasn't much they could do. A white doctor who boarded the train at a later stop refused to treat the pitcher because he was black. Moss wasn't seen by paramedics until more than an hour later, when the train pulled into Jackson. By then, he had lost too much blood, and he died hours later in the hospital. Three months later, Easley pleaded guilty to second-degree murder and was sentenced to ten years in prison.[6]
4

Len Koenecke

Len Koenecke surprised the National League when he hit .320 for Casey Stengel's Brooklyn Dodgers in 1934. A year later, he posted a solid .283 average in 100 games before the club abruptly released him during a late-season road trip to St. Louis. The Wisconsin native was put on an American Airlines flight back to New York City. However, after drinking a quart of whiskey and harassing other passengers and a flight attendant, the company booted him from the plane at a stopover in Detroit. Later that day, he chartered a flight to Buffalo, hoping to rejoin a minor league team there to finish the season.

During that charter flight, while over Canadian airspace, Koenecke got into a disagreement with the pilot, William Mulqueeney. After overpowering another passenger, Koenecke was hit over the head with a fire extinguisher by Mulqueeney, who had left the cockpit controls to tend to the situation. The shaken pilot made an emergency landing in Ontario. Once on the ground, doctors tended to Koenecke, but he died several hours later of a cerebral hemorrhage. Mulqueeney was initially charged with manslaughter, but a coroner's jury declared him not guilty, finding the pilot's actions to be self-defense to keep the plane aloft.[7]
3

Ed Morris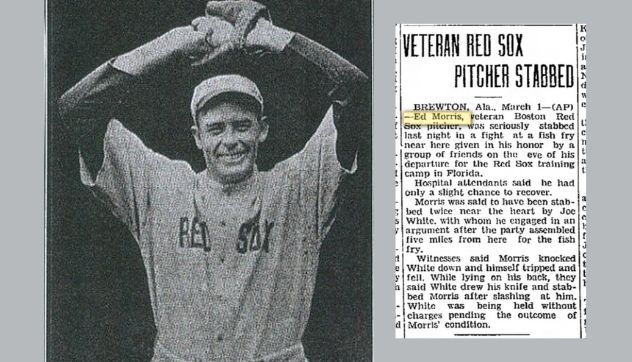 Ed Morris threw 674 innings during a five-year big-league career, including a 19-win season in 1928 for the Boston Red Sox, earning him a 15th place finish in the league's vote for Most Valuable Player.
On the eve of spring training in 1932, his hometown friends threw him a going-away party at a bar in Century, Florida. At the event that night, Morris clashed with another man and was stabbed twice in the chest. The knife blade "barely missed his heart," according to news reports, but the damage was severe. Doctors said Morris had "only a slight chance" to recover. Sadly, the pitcher died the next day.[8]
2

"Bugs" Raymond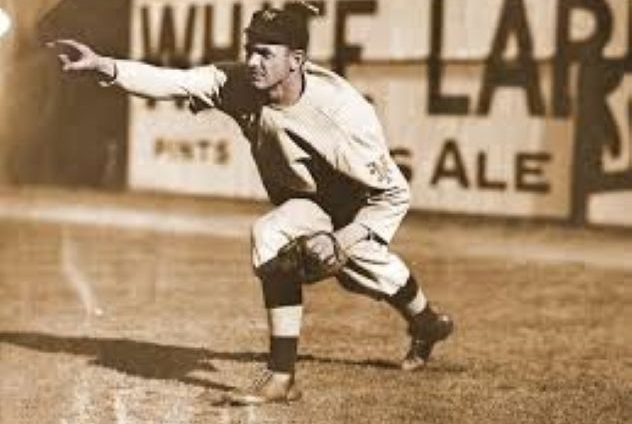 John McGraw, the legendary manager of the New York Giants, considered Arthur "Bugs" Raymond one of the most talented pitchers he ever managed. Unfortunately, Raymond was notoriously difficult to control away from the field. Years of Raymond's hard drinking and bad behavior later led McGraw to quip that the pitcher "took seven years off my life." Still, there were flashes of brilliance for the spitballer. In 1908, he won 15 games for the St. Louis Browns, and the following year improved to 18 wins while pitching for McGraw's Giants.
The success would prove short-lived, however. After a falling out with McGraw in the middle of the 1911 season, Raymond went home to Chicago to pitch with a semipro team. The next year, after a brief comeback with Cincinnati of the United States League, Raymond returned home to Chicago once more. Distraught over the end of both his baseball career and his marriage, the pitcher was found dead in a hotel bed on September 7, 1912. A police investigation later determined he'd been beaten by another man during a game at a sandlot field in Chicago several days before and slowly succumbed to a cerebral hemorrhage caused by a fractured skull.[9]
1

"Steel Arm" Dickey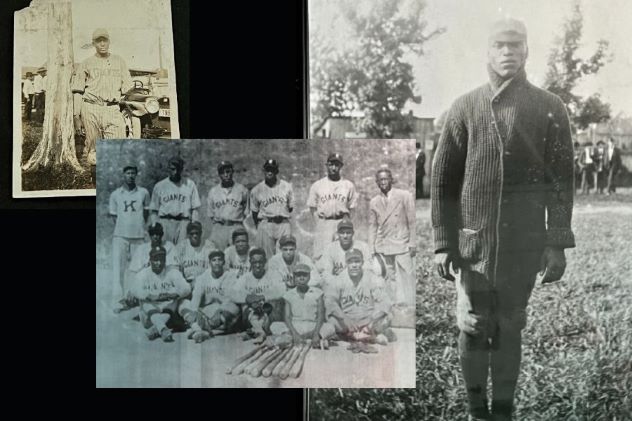 Walter Dickey earned the nickname "Steel Arm" as a teenager pitching in local baseball leagues around the city of Etowah, Tennessee. A descendant of slaves from nearby north Georgia, the young lefty boasted a hard fastball and a sweeping curveball that baffled batters in the Negro Southern League. He caught his first big break in 1922 when the St. Louis Stars of the Negro National League signed him. The southpaw pitched four games for the Stars at the end of that season and was ready for more in 1923.
The day before he was set to leave for spring training, on March 11, 1923, Dickey and a group of friends approached some men about a liquor sale. The interaction quickly turned ugly, and a fight broke out. During the melee, one of the men drew a knife, and Steel Arm was stabbed in the throat. He bled to death in minutes, cutting short his promising baseball career. Dickey was just 26 years old.[10]